What the activism world is talking about
The chief executive of German industrial conglomerate ThyssenKrupp quit Thursday amid disagreement between the management and supervisory boards.
Q2 hedge fund letters, conference, scoops etc
"I take this step very consciously to enable a fundamental discussion in the supervisory board on the future of ThyssenKrupp," former CEO Heinrich Hiesinger said in a statement. "A joint understanding of [management] board and supervisory board on the strategic direction of a company is a key pre-requisite for successfully leading a company."
The move came days after Hiesinger closed a deal with Tata Steel, merging ThyssenKrupp's steel unit with the Indian company. The joint venture received criticism from activist investors Elliott Management and Cevian Capital, which pressured ThysenKrupp to renegotiate the deal to close the valuation gap between the two companies.
ThyssenKrupp's supervisory board said Friday that its remaining executives will lead the company in Hiesinger's stead, dashing investor hopes for a quick restructuring or breakup of the industrial group. "In this tough situation for the company it is now initially about staying on course," Chairman Ulrich Lehner said in a statement. "The board has a strategy to further develop the group, which is agreed with the supervisory board. This includes the realization of the steel joint venture."
What we'll be watching for this week
Will shareholders support two nominees advanced by Hovde Advisors at Owens Realty Mortgage's annual meeting Monday?
Will Brookdale Senior Living de-stagger its board after Land and Buildings made its request public?
Will BHP Billiton accept BP's offer for its U.S. onshore oil and gas business?
Activist shorts update
In a motion filed Thursday, the founder of Viceroy Research, Fraser Perring, requested a Florida court dismiss MiMedx's complaint against the short seller. Specifically, Perring asked the court to determine whether Viceroy defamed MiMedx, as the company claimed in an October lawsuit.
Perring noted the government probes into MiMedx's financials as well as the group's internal investigation that prompted its restatement of all financials since 2013. Perring also mentioned the indictment of three Veterans Affairs employees for accepting illegal bribes from MiMedx to promote the medical equipment company's products.
"Things are not going well for MiMedx," the short seller wrote. "…[R]ather than taking responsibility for its illegal and deceptive conduct, MiMedx has instead attempted to divert attention from itself by refocusing the scrutiny on short sellers who have done nothing more than exercise their constitutional right to disseminate their opinions about MiMedx's systemic illegal conduct."
Viceroy, Aurelius Value, and Marc Cohodes claimed in September that MiMedx had engaged in channel-stuffing to increase sales. The court's dismissal of MiMedx's lawsuit may be a vindication of the short sellers' arguments.
The motion was filed two days after MiMedx CEO Parker Petit and COO Bill Taylor resigned from the helm, prompting a 30% stock drop. Shares in MiMedx have plummeted nearly 73% since the publication of the first report.
To arrange an online demonstration of Activist Insight Shorts, email us or view our product brochure to find out more.
Chart of the week
The proportion of public activist demands made at U.S. headquartered companies that were M&A-related.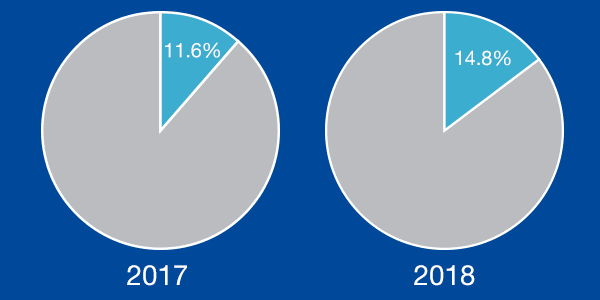 Note: Figures as of July 06 2018.
Article by Activist Insight