New rumors from Geekbench suggest that Apple is working on a new Macbook and suggests the 2018 Macbook Pro specs. The benchmark app results of Geekbench feature a new MacBook Pro, which is called MacBook Pro 15.2. Are users of this widely popular Apple product in for a powerful laptop? Continue reading to find out!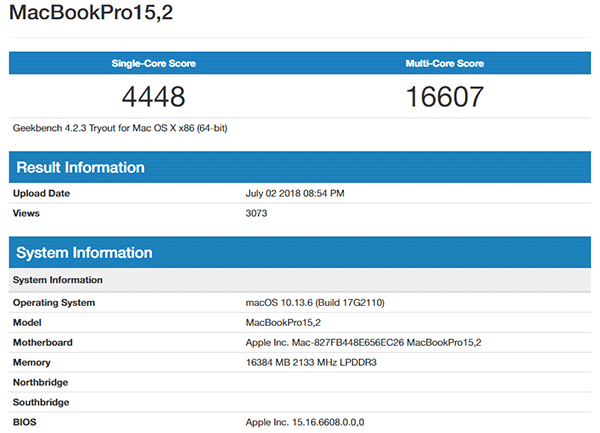 The results found on Geekbench show that the 2018 MacBook Pro specs will be quite powerful, with an Intel Core i7-8559U CPU, also known as Coffee Lake. The processor operates at 29W and has yet to appear in the new consumer products. That said, Apple would surprise a lot of its followers by packing a new CPU with a 2.8 GHz quad-core chip, capable of reaching 4.5GHz in the Turbo Mode.
People have expected the new MacBook Pro for a while, and the rumors from GeekBench suggest that it's not far from becoming real.  The MacBook Pro 15.2 identifier appears to show that Apple is working on a 13-inch notebook, which similar to its currently prevailing predecessors is extremely portable and easy to carry. The current model coming from the same line of MacBooks uses a dual-core Intel processor and reaches 4600 in single-core and 9500 in multi-core results.
Crossroads Capital up 55.8% YTD after 32.5% in 2019 explains how it did it
Crossroads Capital is up 55.8% net for this year through the end of October. The fund released its 2019 annual letter this month after scrapping its previous 2019 letter in March due to the changes brought about by the pandemic. For 2019, the fund was up 32.5% net. Since inception in June 2016, Crossroads Capital Read More
Nevertheless, if the notebook appearing on Geekbench is real, that would mean that this is a major upgrade compared to the previous models from 2016, especially when it comes to performance of multi-core use, as a result of a 16,607 outcome. Single-core results, however, remain the same as with the previous models.
Nevertheless, this information should still be taken with a grain of salt, mainly because the Geekbench scores could change, and also it's not yet confirmed whether the device is real or not. However, we certainly can hope that the upgrade is coming and that it'll be as powerful as the one featured on Geekbench.
What do you think about the 2018 MacBook Pro Specs? Let us know in the comments!