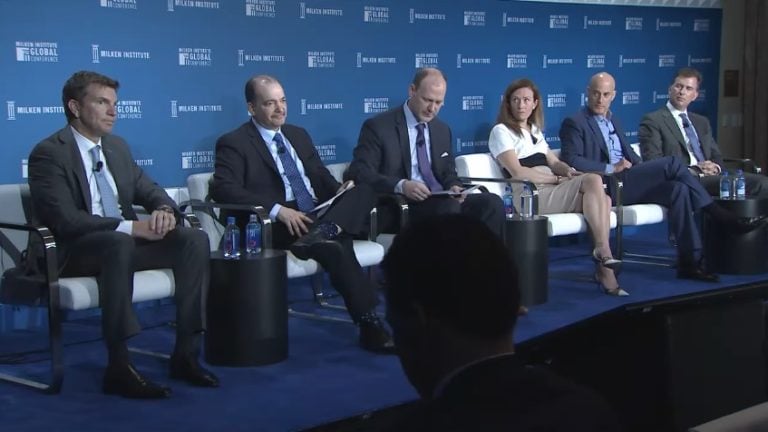 One decade after the global financial crisis and the unprecedented intervention by monetary authorities, the hunt for yield is a feverish demand. As the new Federal Reserve Chairman Jerome Powell continues hiking rates consistently and gradually in response to a growing economy, where are investors seeking returns and minimizing risks across the full spectrum of investment? How should we position investments, given the flattening of the yield curve? Does the world have too much debt? And how can we create structured finance with attractive risk-reward?
Q2 hedge fund letters, conference, scoops etc
Moderator
Alkeon expects data growth to surpass 5G's capabilities by 2028 [Q4 Letter]
Alkeon Growth Partners wrote at length on tech stocks and why they are defensive in their recent letter to investors, which was reviewed by ValueWalk. The fund also highlighted 5G and other advanced technologies and the investment opportunities they offer. Q4 2020 hedge fund letters, conferences and more Artificial intelligence and machine learning The Alkeon Read More
Justin Baer Senior Special Writer, The Wall Street Journal
Speakers
Michael Buchanan - Deputy Chief Investment Officer, Western Asset Management Company
Robert Kricheff - Portfolio Manager and Global Strategist, Shenkman Capital
AJ Murphy - Head of Global Capital Markets, Bank of America Merrill Lynch
Fred Orlan - Global Head of Fixed Income, Jefferies LLC
Christian Stracke - Managing Director and Global Head of Credit Research, PIMCO
What's Next In The Hunt For Yield In Credit?
Transcript
Good morning everyone. We have a great panel here today. Very excited to be here. And of course the topic is what's next in the hunt for yield and credit. It's a question will pose to our panelists and I won't go through their entire bios right now encourage you to look online. But just to get us going and get to the questions we'll introduce everyone real quickly. First we have Mike Buchanan. He is deputy chief investment officer at Western Asset Management Aramco in nearby or someone nearby Pasadena. We have Bob Chris Scheff he is a portfolio manager and global strategist with Shenkman Capital. We have AJ Murphy she is head of global capital markets of Bank of America Merrill Lynch. We have Fred Orlen. He is global head of fixed income at Jefferys and last but not least we have Christians struck he is managing director and global head of credit research at PIMCO another California fund manager. So I just real quickly wanted to set the scene a bet. It's been a pretty interesting stretch for bond investors. New tax changes affect the nation's deficit. We have the gap between a two year and a 10 year Treasuries recently reached its narrowest since 2007 or just earlier this month. We have a 10 year Treasury yields at 3 percent the first time in more than four years. We have a yield curve that's flattened. Looking out of the next couple of years we have some 4 trillion dollars in U.S. corporate debt that's set to mature. And finally we have a new Fed chairman who's just in its third month of the job.
So there's a lot going on. The first question I wanted to ask and put this one to Mike is where are we in the current credit cycle and what makes this one a little bit different from those we've seen in recent years. Yeah. Thanks for inviting me to be on the panel. It's probably one of the most frequent questions that we get asked by our clients. And it's sort of a leading question because I do think there is this perception that we're very late cycle that we're perhaps even at a turning point in the credit cycle. And the way we see it is that you know it's dangerous to say this time is different but we think there's a lot of factors that are going to extend this cycle and already have extended the cycle were a good nine years into it. One is just the severity of 2008 and you know just the byproduct of that is that it's just going to take longer for risk spirits to build. You know there was a lot of damage done if you were a CEO or CFO and you looked at your your customers your competitors your suppliers and you saw what happened to those that didn't have control their balance sheet. So we're not saying that cycle's dead it's just because of the severity it's going to take longer and I also think regulation there's there's quite a bit of regulatory tailwind whether it's regarding the financials or oversight on elbows. Those things could certainly push this cycle out more than what we've typically seen. You know another thing is tax reform that's probably.
And it just an added engine for this particular cycle so we're not yet seeing signs that we're at or near the end. You know we still see very conservative oversight by most management teams and we think that you still have to get a lot of fundamental risks building in the market and then not only that you need a catalyst to turn those risks into fundamental deterioration so long winded way of saying that we don't think we're at the end of the cycle. Granted we're we're certainly in the latter innings of the credit cycle. Gotcha. And just the other one I wanted to touch on quickly is the yield curve the prospects that it might invert. And what might that mean for the market and most importantly what do investors do the the the yield curve is you get a lot of different interpretations. It's like talking to people after really drunken party. Everybody's got a slightly different story about what's going on. Not that I would know what that's like. But the but you know the yield curve traditionally when it starts to flatten and this is a bear flattened or is people think that you know we're seeing slower inflation that you're seeing a slowdown in the economy. And we're not really seeing that we're continuing to see economic growth even in this cycle even though it's been going on for a long time the compound growth really ranks like the fifth or sixth cycle not that the second longest cycle when you look at the growth rather than just the time it's been taking. But I think that the credit curve is different than it's been in the past.
You know just like you said there are things that are different that the Treasury market is very different now.