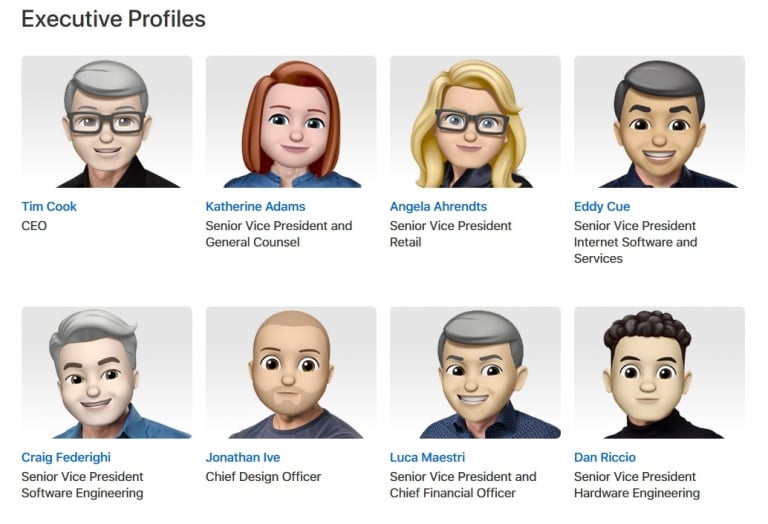 Today, Jul. 17 will be marked as World Emoji Day and Apple's executive decided to take the initiative to celebrate it by marking it with Apple's Memojis. Memoji is a 3D avatar feature in which users can customize themselves and is going to arrive to the new iOS 12 update.
Apple's leadership webpage received an update and refreshing on Monday. The company replaced the official pictures of the top 17 executives of Apple with customized Memoji characters that were created as characteristic of them, starting from Apple's CEO Tim Cook to SVP Jony Ive and VP of Environment, Policy and Social Initiatives Lisa Jackson.
As mentioned above, Apple's Memojis are going to appear on a new major iOS update and can be used for creating a customized, animated 3D version of yourself that can be used in Messages as well as for recording yourself in a video and FaceTime. Apple's executives, aside from celebrating World Emoji Day, perhaps used the Memoji profile pictures to tease the upcoming feature that many are excited about, by reflecting their facial expressions, hairstyle and head pose, as opposed to their original pictures.
EXCLUSIVE: Lee Ainslie's Maverick Had A Challenging 2Q
Maverick USA was down 3.3% for the second quarter, while Maverick Levered was down 2.1%. Maverick Long Enhanced was up 8%. Year to date, Maverick USA is up 31.8%, while Maverick Levered has gained 49.3%. Maverick Long Enhanced has returned 9.9% for the first six months of the year. Maverick Capital is a long/ short Read More
Memoji
Memoji is considered the main feature of the upcoming iOS 12 that is estimated to come out in the upcoming fall, and it was officially announced at the Worldwide Developers Conference that took place in June.
The technology is initially based on Animoji that uses the TrueDepth camera system of iPhone X to create animated characters that get placed over a user's face as a result of AR. Memoji uses the same system, but instead of using 3D emoji-generated characters, it adds user creation tools that will make the 3D animation more personalized.
New emojis
Apple also used World Emoji Day to bring more interesting emoji characters to the iPhone, iPad, Apple Watch and Mac. The new emojis are estimated to come out later this year in a free software update, as per Apple.
As Apple described, the innovative emoji designs were designed and based on already approved characters in Unicode 11.0, and in that way they include even more hair options so that more textures are available for those who have different color textures or curly hair. There is also an emoji for bald people, as well as a new selection of smiley faces that can show user's current emotions and facial expressions more accurately. That said, Apple added a cold face, party face, pleading face and a new face with hearts.
What do you think about Apple's Emojis? Please let us know.