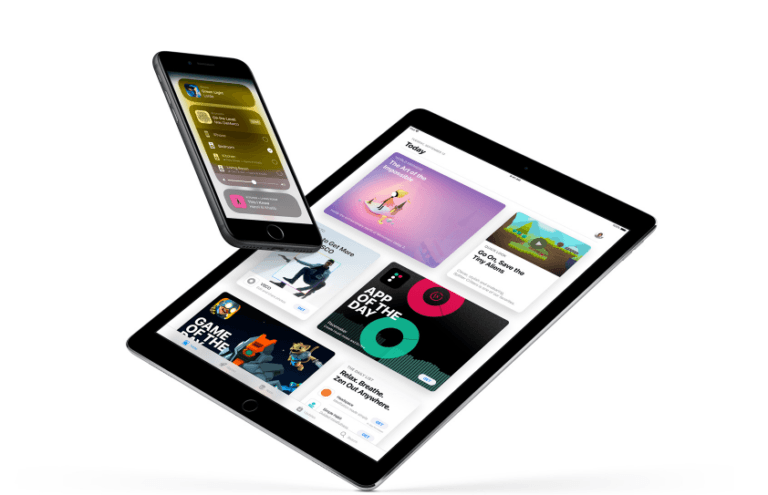 Apple has just unveiled the iOS 12 and released its first beta to developers. The iOS 12 focuses mostly on performance and stability improvements. It also brings some new features such as Group FaceTime video chat for up to 32 people, a revamped Do Not Disturb mode, improvements to Siri and ARKit, and a new "Screen Time" feature that will show you how much time you spend on your iPhone or iPad and within each app. However, the rumor mill is already looking forward to the next year's iOS 13.
A report claimed earlier this year that Apple had some big features and design changes planned for the iOS 12. But the company decided to delay most of the major new features to iOS 13 so that it could focus on performance and bug fixes with iOS 12. Last year's iOS 11 was mostly about improving user experience on iPads, and this year's software leans towards iPhone users. The 2019 iOS 13 will once again focus on the iPads, claims the rumor mill.
iOS 13 to have an entirely new home screen
Bloomberg contributor Mark Gurman recently revealed that Apple was developing iOS 13 under the code-name 'Yukon.' Gurman has an excellent track record with Apple leaks. He said in a tweet that the iOS 13 would bring a completely redesigned home screen. His statement corroborates with an earlier report from Axios, which claimed that the next year's software would revamp the home screen and bring improvements to core apps such as Mail. It will also update the sharing, picture-taking, and photo editing experiences.
Benjamin Graham GEICO Buy Was Just A Simple Value Play
Was Ben Graham's big purchase of GEICO shares actually a value investment? Perhaps it was contrary to what many believe. "In 1948, we made our GEICO investment and from then on, we seemed to be very brilliant people." -- Benjamin Graham, 1976 Both Benjamin Graham and Warren Buffett can attribute a large part of their Read More
Somewhat. iOS 13 "Yukon" will have a big iPad-focused feature upgrade as well, including an updated Files app. some other things in the works are tabs in apps like in MacOS, same app side by side, Apple Pencil stuff. The home screen redesign is iPad focused.

— Mark Gurman (@markgurman) May 4, 2018
The new home screen design is titled 'Springboard' and focuses on the iPad. The current iPad home screen leaves a lot of unused screen space that could be put to better use. The new layout will enhance productivity for iPad users. The iOS 13 is said to have in-app tabs similar to tabs in macOS apps to enhance multi-tasking. Users will also be able to run apps side-by-side in Split View mode.
If the new interface is ported to iPhones, it would be the most radical design change for iPhone users since the iOS 7. Apple is said to improve the Files app next year. The Files app was introduced with iOS 11, and a revamp is overdue. The iOS 11 had introduced Instant Notes, Instant Markup, a redesigned QuickType keyboard, a revamped iPad dock, and Drag & Drop support for iPads.
Cross-platform apps
Rumors have been circulating for months that Apple is working to introduce cross-platform support with iOS 13 and macOS 10.15 next year. According to John Gruber of Daring Fireball, Apple's 'Marzipan' project will let developers create a single app that would run on iOS as well as Mac devices. The cross-platform support will allow Apple to offer a smooth user experience across devices. Google has done something similar with Android and Chrome OS.
Other rumored features
Improvements to Apple Pencil are also on the cards. Apple released the Apple Pencil back in 2015, and could update the stylus next year. There is little information on how Apple would improve the stylus, though.
The iOS 13 could also bring tons of new emojis. The Emoji Consortium recently released emoji candidates for 2019. They include hot and cold faces, a variety of skin colors and hair options such as white-haired, curly-haired, and bald. Others include new food items, more animals, a supervillain, goggles, a lab coat, and new footwear. Apple is an active member of the Emoji Consortium through its association with the Unicode Working Group. It will be interesting to see which new symbols Apple will adopt in iOS 13.
It's worth pointing out that the iOS 13 is about a year away. A lot could change between now and them. We will get to learn more about the next year's iPhone software as we move closer to its unveiling at WWDC 2019.