During the WWDC keynote address, Apple announced a bunch of new features and performance improvements that would come with iOS 12 later this fall. One of the biggest new tools is the Screen Time, which aims to curb smartphone addiction and give you greater control over on-screen time. People who have downloaded the first developer beta can experience Apple's digital health solution first-hand. Here's everything you need to know about the iOS 12 Screen Time feature.
Screen Time offers statistics and insights into how much time you spend (or waste?) on your iPhones and iPads, and within individual apps. It breaks down the time spent by app categories (gaming, social media, entertainment, etc) as well as by specific apps. The tool also creates detailed daily and weekly Activity Reports to show you how much time you spend in each app, usage across different app categories, how many notifications you received, and how often you picked up your phone.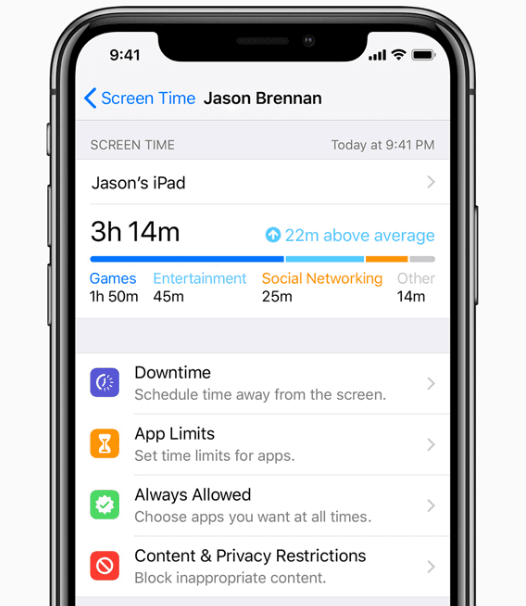 You'll find the iOS 12 Screen Time in system settings or Family Sharing settings. The Pickups section shows how frequently you pick up your iPhone or iPad during the day. The device pickup data is broken down into hours so that you can see at what times on a day you most frequently engage with the device. It should help enhance your productivity at work.
The Notifications section is towards the bottom of the screen. Apple serves the notification data on a per-app basis, which means you can instantly find the most distracting apps. Apple says the iOS 12 Screen Time will empower customers and "help them better understand and control the time they spend with apps and websites."
The iOS 12 Screen Time has a built-in tool called App Limits to help you manage how much time you spend in individual apps. This feature could seriously affect the addictive gaming and social networking apps. Users can set a time limit on a certain app and then apply those restrictions on a per-day basis.
You can set App Limits on an app by tapping the hourglass icon next to the app's name, and then changing the duration and selecting the active days on the pop-up settings panel. You will receive a notification five minutes before running out the allotted time for the day. Once you exhaust the allotted time for an app, you can choose to extend usage by another 15 minutes or ignore it for the rest of the day. Both these options require the Screen Time passcode if you have set one.
The iOS 12 Screen Time will also give parents more control over their child's iOS devices. Parents will receive a weekly report on their child's usage statistics. It will allow parents to set how much time their children can spend in an individual app or category.
Since the App Limits tool syncs through an iCloud account, children won't be able to switch over from their iPhone to keep using Facebook or playing games on their iPad. The reports, settings, and allowances are based on their total usage across devices. They apply to all the devices signed in to an iCloud account.
There is also a Downtime tool that locks you (or your child) out of all iOS devices when active. Only phone calls and permitted apps will be available during the Downtime. As a parent, you can remotely schedule Downtime on your child's devices. You can also choose which apps are allowed during Downtime. When the feature is active, the app notifications are not displayed and the apps become inaccessible. It's a good way to force stop yourself from checking emails and social media well past midnight.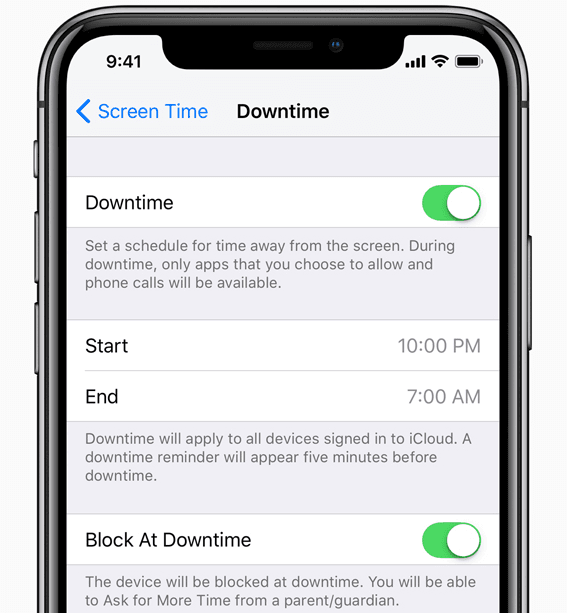 The Cupertino company has also bundled Content & Privacy Restrictions into the iOS 12 Screen Time. You have to first create a Screen Time passcode and then you can set up restrictions for App Store and iTunes purchases, music, podcasts, news, Wallet access and more. You'll also be able to set age limits for movies, TV shows, and other content. Parents can also restrict children from playing multiplayer games, adding friends, and turning on screen recording.
The iOS 12 beta is currently available only to developers. If you want to install the beta on your iPhone or iPad without a developer account, here's how you can do it. If you are not interested in testing out the beta, you can download the iOS 12 wallpaper right here to give your device a new feel. The final build will be rolled out to the public in September.
The iOS 12 is a performance and stability-oriented update. It will allow apps to run faster than before, even on older devices. It also brings many new features such as Group FaceTime for up to 32 people, grouped notifications, Memoji, an improved Do Not Disturb mode, and a revamped Photos app.
Updated on