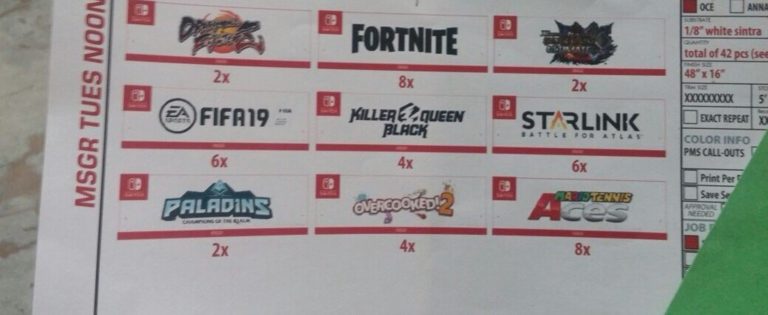 As one of the fastest growing games on the market, many have been asking for a port of Fortnite on Nintendo Switch. A recent leak ahead of E3 suggests that that might just happen after all.
Fortnite is one of the biggest games in the world and shows no sign of the growth slowing down. The Nintendo Switch, while not as ubiquitous as consoles like the PlayStation 4, is quickly growing as well and may soon become one of Nintendo's best selling consoles. Putting the pair together seems like a match made in heaven, and it appears as if Epic Games feels the same as evidenced by a recent leak from users on the web board 4chan.
It's important to note that these sorts of leaks are relatively easy to fake and 4chan doesn't exactly have the most reliable reputation when it comes to these sorts of things, but given some of the other details included in the picture, it's seeming likely that Fortnite on Nintendo Switch is a legitimate possibility.
Hayden Capital 2Q22 Performance Update
Hayden Capital's performance update for the second quarter ended June 30, 2022. Q2 2021 hedge fund letters, conferences and more Dear Partners and Friends, The markets continued to sell-off in the second quarter, especially for internet-based businesses.  This year continues to be the toughest stretch for us, since the Hayden's inception.  Inflation concerns and the Read More
The image, included below, is reported to be Nintendo's E3 booth layout. E3 is the biggest video game conference of the year and many developers choose to make big announcements at the event. A Fortnite on Nintendo Switch announcement would be a major step forward for the company – especially considering the huge amount of young people who use the Switch and continue to make up a large portion of the game's user base.
Leaked Switch games that might be announced at E3…

FORTNITE IN THE SWITCH!?!?! pic.twitter.com/rI8KCuMQSQ

— Goldenboy (@GoldenboyFTW) May 31, 2018
The Fortnite on Nintendo Switch leak might not have been as reliable if all we had to go off of was a single image, but we have some more information from other sources that seems to suggest that it's set for an announcement after all.
In addition to the Fortnite on Nintendo Switch leak, it appears as if there will also be announcements of Dragon Ball FighterZ, Killer Queen Black, Paladins, and Overcooked 2. Paladins is another significant announcement, as it offers a type of gameplay not yet seen on the Switch. There's a decent amount of controversy in the gaming community given the similarities that Paladins has to the more popular game Overwatch, but with Overwatch having no plans to move on the Switch, Paladins may see some great success.
"Last week, the Korean ratings Board rated Sunset Overdrive for PC, revealing the port's existence," Kotaku reported. "Yesterday, it rated a Borderlands: Game of the Year Edition release for modern consoles, and today we've found a rating for Fortnite on Switch, a game which has been rumored to be in development for as long as hyped up fans of both have been around to get optimistic about."
A ratings board evaluating Fortnite on Nintendo Switch makes it pretty clear that the game is coming, so we should be able to expect to battle for that top spot on the Battle Royale Arena within the near future.
With the launch of Fortnite on Nintendo Switch, the popular third-person shooter will be available on every major platform outside of Android, with an Android release coming sooner rather than later.
Updated on