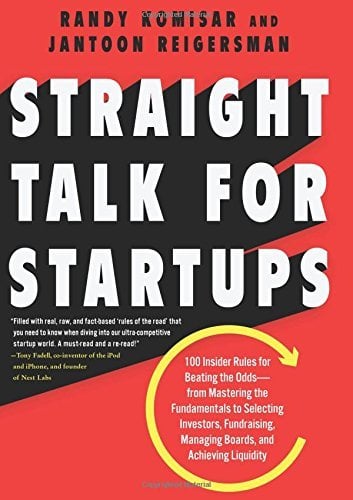 From the book Straight Talk for Startups: 100 Insider Rules for Beating the Odds—From Mastering the Fundamentals to Selecting Investors, Fundraising, Managing Boards, and Achieving Liquidity by Randy Komisar and Jantoon Reigersman. Copyright © 2018 by Randy Komisar and Jantoon Reigersman. Published on June 5, 2018 by Harper Business, an imprint of HarperCollins Publishers. Reprinted by permission. http://straighttalkforstartups.com
Q1 hedge fund letters, conference, scoops etc, Also read Lear Capital: Financial Products You Should Avoid?
Crypto Hedge Fund Three Arrows Blows Up, Others Could Follow
A few years ago, crypto hedge funds were all the rage. As cryptocurrencies rose in value, hundreds of hedge funds specializing in digital assets launched to try and capitalize on investor demand. Some of these funds recorded double-digit gains in 2020 and 2021 as cryptocurrencies surged in value. However, this year, cryptocurrencies have been under Read More
With all the media hype around venture capital, startups, and so-called unicorns, one would think that venture capital was always the best way to fund your venture. After all, unlike other sources of capital, like debt and friends and family, venture capitalists appreciate the vagaries and risks inherent in starting a business and offer more than money to assist in your success. Venture capitalists are sometimes lionized for their extraordinary financial outcomes, as if they created that success themselves, which would be like the suits in the skyboxes celebrating with the players in the end zone after a touchdown (for you American football neophytes, that's when the players thump their chests and do silly antics on the field after scoring). But be skeptical.
Remember: venture capital comes at a price, in the form of a meaningful percentage of your company. Perversely, the less you sell them, the less skin they have in the game and the less time and "value-added" attention you are likely to receive in return. So you have to be prepared to part with a signifi ant portion of your company to even attract a good venture capitalist. You aren't just raising money; you are selling ownership.
With that ownership come a host of governance terms and concessions. Venture capitalists will impose certain controls on what you can and cannot do without their approval, such as sell the company or issue new shares. You will be asked to vest ownership of your own shares over time to align your incentives with theirs, even if you already own them all outright.
And most often, the lead venture capitalist will demand board representation. Moreover, they will usually create a board that leaves you with a minority vote. As board members, they will have a broad array of powers over your day-to-day business, including even the power to fire you and hire your replacement. You aren't just adding a partner; you are hiring your boss.
Venture capital rewards its limited-partner investors—those endowments, pension funds, and wealthy individuals who give them money to invest—with distributions of stock and cash from their successful investments. Without those distributions, venture capitalists cannot raise their next fund, which they will, in turn, invest in even more startups. When you accept venture capital, you are accepting the responsibility to deliver your investors liquidity in publicly tradable stock or cash within a reasonable period, likely four to six years. If you are not interested in pursuing liquidity, or don't yet know, then you are not a good candidate for venture capital.
And venture capital brings a penchant for scaling businesses. This may be the very reason you are seeking venture capital, but consider it carefully. You have all your eggs in one basket. Venture capitalists have a portfolio of eggs. More and more, the venture capital industry is chasing unicorns and black swans to pay for their broken eggs. True, venture capitalists may be more willing to roll the dice on your business, for the chance of creating an extraordinary outcome to juice their portfolio returns. This may be good in theory, but if you have a longer-term view than theirs, there will be plenty of room for disagreements down the road about how much risk to take and how quickly to scale.
Finally, ask yourself whether your business is at a stage where you can really put venture capital to good use. If you are able to sort out your leap-of-faith risks (your life-or-death assumptions about your business) without an institutional investment, then it may be preferable to do that before con- sidering venture capital—in other words, you can self-fund your growth. If you haven't taken venture capital and your early efforts prove fruitless, you can walk away easily. If, instead, you find traction, you will be better able to attract top-shelf venture capital on favorable terms.
For all their promises of bringing more than money, many venture capitalists don't deliver on their "value-added services." Don't take all their marketing messages at face value. But the best venture capitalists can provide you with an unfair advantage in recruiting people, making strategic connections, raising more capital and debt, elevating your visibility, and establishing your credibility. Be certain they will deliver what you need most when you need it.
And venture capitalists can be fickle. Because they manage a portfolio of investments, it behooves them to spend their time, money, and attention on the ventures that offer the best chances of returns, not those struggling to find direction. They will love you when they write the check, but will they be there when things get tough? If they aren't, it can send a negative signal to employees, potential investors, and other stakeholders.
You may have access to other, more manageable sources of capital, like customers who will pay you as you go or in advance. If you can achieve positive cash flows quickly without deviating from your core strategy and slowing down development, then it may not make sense to raise money from venture capitalists, with all the commensurate headaches. Perhaps you can find a shell of a company with a bad idea and money in the bank that you can merge with your good idea and take in a new direction. Maybe you are able to run a crowdfunding campaign to raise enough money to prove your concept. There are lots of ways to find a little capital.
To be sure, most entrepreneurs never raise venture capital. On the other hand, most highly valued, successful ventures do. And even those ventures that grow for years without venture capital often bring it in later when their interests in scale and liquidity align well with venture capital.
Venture capital can bring experience, connections, mentoring, and the invaluable skills for developing an idea into a business and an entrepreneur into a successful leader. It may be an imperfect choice but nevertheless the best one for your business. So choose wisely and know what you are getting.
Copyright © 2018 by Randy Komisar and Jantoon Reigersman. All Rights Reserved.
---
About the Authors:
Randy Komisar is the co-author of Straight Talk for Startups (HarperBusiness; June 2018). He is a venture capitalist with decades of experience with startups. He is the author of the best-selling book The Monk and the Riddle, about the heart and soul of entrepreneurship, as well as numerous articles on leadership and startups. He is also the co-author of Getting to Plan B, on managing innovation, and I F**king Love that Company, on building consumer brands. He taught entrepreneurship at Stanford University and is a frequent lecturer at universities, as well as a regular keynote speaker on entrepreneurship, innovation and leadership. He joined Kleiner Perkins Caufield & Byers in 2005 to focus on early stage ventures. Prior to that he created the role of "Virtual CEO" to partner with entrepreneurs to help them and their businesses achieve their potential, serving as Virtual CEO for such startups as WebTV and GlobalGiving. He was a co-founder of Claris Corp., and served as CEO for LucasArts Entertainment and Crystal Dynamics. Randy was a founding director of TiVo and Nest. He served as CFO of GO Corp. and as senior counsel for Apple, following a private practice in technology law. He has also served on dozens of private and public company boards and advises such organizations as Road Trip Nation and the Orrick Women's Leadership Board.
Jantoon Reigersman is the co-author of Straight Talk for Startups (HarperBusiness; June 2018). He's a seasoned financial operator with extensive experience in startups and growth companies. He serves as Chief Financial Officer of publicly traded Leaf Group (NYSE: LFGR), a diversified consumer internet company. Earlier in his career, he served as CFO of Ogin Inc., investor and member of Goldman Sachs' European Special Situations Group and investment banker at Morgan Stanley in their mergers and acquisitions team. He also initiated and led the 9000METER expedition, the first expedition to attempt 9000 vertical meters on human power by diving over 152 meters below sea level and by climbing the summit of Mount Everest at 8848 meters. He is a Fellow of the inaugural class of the Finance Leaders Fellowship and a member of the Aspen Global Leadership Network.
For more information, please visit http://straighttalkforstartups.com
Updated on