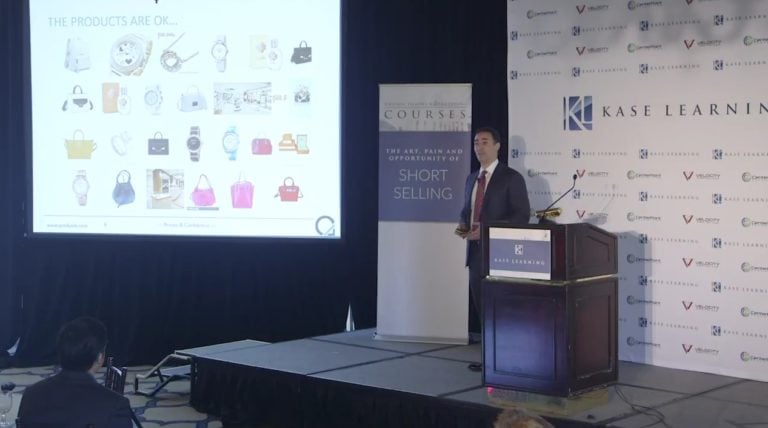 Gabriel Grego's presentation on Folli Follie at the Kase Learning conference on short selling, 5/3/18. This has been called one of the best short pitches ever
Q1 hedge fund letters, conference, scoops etc, Also read Lear Capital: Financial Products You Should Avoid?
Gabriel Grego's Presentation On Folli Follie
Gator Financial Partners 1H2022 Performance Update
Gator Financial Partners letter to investors for the first half of the year ended June 30, 2022. Q2 2022 hedge fund letters, conferences and more Dear Gator Financial Partners:  We are pleased to provide you with Gator Financial Partners, LLC's (the "Fund" or "GFP") 1st Half 2022 investor letter. This letter reviews the Fund's 1st Read More
Transcript
OK listen we have a lot of work to show and I'm not going to waste time speaking about ourselves almost at all. Just a couple of things. Does it work. No it doesn't. OK here you go. Disclaimer you said that. OK. Only one thing. Because of credibility. So we do value on the long side and activists short on the short side and we're very risk averse so I'm not too courageous usually I'm very scared of speaking public against the company. I only did it twice first time it was a company called the American addiction centers company stock collapse about 75 percent about two weeks after the reports the second time was about two years ago. It was this great company called Global. We wrote a report. Twelve hours later the stock was suspended 48 hours later this year and this year four resigned meaning all the fraud allegations that said this was two years ago we did a lot of you know undercover behind the lines anonymous things but we never spoke publicly. Why am I telling you this. Because if I say something in public I only do if I'm 100 percent sure. As much as an investor can be about the thesis. So let's see the next news the company is fully fully. We have a crowd which is mostly composed of man twice as many of you will probably not be too familiar with that company. Maybe some of the ladies in the room will know about it and we believe maybe this company can be the next Greek Parmalat. The first one was global. This is the company.
It's not a small company by any means. It's over one point three billion euros of sales and a half billion dollars of market cap. Profitable grows very fast and create trades in the Greek stock exchange. It's not super easy to trade but there's a lot of Barroso if you want to barter open an account over there you probably can do it. But of course we're not giving advice here it's just for information purposes. The products are kind of cute. It's a kind of a small or cute Greek we've we taon actually as a matter of fact about the nice purse to my wife during one of the visits which by the way helped me a lot during the composition of the due diligence just standing right here Amalia. And so these sort of products watch us Pearse's important here is most of what they do is jewelry bags and watches the rest is a department store in Greece is a pretty small amount of revenue and some smaller businesses in Bulgaria. This is important. Seventy percent of the revenue and all of the profit originate in Asia. So this is a Greek company. It's a European company most of the money comes from Asia and most of that Asian money is actually China. A roaring tiger at least on paper. So double digit growing both revenue and earnings and only a four point four P which probably suggests that we're not the only ones that are a little skeptical about this company. This is the chairman and also the largest shareholder and funder of the company.
They know they're usually very optimistic and enthusiastic and I quote activities exhibited remarkable growth. We expanded our footprint in new markets and were prepare for the next stage of development and they're expand in the United States great in the process of entering new markets and a 4 to 40 fully Links of London brand. We're investing heavily in the United States because remember the statement well we'll get back to it. They claim 930 points of sale worldwide in 30 different countries. And that's straight from there on your report of 2016. They just published 2017 I haven't seen anything that makes me change my mind. Especially Nate just saw a lot of this points over Hillary in Asia and most of those are in China 240 in China and 65 in Japan. So points of shale sales in other words Shoppes the reality according to US is a little different. We believe according to the dealings that we did that actual Asian sales so most of the sales are actually probably a small fraction of what it looks from the accounting profit could be negative. The network looks less than half of the size of the network that is. That appears in the in the report. It looks like business is shrinking very rapidly. We have very serious doubts about the cash balances of the company. We're worried about insolvency. And finally after seeing all the evidence we're going to ask yourself can you really trust the books and the shareholders really believe the books here we did the a large investigation three months three different continents dozens of live interviews 600 telephone calls full day digital digital present on it and finally we did some very thorough Chinese government record searches.
So the first question is how many points of sales i.e. usually shops do they have. Again the companies say 930 of which 630 are a brand that fully fully and the rest in China and Japan. The bulk so here is the company store locator every week the company has a store locator. You can go in and look for the address phone number of the of the shops of the company and fullfil is no different. And really the list 930 points of sale at the cover of the store locator.
Read the full article here.
Updated on