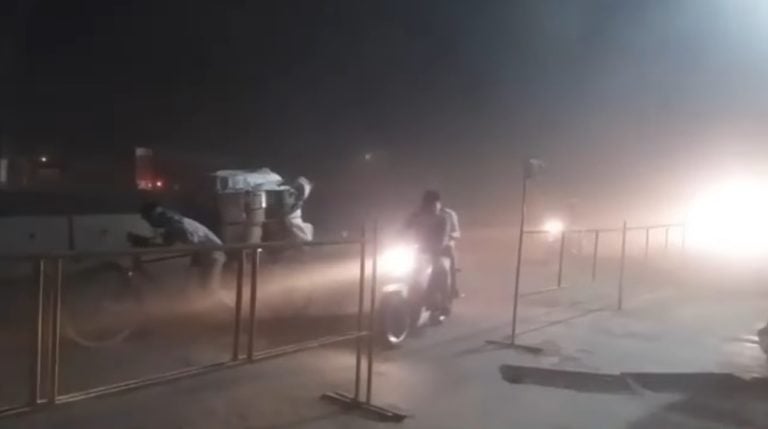 Wednesday, a massive dust storm swept across northern India leaving at least 108 dead and 205 injured. The dust storm demolished homes and injured residents across the northern province of Uttar Pradesh causing widespread destruction in cities like Rajasthan and Agra.
Electricity has been down in many parts of the region; nearly 300 felled electrical lines can be seen in the roads. Trees have fallen, damaging electrical lines and homes. Many homes collapsed in the night after being struck by lightning, crushing the sleeping families inside. Livestock has also been destroyed, putting the farmers of the region into a precarious situation. At least 160 animals have been found dead so far. Schools across Uttar Pradesh, especially in Rajasthan remain closed.
The Dust Storm
Alluvial Fund May 2021 Performance Update
Alluvial Fund performance update for the month ended May 2021. Q1 2021 hedge fund letters, conferences and more Dear Partners and Colleagues, Alluvial Fund, LP returned 5.4% in May, compared to 0.2% for the Russell 2000 and 1.0% for the MSCI World Small+MicroCap . . . SORRY! This content is exclusively for paying members. SIGN UP Read More
Monday, India's National Disaster Management Authority issued an alert, warning residents of Uttar Pradesh of severe thunderstorms, hail, and squall. However, it does not seem that anyone was prepared for the severity of Wednesday's dust storm.
In Agra, the home of the Taj Mahal, the death toll has reached 43, while at least 33 have perished in Rajasthan, although the death toll is expected to rise as more people are found beneath the rubble. T Ravi Kant, the district divisional commissioner, explained to CNN, "Most of the deaths occurred after walls and roofs of houses collapsed in the middle of the night."
It is unclear whether the iconic landmark and tourist attraction, the Taj Mahal, suffered damage in the storm. In an April dust storm, wInds reaching 80 mph damaged two minarets at entry gates to the 17th century mausoleum.
The Taj Mahal is one of the most important tourist attractions in India, drawing 12,000 visitors annually. The mausoleum is also the most iconic piece of Mughal architecture in India.
Experts say that reconstruction efforts from April's storm had already begun on the Taj Mahal. However, they warn that rising pollution in Agra could cause more significant damage to the landmark in coming years.
Another Dust Storm Brewing?
Amid the destruction to life and property, another storm is expected in the next few days.
Himanshu Sharma, a scientist with the Indian Meteorological Department "(IMD) told the Press Trust of India, There is a high probability that winds will intensify in the next 48 hours in Rajasthan, which may lead to another dust storm." He went on to explain, "It will affect areas of Uttar Pradesh and Rajasthan border, especially Karauli and Dholpur."
IMD warns that the storms have been caused by cyclonic circulation formation in the region. Satellite images have confirmed these fears, showing growing wind pressure in Rajasthan which could lead to another dust storm. Dust storms expected for this weekend are anticipated to reach further than Uttar Pradesh.
Worst Dust Storm in Memory
A dust storm is not uncommon in Uttar Pradesh, especially in the summer, so what made Wednesday's storm so deadly? Flying debris and falling trees caused widespread damage and loss of life. Falling trees caused homes to collapse and trap families inside. Many homes in the region are simple mud huts, unable to withstand high winds and debris. Because the storm occurred at night, people were sleeping and unable to flee before being trapped beneath rubble.
Uttar Pradesh's state relief commissioner for the National Disaster Management Authority in India, Sanjay Kumar told CNN, "Many houses collapsed due to high intensity winds, or the trees fell over onto the houses."
Secretary for disaster management and relief in Rajasthan, Hemant Gera, told BBC News, it was the worst dust storm seen in Uttar Pradesh in recent memory, "I've been in office for 20 years, and this is the worst I've seen."
"We had a high intensity dust storm on 11 April — 19 people died then — but this time it struck during the night, so many people sleeping and couldn't get out of their houses when mud walls collapsed."
Laxmikant Pachouri, a local journalist, detailed the destruction to the BBC:
"People are in shock and can't believe that such destruction happened in their village. I met a family which lost four children last night – it was so disturbing. The family can't believe it. They told me that their children were playing in the house when a wall collapsed on them. Their parents are so distraught and cannot stop crying."
Shivam Lohia, a local hotel owner in Rajasthan told the AFP, "I haven't seen such a devastating storm in at least 25 years. Everyone was scared and running for cover as trees and homes were getting blown away. It was a nightmare."
What is a Dust Storm?
Dust storms are a common meteorological phenomenon in arid regions, like northern India. In regions that are naturally dry, or have become so due to poor environmental management and unsustainable farming practices, strong winds cause sand and dust to blow into the air, making breathing and seeing difficult, if not dangerous.
Dust storms are not just dangerous because of high winds, they are also known to spread disease and urban pollution throughout a region. Damage to the respiratory system from a dust storm can cause asthma, lung cancer, or a unique phenomenon known as dust pneumonia.
For agricultural regions, dust storms can destroy crops, kill livestock, and render the soil unusable. Since the 1950s, dust storms have increased 10-fold, presumably due to human toll on the earth.
Condolences & Aid
Gulab Chand Kataria, minister of Rajasthan, announced the next of kin of the dead will receive 4 lakh (6,000 USD) in compensation.
Chief Minister Yogi Adityanath, has organized officers to monitor the aid efforts. Senior officials will also be visiting hospitals, both to visit with the injured and to ensure the hospitals have the aid needed.
The office of Prime Minister Narendra Modi issued a statement on Thursday. The Prime Minister tweeted his condolences:
"Saddened by the loss of lives due to dust storms in various parts of India. Condolences to the bereaved families. May the injured recover soon.
Have asked officials to coordinate with the respective state governments and work towards assisting those who have been affected: PM"