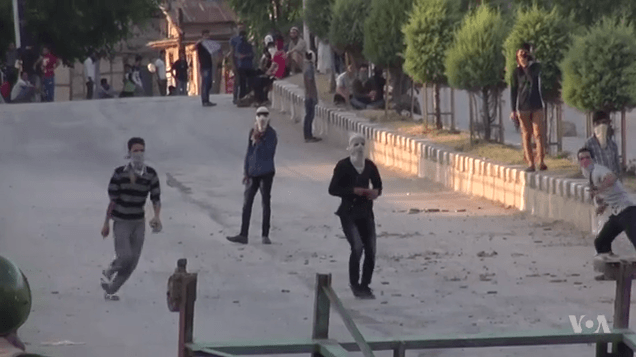 Shutdowns have continued for the second day in Shopian, in Indian-administered Kashmir following ongoing violence in the separatist stronghold. Kashmiri news has been flooded with images of the 20 left dead by Sunday's violence. The contested region of Kashmir remains one of the most militarized areas anywhere in the world. The Kashmir violence has led to a near complete shutdown of Shopian.
Separatists have called for a strike in the region, leading shopkeepers to close their doors. Schools and colleges remain closed, showcasing the effects of the ongoing Kashmir violence on the region's youth. Streets in Shopian are largely deserted aside from Indian forces in riot gear. Meanwhile, India has cut off internet access to parts of the region, enforced a curfew, and installed barriers to prevent further protests.
The Kashmir violence began this weekend after Indian raids on suspected separatist insurgents in three different villages in the contested region between India and Pakistan, leading to at least 20 deaths, potentially hundreds injured, and thousands taking to the streets to protests.
Crypto Hedge Fund Three Arrows Blows Up, Others Could Follow
A few years ago, crypto hedge funds were all the rage. As cryptocurrencies rose in value, hundreds of hedge funds specializing in digital assets launched to try and capitalize on investor demand. Some of these funds recorded double-digit gains in 2020 and 2021 as cryptocurrencies surged in value. However, this year, cryptocurrencies have been under Read More
The villages of southern Kashmir evolved into separatist strongholds in 2016, after the killing of a young separatist commander Burhan Wani. Wani was killed by the Indian army.
Differing Perspectives of Kashmir Violence
Sources and numbers vary on reports of the violence in Kashmir this weekend. Al Jazeera reports that Sunday, 12 separatists fighters, four civilians, and three Indian soldiers were killed in clashes in three villages in Shopian in southern Kashmir. The violence sparked outrage leading to protests which left more than three dozen injured.
Pakistan and Kashmir news outlets, as well as political figures are calling the dead "martyrs," a politically and spiritually loaded term for Muslims. Pakistani news reports 13 "youth were martyred in a siege and search operation" and four more killed during the subsequent funerals and protests, while more than 200 civilians have been injured.
While Pakistan refers to the dead in Kashmir as martyrs, Indian authorities have labeled the separatists as terrorists.
According to Indian authorities, four civilians were killed due to their pelting of Indian soldiers with rocks. Multiple news sources report dozens of civilians hit with pellets, fired by Indian forces to control the crowds. Many were hit by pellets in the eyes, potentially permanently damaging their vision.
The local police superintendent, SA Dinkar, has attempted to assure that the Kashmir violence in under control.
He told Al Jazeera, "All the militants have been buried and their funerals are over. We didn't get reports of any clashes except for few minor injuries of some people."
The Kashmiri people have called for a referendum to allow them to determine their own political fate. General Qamar Javed Bajwa, Pakistan's Chief of Army Staff (COAS) has said in response to the Kashmir violence, "Indian atrocities in occupied Kashmir can never suppress a just, indigenous political struggle for self-determination." He also claims Indian forces have targeted civilians along the LoC, violating ceasefire agreements. While Pakistan claims to only support the Kashmir people diplomatically, India accuses Islamabad of arming militants and sending them into the contested region across the LoC. Pakistan claims New Delhi is infringing on the Kashmiri peoples' right to self determination.
Voices from Pakistan
Monday, Pakistani Prime Minister Shahid Khaqan Abbasi called on the UN to send a delegate to Indian-administered Kashmir on a fact finding mission. The PM said, "India via its inhuman tactics cannot suppress the voice of Kashmiris and their legitimate struggle for right to self-determination."
Voices in Pakistan have taken the stance that the history of Muslim massacres by Indian forces has been continued by the violence in Kashmir this past weekend. Muhammad Asif, Pakistan's Foreign Minister raised this point, saying Islamabad would be sending delegations to confront the Kashmir violence and alleged human rights violations with different world governments. The Foreign Minister noted that he has already spoken about the Kashmir violence to his Turkish and Iranian counterparts.
Asif was quite graphic in his comments, accusing India of state sponsored terrorism in Kashmir and "playing holi with the blood of Kashmiris." Holi, also known as the festival of colors, is a Hindu festival where participants cover themselves in multicolored paint in celebration of the triumph of good over evil.
Islamabad's Foreign Minister also took to Twitter on Sunday to draw attention to the violence in Kashmir:
20martyred in South Kashmir Shopian,Islamabad districts of occupied Kashmir bloodbath today, Indian occupation forces martyred 20 Kashmiris, 300 injured and destroyed over 5 houses and still counting..worst day of state terrorism in Kashmir valley
The Pakistani government also took to Twitter to issue a statement:
Government of Pakistan strongly condemns the brutal use of force by India in Indian Occupied #Kashmir. Indian forces have crossed the limits of brutality due to which human rights are being violated.#KashmirBleeds #Kashmiris
Solidarity Amid Kashmir Violence
Pakistan's government Cabinet met Monday to discuss the situation of Kashmir violence evolving along the Line of Control (LoC). The government issued a statement saying the Cabinet was meeting "to review the current situation arising from the recent Indian brutalities." The federal cabinet strongly condemned the use of force by "Indian occupation forces" as well as the communications blackout in Kashmir.
The Cabinet also declared April 6th to be "Kashmir Solidarity Day" to commemorate the suffering of the people of Kashmir "in support of Kashmiri brothers and sisters against Indian brutalities across the country."
Pakistanis and Muslims living in the UK have also called for protests on April 16, as Indian Prime Minister Narendra Modi will be visiting London.
Kashmir has been a contested territory since 1947, when the Indian subcontinent split following the evacuation of British colonial rule. Currently, the region at the Himalayan foothills is split into Pakistan, Indian, and Chinese administered regions.
Kashmir has been rocked by violence and war for decades, leaving tens of thousands dead, home ruined, and pristine nature destroyed. At least 47,000 have perished since 1989 in Kashmir due to separatist violence. This number is contested with some organizations estimating a death toll twice as high. Authorities report this weekend's Kashmir violence has been some of the worst in years. 2018 has seen an increase in violence in the region over all.
Updated on