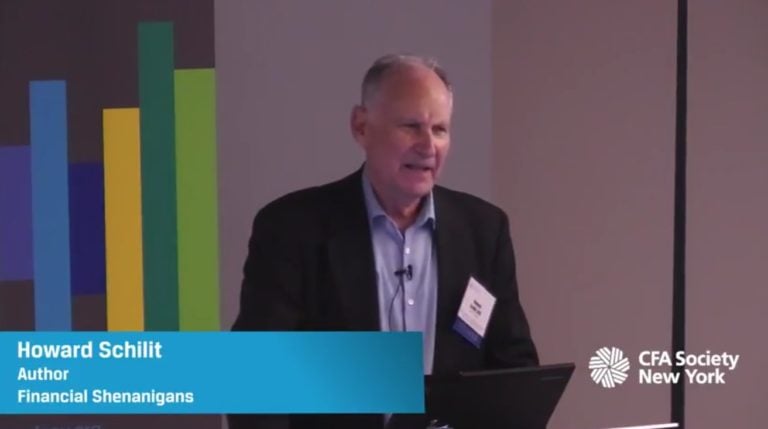 Financial Reporting & Analysis Edition – "25th Anniversary of Financial Shenanigans with Howard Schilit" from a recent CFA NY conference

Q1 hedge fund letters, conference, scoops etc, Also read Lear Capital: Financial Products You Should Avoid?
London Quality Growth Investor Conference: Buy Dassault Systemes
At this year's inaugural London Quality Growth Investor conference, Denis Callioni, analyst and portfolio manager at European investment group Comgest, highlighted one of the top ideas of the Comgest Europe Growth Fund. According to the speaker, the team managing this fund focus on finding companies that have stainable growth trajectories with a proven track record Read More
Immoral Corporate Culture
Pay attention to corporate culture and watch for breeding grounds of bad behavior. So the question that we often get asked is What are the what are the characteristics you look for in the really bad companies so that if you were looking to short stocks what kind of what kind of what would sort of be the screen you'd be looking for. And the tone at the top of the organization is the first and foremost. So if you open the book if you have it with you and you start reading the very first sentence of the very first chapter it has a quote from Joe DiMaggio who used to be the CEO of Quest. He spent a number of years in jail and by when I paraphrase what that quote is. You'll see why. It begins with the following. This is him talking. It was at a sales meeting. I guess a rah rah thing to get the sales people excited about what they were doing. OK. And it begins with the most important thing we do is to make the numbers more important than the culture. More important than our customer is more important than our product right. On and on and on. More important that a whole list of things if we don't make our numbers nothing else none of these other things can be achieved. Kate you read that and you say this is a culture and an organization where if the marching orders from this top guy is you make the numbers or else you will have 100 percent certainty you will have the massive fraud.
Also see our recent podcast with Howard here
Issue with Non-GAAP Metrics
Number Five never blindly adopt the company's profitability framework. OK so the example I have here is Linn Energy and usually it's when management is pushing out non gap metrics. I really really have a problem with the non gap metrics. It's something that auditors are not responsible to audit investors don't understand that and it can give such an unbelievably misleading picture of what's going on. So a few people before I came on were talking about valiant a fantastic story. I mean is many teachable lessons in that as almost anything I've seen the first chapter of the book. Again I was looking at the last 25 years. And what did the most important companies to talk about. It doesn't look like any of the others they made the cut. It did look like Lehman it looked like WorldCom didn't you know the ones where the quintessential fraud valiant was not a mess. I mean there were some accounting tricks that they were using. But again in terms of a very small scale it was just the non gap metrics that the company was pushing out and the sell side was pushing out. And then I get you know I'm used to that tag team of the company is trying to push out whatever makes them look beautiful and the sell side investment bankers. I get it. That's all part of the team and you know that's their sustenance. That's how they they get fed. But what I don't get is how some of the most successful people on the buy side with fantastic long term history how their brains turn to mush when it came to that company.
Location of Financial Disclosure
Even in financial disclosures. Location location location. So what's my point. There are certain things you have to disclose the positive things obviously management wants to put a banner up where you can't miss it right. The negative things management is going to want to put in the most arcane obscure places. So the example we have in the book on this was under armour so in Q4 of 2000 and 16 they made an interesting reversal of 48 million dollars related to a charge that they had previously taken. So they had taken a a a normal kind of charge where they were accruing bonuses based upon an expected level of profitability. So that's a normal type of thing you do it on a quarterly basis. It turned out that the business started really doing badly and the bonus was not going to be paid out and they basically flipped the switch and that went back into income but in order to be able to see that is exactly what they did. They put it in the least obvious place deep into the 10k footnotes in a footnote where they had a breakdown of the geographical amount of revenue the revenue and different. It had nothing to do with what the label of that footnote was about. So that is and so the idea is management is not going to be helpful in you finding the negative stuff.
And again I would fault the auditors for not advising them and saying no if you're taking a a charge and you put that you know in a category and say you know ignore this and then you basically reverse that into income where it's very difficult for the investor to see that that's not a normal recurring type of source of income. Why are you giving the investors such a hard time figuring out what's really happening. I mean I think in terms of being a friend of investors and I hate when I see people who are doing things to to trick investors.
Merger Accounting Shenanigans
Updated on