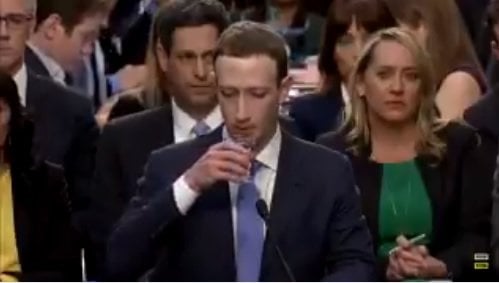 "I'm sorry."
That's pretty much the summary of Mark Zuckerberg's testimony before Congress yesterday. Facebook's CEO, who has built his billionaire fortune by harvesting and selling our data, dodged questions and stuck to his carefully coached talking points.1
Exclusive: Dan Loeb's Two New Stock Picks [Q1 Letter]
Third Point's Dan Loeb discusses their new positions in a letter to investor reviewed by ValueWalk. Stay tuned for more coverage. Loeb notes some new purchases as follows: Third Point's investment in Grab is an excellent example of our ability to "lifecycle invest" by being a thought and financial partner from growth capital stages to Read More
He made a lot of claims about the things Facebook is going to "do better." But we don't need apologies and empty promises. We can't trust big tech companies, or out of touch politicians who barely understand how the Internet works, to fix this.
That's why we need a mass uprising of Internet users to hold these companies accountable and demand change. Click here to tell Facebook and all big tech companies to protect our data by committing to the 5 steps outlined in the Security Pledge.
Some of the changes that Facebook is proposing are improvements, in line with the concrete demands laid out by tech and human rights experts in the wake of the Cambridge Analytica scandal. But the most important needed changes are missing from Facebook's "clean up" plan: they need to collect less data about all of us in the first place.
This latest data harvesting scandal is just a glimpse into the power of surveillance-based companies like Facebook. The massive trove of data they collect on their 2.2 billion active monthly users is used to build complete profiles about our hopes and fears, our preferences, and our emotional states. Worse, it can be used to manipulate all of those things.
Most of the senators questioning Zuckerberg on privacy are on the record voting to repeal broadband privacy rules, expand government and corporate online surveillance powers, and undermine our privacy. And most of them have taken big checks from companies like Facebook, Comcast, and Google as well.
We can't trust Congress, or Facebook to fix this. We, the users, have to step up and demand change. We have to fundamentally shift how society and people think about convenience and privacy.
Technology should be, and can be, convenient and safe, if we demand it. That's why we launched the Security Pledge.
But before we can get Facebook, we have to get a bunch of smaller and medium-sized companies to take the pledge. This will put pressure on the tech giants to follow suit, or get replaced.
Drafted by human rights and tech experts, the Security Pledge campaign will empower users by arming them with the knowledge of which companies take the necessary precautions to protect our data, and which don't.
We know that this is an ambitious goal, but it's a mission that we believe will continue to strengthen the open Internet as a space for democratic engagement, innovation, and community.
If millions of people sign this open letter demanding change, we can pressure tech companies to build our privacy and safety into their business model. Companies that refuse to take the pledge cannot be trusted.
For the Internet,
Laila at FFTF
---
Footnotes: