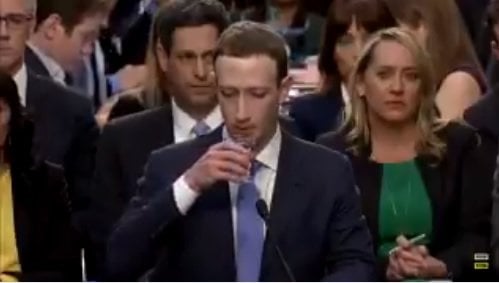 Mark Zuckerberg has spent hours giving his testimony to Congress today, and lawmakers grilled him about policies and procedures at Facebook in the wake of the Cambridge Analytica data scandal. Today's testimony before the joint Senate and Commerce Committees, and it is just the first of two days of congressional hearings the Facebook founder will have to undergo. The second day of hearings will be held on Wednesday morning before the House Energy and Commerce Committee.
Initial reactions on Mark Zuckerberg's testimony to Congress
Most media outlets agree that Mark Zuckerberg's testimony to Congress seemed very mechanical and robotic as he delivered answers wearing a stone face. He clearly spent time practicing his answers to the questions he was expected to face, although he did offer up an apology, saying that he's "responsible for what happens" at the company and that the problems were "my mistake."
Fund Manager Profile: Kris Sidial Of Tail Risk Fund Ambrus Group
A decade ago, no one talked about tail risk hedge funds, which were a minuscule niche of the market. However, today many large investors, including pension funds and other institutions, have mandates that require the inclusion of tail risk protection. In a recent interview with ValueWalk, Kris Sidial of tail risk fund Ambrus Group, a Read More
Although the hearings were sparked by the Cambridge Analytica scandal, his answers will be much more far-reaching and will likely impact data privacy not only at Facebook but at other tech companies as well. Facebook estimates that the data of some 87 million users was harvested by Cambridge Analytica to create psychological profiles of them and then later made that data available online.
Mark Zuckerberg's testimony to Congress on Cambridge Analytica
As would be expected, Cambridge Analytica was the first topic at hand, and lawmakers wanted to know what Zuckerberg knew about what the company was doing. They also demanded to know what he was doing to keep it from happening again in the future and if he knew other similar situations involving other companies harvesting data on Facebook. He said that they have teams investigating "tens of thousands of apps" and auditing them to see "how they're using their data and if they're doing anything improper."
He also promised that they would ban companies found to be guilty of harvesting data in a manner similar to what Cambridge Analytica was found to be doing. In fact, Facebook also announced today that it is launching a bounty program to reward users for turning in data thieves. The program is similar to the bug bounty program Facebook offers for those who report security vulnerabilities.
Other topics during Mark Zuckerberg's testimony to Congress
Privacy wasn't the only thing lawmakers demanded answers to during Mark Zuckerberg's testimony to Congress. They also grilled him about alleged Russian meddling in the 2016 presidential election. He confirmed that Facebook staffers have been interviewed by team members working with special counsel Robert Mueller on the topic, although he also said that he personally wasn't interviewed about it. He also said that one of his "greatest regrets" was being "slow identifying the Russian operations in 2016."
Additionally, senators asked Zuckerberg about Facebook addition, wanting to know whether they "hire consultants to tell you how to tap into dopamine feedback loops to keep people addicted." It's a reference to some comments made by former Facebook executives late last year. They accused social media in general of destroying society and said that Facebook was designed to exploit human psychology. However, Zuckerberg told lawmakers today that they don't hire consultants to do that.
Lawmakers also asked a series of questions about political bias at Facebook, reigniting a topic that has been overshadowed by the Cambridge Analytica scandal. Before all the concerns about data privacy, there were concerns about whether the social network was biased toward liberal viewpoints, as conservatives alleged that their voices were being silenced through liberal favoritism on the Trending feature.
Self-regulation during Mark Zuckerberg's testimony to Congress
The topic of regulation also came up during Mark Zuckerberg's testimony to Congress. When asked by Sen. Lindsey Graham if he feels that Facebook is a monopoly, he said he it doesn't, eliciting some chuckles around the room. The Facebook founder and CEO said he is open to the "right regulation," whatever that means. Graham asked him why they should allow the social media company to "self-regulate," and Zuckerberg responded with, "I think the real question is what is the right regulation," adding that they will give the senator's office some suggestions of what they think would make good regulations.
A related issue is censorship, as lawmakers asked Zuckerberg about the company's hate speech guidelines, concerned that pro-life viewpoints may be censored.
If there's one thing we can get from Mark Zuckerberg's testimony to Congress, it's that he seems to be trying to please everyone, which is impossible.