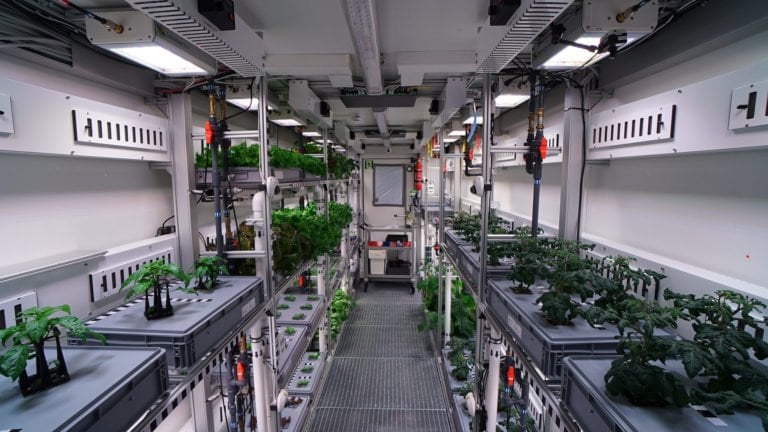 Scientists have harvested the first antarctic vegetables in an achievement that researchers are calling the "first harvested Antarctic salad."
While Antarctica is host to a number of species, it's notoriously inhospitable to the majority of life. With frigid temperatures that make it next to impossible for humans or vegetation to thrive, it's clear that growing any sort of food source on the continent is quite a difficult feat – perhaps even too difficult. The experimental greenhouse EDEN-ISS at the Alfred Wegener Institute's Neumayer-Station II was responsible for the production of these Antarctic vegetables, in a harvest that included 18 cucumbers, 70 radishes, and nearly eight pounds of lettuce. It's not a huge harvest by any means, but considering the hostile conditions that the team behind the EDEN-ISS greenhouse had to overcome it's a pretty impressive achievement.
The Antarctic vegetables serve as some much-needed fresh food for the wintering crew at the Neumayer-Station, but they also have another important purpose: serving as a test run for growing food in harsh climates. While this may have limited applications here on Earth, it could have massive implications for our ability to grow antarctic vegetables on other planets – especially those with harsh conditions similar to that of Antarctica. For this most recent test run of growing antarctic vegetables, the scientists planted the seeds in February for a successful harvest just a few months later.
Dan Sundheim Founder Of D1 At Sohn 2021 On His Favorite Stock
At this year's Sohn Investment Conference, Dan Sundheim, the founder and CIO of D1 Capital Partners, spoke with John Collison, the co-founder of Stripe. Q1 2021 hedge fund letters, conferences and more D1 manages $20 billion. Of this, $10 billion is invested in fast-growing private businesses such as Stripe. Stripe is currently valued at around Read More
One of the unique features of the indoor farm that separates it from other growing options is the fact that it doesn't require soil – perhaps making it more feasible for applications on other planets. The Antarctic vegetables were also grown using a closed water cycle and optimized light – both of which should be potentially feasible in extraterrestrial locales. Missions to both the Moon and Mars should be more of a reality moving forward – with astronauts able to stay on the surface of these bodies for longer periods of time with access to fresh food grown on the area on which they stand.
The DLR engineer Paul Zabel is one of the few Antarctic gardeners that was involved in the project, and said that they had to overcome some issues such as minor system failures as well as the "strongest storm for more than a year." These posed a significant obstacle, but at the end of the day the research team managed to grow antarctic vegetables and take a step forward towards a future where growing food on the surface of Mars or the moon isn't the obstacle that it used to be,
The greenhouse where the Antarctic vegetables were harvested is only around 1300 feet away from Neumayer-Station II, and Zabel spends around three to four hours a day in the greenhouse in order to contribute to the continued growth and research around these antarctic vegetables. According to Station manager Bernhard Gropp, "It was special to have the first fresh salad of the Antarctic…It tasted as if we had harvested it fresh in the garden."
Moving forward, continued research will give us the information we need to ramp up this production on a larger scale, turning the first antarctic vegetables into a grand production that can eventually support itself on other planets. While it's sometimes difficult to imagine what life would be like on the surface of Mars, there are harsh conditions on Earth that may be comparable – and these scientists just proved that life can thrive in even the harshest of conditions.