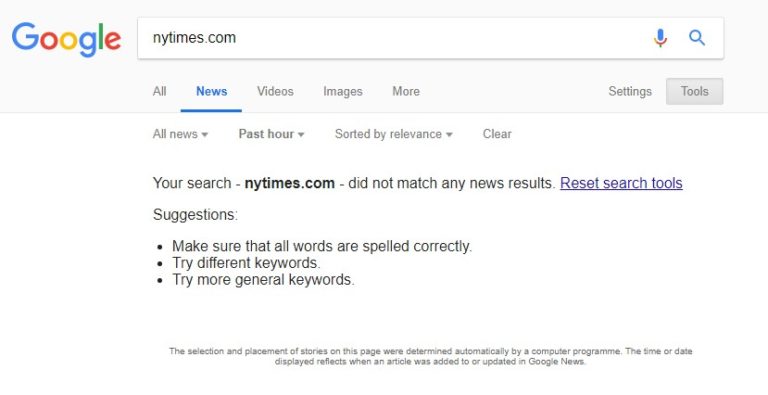 UPDATE: FIXED.

For most news sites, traffic lives or dies by Google News. The service's ability to rank sites based on relevance and quality is an excellent feature for the end user, but it also drives a lot of traffic to sites around the web and is responsible for a large portion of the revenue a lot of these websites see. It's understandable, then, that website administrators be concerned when their articles aren't indexing correctly – causing them to lose valuable traffic on articles that are often quite time-sensitive. Users today are reporting a Google News Issue that is causing problems with website indexing – a frustrating issue that Google has yet to comment on.
Voss Value Sees Plenty Of Opportunities In Cheap Small Caps [Exclusive]
For the first quarter of 2022, the Voss Value Fund returned -5.5% net of fees and expenses compared to a -7.5% total return for the Russell 2000 and a -4.6% total return for the S&P 500. According to a copy of the firm's first-quarter letter to investors, a copy of which ValueWalk has been able Read More
Like any major technology company, there are a lot of pieces working underneath the surface that can cause problems for a lot of people when something goes wrong. The difference between an organization like Google and other large sites is that Google is responsible for the majority of traffic going through the internet. As the largest search engine by far, people turn to the service whenever they have a query and the website is largely considered to show the best results. The Google News issue affects one of the biggest parts of the engine and has led to lower traffic for a number of websites that rely on the service to drive viewers to their sites. No longer able to rely on quality content and website reputation to create adequate traffic to recent articles, users have taken to the Google forums to discuss this glitch at length and with hopes that the company will address the Google News issue sooner rather than later.
User Vostori said "Look around – you will see Google News is not indexing like it should with articles all quite old now. The Google News UK edition appears to be stuck and isn't refreshing, so I would suggest it is a glitch we are witnessing."
Rheace Jones: "Hi we are having the same issues today! Our news feed hasn't updated with any of our articles since 10pm last night UK. We have had 7 news pieces published, and zero are showing today. Sitemap is fine."
User reports are mixed as to whether or not it's still an issue as of the time of this publication.
"All back to normal. Issue appears to have resolved at time of writing." Vostori said, but Marcin Frąckiewicz suggested that there are still issues – even with large sites that see a huge amount of traffic: "It is still not resolved. I see minimum 20 websites with no content from today's morning. Also biggest websites."
As we wait for Google to resolve the problem, there's not much we can do in the meantime. With so much of traffic depending on proper indexing, the Google News Issue and glitch is causing some major worries for those who rely on advertising revenue. If there's one Google service that website administrators don't want to go down, it's News, so hopefully the Google News Issue gets ironed out sooner rather than later. As Google becomes aware of the issue, it should be fixed expediently. Until they comment on the problem, however, we can only guess as to when we'll see an adequate solution to this frustrating glitch.
[SOURCE]
Updated on