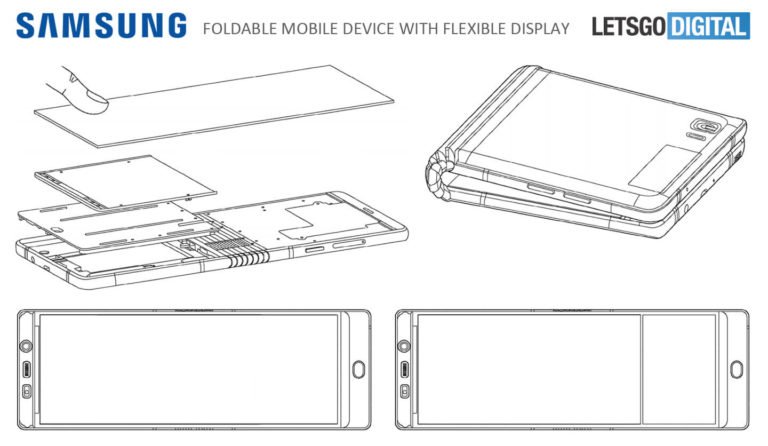 We have been hearing rumors about Samsung's foldable smartphone Galaxy X for years. The device was rumored to launch in 2017, but that didn't happen. Speaking to media earlier this year, Samsung's mobile business head DJ Koh declined to commit to a specific Galaxy X launch date. Koh said it would not be a mere proof of concept, but a fully polished, functioning and useful device. So, Samsung seems to be taking its own sweet time to ensure that the device delivers a meaningful experience to users.
The Galaxy X would have a display that you could fold and unfold repeatedly, just like a book. A new report from Korean site The Bell suggests that the Galaxy X launch date is set for early 2019. The foldable phone's design would be finalized by June this year. It should enter production by the end of 2018 or early next year. Samsung has indicated that it would start producing OLED panels for foldable smartphone this year.
Sources told The Bell that the Galaxy X would look more like a Galaxy Note than a foldable tablet. The Korean electronics heavyweight showed both the infolding and outfolding prototypes to a select group of investors and carrier representatives at the Consumer Electronics Show (CES) earlier this year. Samsung has reportedly decided to release the infolding version as Galaxy X. It could keep the outfolding variant for the next-gen of foldable handsets.
Retail Investing Trends With TradeZero America's Dan Pipitone
ValueWalk's Raul Panganiban interviews Dan Pipitone, co-founder of TradeZero America, and discusses his recent study on retail investing trends. Q1 2021 hedge fund letters, conferences and more The following is a computer generated transcript and may contain some errors. Interview with TradeZero America's Dan Pipitone ValueWalk's ValueTalks ·
In terms of design, the Galaxy X would have three OLED screens, all measuring 3.5-inch in size. Two halves are placed inward, while the third 3.5-inch screen is on the outside. The third screen would give you quick access to information when the phone is folded and the inner two screens are shut facing each other.
There were speculations in the past that the Galaxy X would act like a tablet when unfolded. However, sources told The Bell that the foldable phone's total footprint would be similar to the Galaxy Note 8 when unfolded. The report says Samsung will produce only small quantities of Galaxy X next year as part of a pilot program. The company is looking to make only 500,000 to 2 million units in 2019 to gauge consumer response.
The Galaxy X could initially be sold only in Samsung's home country. Depending on the consumer response, Samsung to bring the handset to other markets later in 2019 or in 2020. According to The Bell, Samsung has already informed its key component suppliers about the Galaxy X launch date to prepare for production. The company could still change its plans if it faces any major technical or manufacturing challenges.
Last month, Qualcomm's product manager for display technology, Salman Saeed, told TechRadar that the Galaxy X launch date was still at least a year away. Samsung already has the foldable OLED technology, but many challenges are yet to be addressed, said Saeed. For example, parts in the display that light up individual pixels are still not strong and flexible enough to withstand repeated bending. It could eventually damage the flexible display panel.
Saeed assured that smartphone vendors would not have to worry about processing power because Qualcomm's existing processors have more than enough power to meet the demands of foldable devices like Galaxy X. The phone would require a new user interface due to its foldable design and the presence of the third display. It means Samsung will have to heavily customize the Android OS.
It's worth pointing out that Galaxy X is a different device from Samsung's 2019 flagship Galaxy S10. Earlier this year, DJ Koh said that the company was considering changing the naming pattern of the Galaxy S-series. His statement sparked speculations that the Galaxy S9 successor could feature a foldable display and carry the Galaxy X branding. Sources told The Bell that the Galaxy X would launch only in small quantities while the Galaxy S10 (or whatever it's called) will be released worldwide.
Little else is known about the Galaxy X. The Korean company trademarked the "Galaxy X" name in March 2017. The device is expected to support 5G connectivity, run a 7nm chip, and feature a Neural Processing Unit (NPU) to handle AI features.
While the Galaxy X launch date is about a year away, Samsung's rival Huawei is planning to release a foldable phone this year. According to ETNews, Huawei would source OLED panels from LG, and launch its foldable smartphone in November this year. However, Huawei's device might not be sold in the US due to spying concerns.
Samsung doesn't want to rush things. The Korean company has said that it was making progress on the foldable phone, but it would release the handset only when it has "complete confidence that we're delivering the best user experience."