If you've been looking at tablets recently and have immediately eliminated the iPad as an option due to the price tag, you're probably checking various Android tablets, but before you make a choice, you should think about exactly what you plan to use it for. You probably have noticed that Amazon makes its own line of tablets at a very attractive price point, and they certainly should be taken into consideration.
I recently received a chance to write an Amazon Fire HD 10 review, and I think the most important thing when considering this tablet is to have realistic expectations going on and to be open-minded about which apps you use. The bottom line is that the Amazon Fire HD 10 is an absolutely beautiful tablet, but while Android users will find the interface to be similar to what they are already used to, it isn't an Android tablet, despite the fact that Fire OS is built on Android. Instead, the Fire HD 10 connects to your Amazon account.
Amazon Fire HD 10 review: perfect for Prime subscribers
The tablet is a wonderful choice for Amazon Prime power users, readers and Instant Video lovers. I especially enjoy the connection with Prime Video, which I watch nearly every day, and in my opinion, Amazon is kicking Netflix's proverbial behind in terms of content quality. It rather surprises me that Netflix's original content is making all sorts of waves, but Amazon's original shows, such as The Man in the High Castle, don't get a lot of media attention. In fact, not only is Amazon's original content better than Netflix's originals, in my opinion, but Amazon also has many of the older shows that were previously on Netflix but have now been removed.
In short, the big takeaway from this Amazon Fire HD 10 review is that this is an excellent media tablet for watching videos and reading books. If you enjoy Prime Instant Video, the Fire HD 10 makes it easy to discover new shows and films you might be interested in, and the beautiful 1080p display offers a vibrant, enjoyable viewing experience. The user interface is better than the interface on my Roku Streaming Stick, and I've found that it's easier to browse on the Fire HD tablet and add shows to my list on the tablet before locating them on the Roku stick. It works as a sort of TV guide for Amazon Prime Instant Video.
The Amazon Fire HD 10 also offers access to some free books through your Prime subscription, and the vibrant screen makes reading books on it a joy rather than a chore, like some tablet do.
Amazon Fire HD 10 review: no Google apps
Something else that's important to realize before you buy any of Amazon's Fire tablets is that Google's apps are not available on them. At first I thought would be a huge problem, but upon using the tablet more, I discovered that it isn't as big of a deal as I initially thought it was. For example, Amazon's email app easily connects you to Gmail. All you have to do is enter your Gmail address, and then it takes you to a login page for Gmail to link your account. The Fire HD's Email app seems to work seamlessly with Gmail.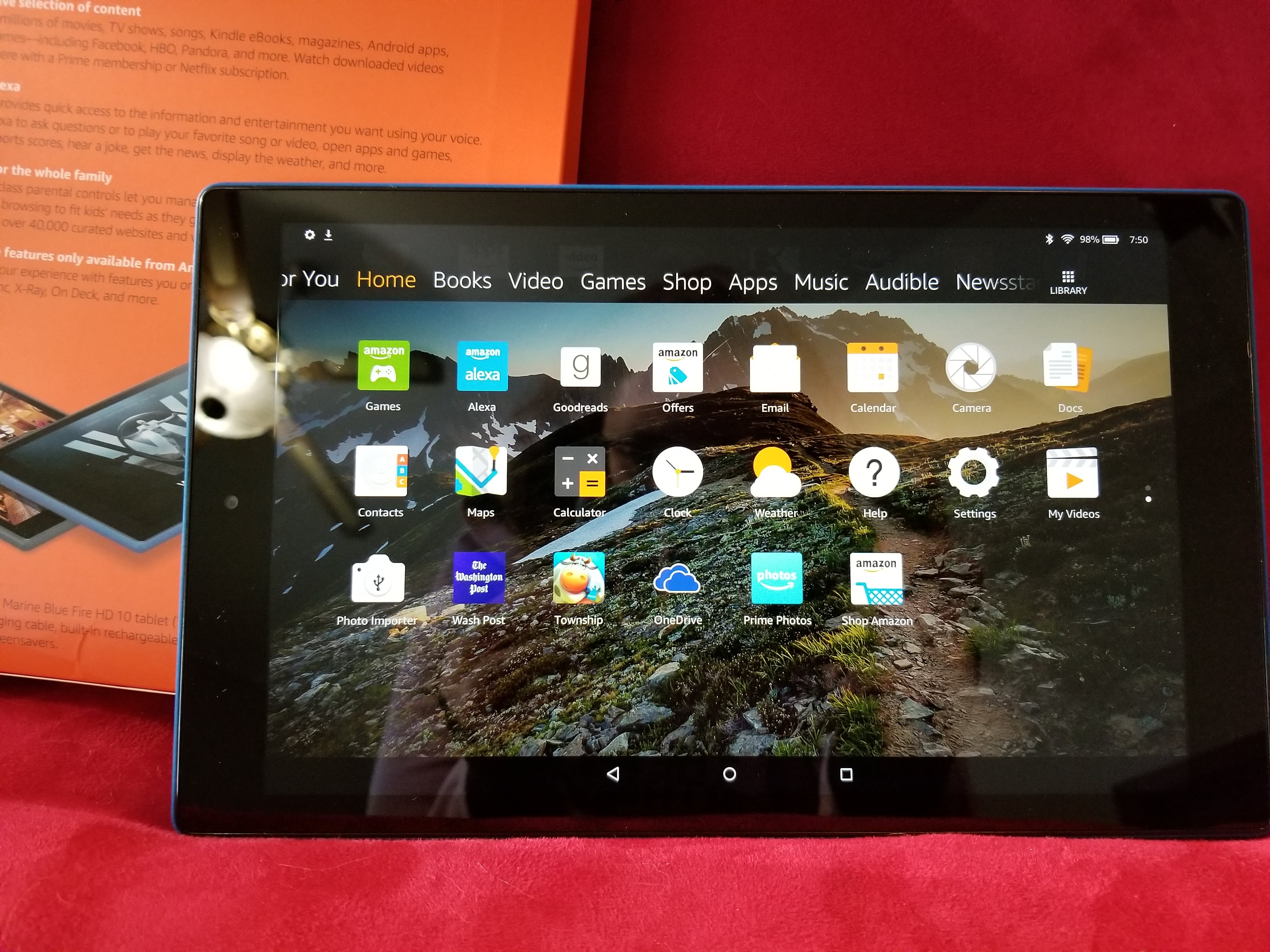 The biggest issue with not having Google connectivity on the Fire tablet is the fact that you can't link your Google Play account to bring over your progress in any games you've been playing on other devices. For example, in order to transfer my Township progress from my ASUS tablet to the Fire HD, I will have to link it with my Facebook account, which I'm not very keen on doing. I would much rather transfer it using my Google Play account. I would say this is the biggest drawback in my Amazon Fire HD 10 review, but for many users, it's a non-issue. Additionally, there are some popular games that aren't available on the Fire HD, like Plants vs. Zombies.
Amazon Fire HD 10 review for productivity is mixed
Another big disappointment I discovered in writing this Amazon Fire HD 10 review was that Microsoft's Office 365 apps aren't available on it. Actually, Outlook and OneDrive are technically available, but OneDrive didn't work at all. It kept telling me that there was no network connection, even though there obviously is because I was browsing the web and using other apps that require an Internet connection. There weren't any apparent issues with OneDrive on my other devices, so this app is clearly broken.
For some users, not having access to Microsoft Office apps won't be a deal-breaker, especially because Amazon does offer its own productivity apps, but it will be a problem if you use OneDrive to store all your files and want to access them on your Fire tablet. However, if you want to start new documents on your Fire HD tablet rather than edit old ones from your other devices, Amazon's productivity apps are sufficient as long as this tablet isn't your main productivity device.
As a test, I connected my Logitech Bluetooth keyboard and used Amazon's Docs app to write most of this Amazon Fire HD 10 review. The app is similar to Microsoft Word, but it's sort of a watered-down version. For example, it doesn't automatically check spelling as you type. Still, the Amazon Fire HD 10 was much more responsive than my ASUS Android tablet. The keyboard worked well with the Fire tablet, and it didn't glitch while typing like my ASUS tablet does sometimes.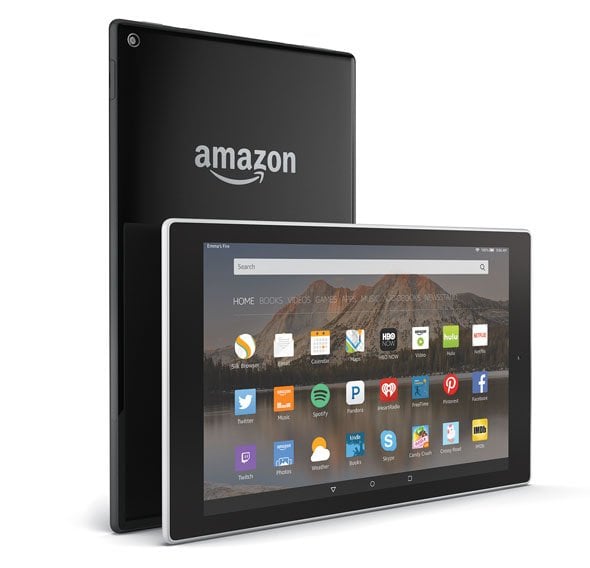 To sum up this Amazon Fire HD 10 review, here's my rating in each of the categories I evaluated in this tablet (1-10, with 10 being the best):
Overall performance/ quality/ responsiveness – 10
Display – 10
Video/ media – 10
Books/ reading – 10
Battery life – 7 (doesn't last the advertised 10 hours)
Games – 10 in actual gameplay, 7 in availability of popular titles
Shopping – 10 (ease of finding things on Amazon)
Productivity – 8 if OneDrive isn't important, 5 if it's essential for you
If you're ready to dive in and pick up an Amazon Fire HD 10, please click here to buy the item (we receive an affiliate fee for any purchases you make but it is entirely anonymous and probably not close to enough to buy another Fire HD 10 :) ).
Disclosure: I received an Amazon Fire HD 10 in return for this review.