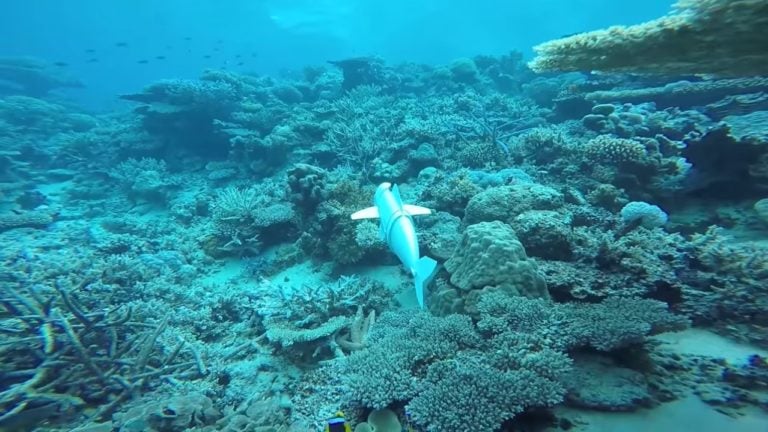 A team of researchers at MIT have designed SoFi, a soft-bodied robotic fish that will be used to monitor and study real fish.
SoFi
While swimming robots have been developed in the past, the development of SoFi is significant because it is the first robotic fish to be able to survive in actual ocean conditions for an extended period of time – a quality that is quite important given the task that this robotic fish is intended to carry out.
Retail Investing Trends With TradeZero America's Dan Pipitone
ValueWalk's Raul Panganiban interviews Dan Pipitone, co-founder of TradeZero America, and discusses his recent study on retail investing trends. Q1 2021 hedge fund letters, conferences and more The following is a computer generated transcript and may contain some errors. Interview with TradeZero America's Dan Pipitone ValueWalk's ValueTalks ·
The study detailing the development of the robotic fish was published Wednesday in Science Robotics, and within the authors describe how SoFi performed near flawlessly during a test in a coral reef off of Fiji, swimming effortlessly in three dimensions while controlled by a diver armed with a controller.
According to Daniela Rus, director of the Computer Science and Artificial Intelligence Laboratory at MIT and leader of the work, the research has the potential to change the way we approach studying aquatic life moving into the future. In statements to a number of outlets, she has stressed the significance that creating a robotic fish that functions like SoFi will have for marine study.
SoFi the robotic fish is around the size of an actual small fish, weighing just 3.5 pounds and measuring in at a foot and a half long. The robot is controlled via a hydraulic pump that moves water through the tail from side to side – even enabling SoFi to navigate around the watery environment just as a fish would.
While the development of SoFi is groundbreaking in and of itself, it's even more significant in that the robotic fish is almost entirely 3D-printed – potentially opening up use of the robot to scientific teams around the world who want an easier way to "spy" on fish and learn more about these aquatic denizens.
A Hard-Won Victory
While SoFi performs quite well in an underwater environment, there were a number of challenges that the research team at MIT had to contend with in order to get this robotic fish swimming through the seas.
The most obvious issue with robotics underwater is the fact that electronics don't generally play nice with water. The robotic fish needed electronics that could be held in a watertight container, and in this case SoFi was designed with all of the inner workings – mainly run off of a small Linux computer – inside of its head.
Buoyancy was also a concern, with the need for fine adjustments in order to allow the robotic fish to move seamlessly in three dimensions – just as a normal fish would. In order to fix this problem, the research team actually made a novel new implementation that they referred to as a buoyancy control unit – using urethane foam chambers that change density by compressing or decompressing air.
One of the biggest obstacles was actually the fact that the signals used to control robots on land wouldn't transmit reliably through water – necessitating a different approach to actually allow the robotic fish to communicate with the controller. This problem was solved by using ultrasonic signals that can interact with a custom remote control. This allows a diver to be up to 50 feet away from the robotic fish and still control it as a tool to assist with study.
Future Potential
Moving forward, Rus and her team would like to continue making improvements to SoFi, namely in the form of allowing it to swim faster and giving it the ability to transmit video as well as do better color imaging in the water.
While SoFi isn't completely finished, this robotic fish is shaping up to swim just as well as its living and breathing counterparts and has the potential to be quite useful for continued study.