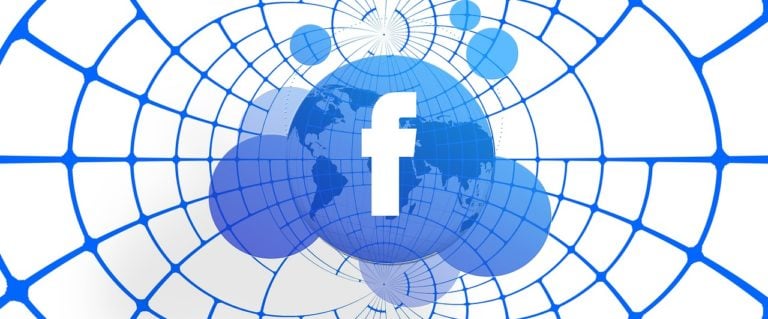 Facebook has found itself in the midst of a massive data sharing scandal. British data analytics firm Cambridge Analytica used Facebook data of more than 50 million users for voter profiling to influence the 2016 US election. We know that the social networking sells your data to third-party apps and advertisers. That's how it makes money. The company has been at the center of many data scandals in the past, but the latest one has acted as a precursor to a massive #DeleteFacebook movement. Facebook has failed to fulfill its responsibilities towards its users, who are now scared of their data being misused again and again. Many are trying to figure out how to delete Facebook or at least stop third-party apps from using their Facebook data. If you don't know how to delete Facebook, we are going to guide you right here.
Third-party apps gain access to your Facebook data when you take a "personality test" quiz, login to other websites and apps using Facebook. The US Federal Trade Commission is investigating whether the company violated a 2011 agreement to protect user privacy. In the agreement, Facebook promised to notify users and ask for "express consent" before sharing their information with third parties. You have every right to stop Facebook and third-party apps from misusing your data.
How to delete Facebook account
Before diving into how to delete Facebook accounts, you should know that "deleting" and "deactivating" your account are two different things. Deactivation is a good option for someone who is taking a temporary break from Facebook. They can login later, and will find their profile intact. If you deactivate your account, Facebook will still keep all your data, though you'll become invisible to your friends. You can deactivate your account from Menu > Settings > General > Manage account > Deactivate your account.
Star hedge fund macro trader Colin Lancaster warns: Inflation is back
Talk of inflation has been swirling for some time amid all the stimulus that's been pouring into the market and the soaring debt levels in the U.S. The Federal Reserve has said that any inflation that does occur will be temporary, but one hedge fund macro trader says there are plenty of reasons not to Read More
Deleting your account means all your Facebook data and history will be erased. Mark Zuckerberg makes it difficult for you to delete your Facebook account. You won't easily find the option to delete your account in settings. If you have made up your mind to get rid of the social network for good, you may consider deleting your account. But before that, you should download all your personal information from Facebook.
Your Facebook archives include your photos, posts, Likes, chat history, active sessions, IP addresses, the ads you clicked, facial recognition data, and more. To download your archives, head over to Settings > General > Download a copy of your Facebook data and then click Start My Archive. Now you are ready to delete your account.
Click on this link to go directly to the account deletion page. Now click on Delete My Account. Facebook will not delete your account immediately. It will mark your account for termination and make it inaccessible to others. The social network says it may take up to 90 days to permanently delete your account and the data associated with it. Facebook will still keep some of your log records in its database.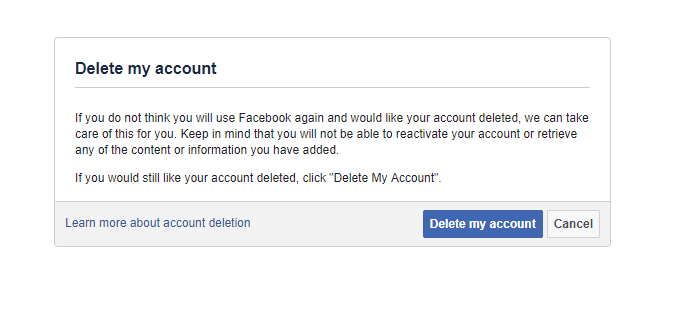 If you log back in during the 90-day termination period, your account deletion request is canceled automatically. So, resist the temptation to login to Facebook during that period. Don't worry, you will be able to use the Messenger app even if you don't have a Facebook account.
How to stop apps from using your Facebook data
Now you know how to delete Facebook accounts permanently. But it's not possible for everyone to fully get rid of the social network. Some people want to stay connected with their friends and family, while others have to be on Facebook for business purposes. If you are one of them, you can choose to stay on Facebook while preventing third-party apps from accessing your Facebook data. You have probably logged in to dozens of apps and services through the social network. You might unintentionally be sharing tons of personal data with third-party apps.
If you use Facebook via a web browser
Head over to Settings > Apps
Below Apps, Websites and Plugins, hit the Edit button.
Now click on Disable Platform to prevent third-party apps from accessing your data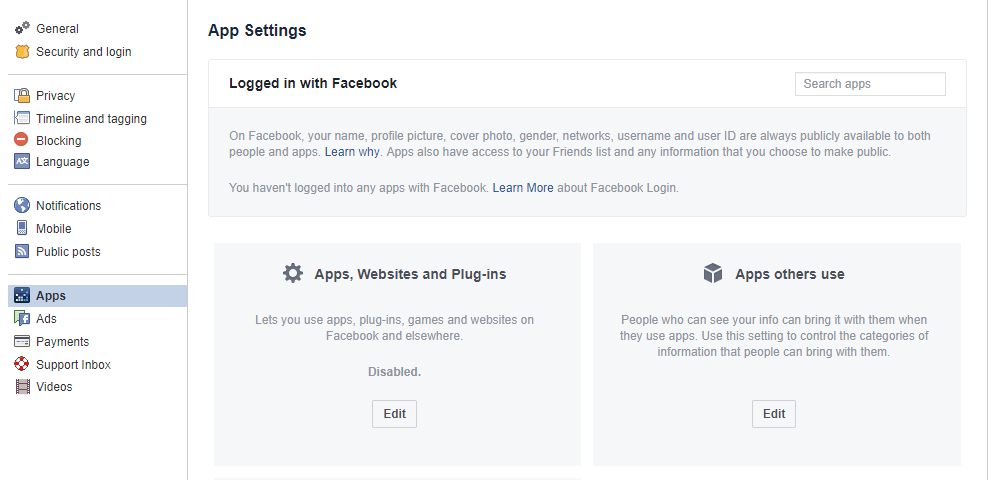 If you use Facebook's Android app
Tap the three lines in the top-right corner
Go to Settings & Privacy > Account Settings > Apps > Platform > Edit > Turn off Platform
For iOS users
Tap the three lines at the bottom-right
Go to Settings > Account Settings > Apps > Platform > Edit > Turn off Platform
Turning off the platform will remove all the apps from your profile. Yes, you'll not be able to login to third-party apps or services via Facebook and you may have to change passwords on these sites.
How to limit the data third-party apps can access
If you do not want to remove third-party apps from your Facebook account, you can still limit the information they can use. Here's how to do it.
If you access Facebook via a web browser
Go to Settings > Apps > Apps Others Use
Click Edit. You'll now see all your personal data that could be shared with third-party apps.
Uncheck all the boxes and click Save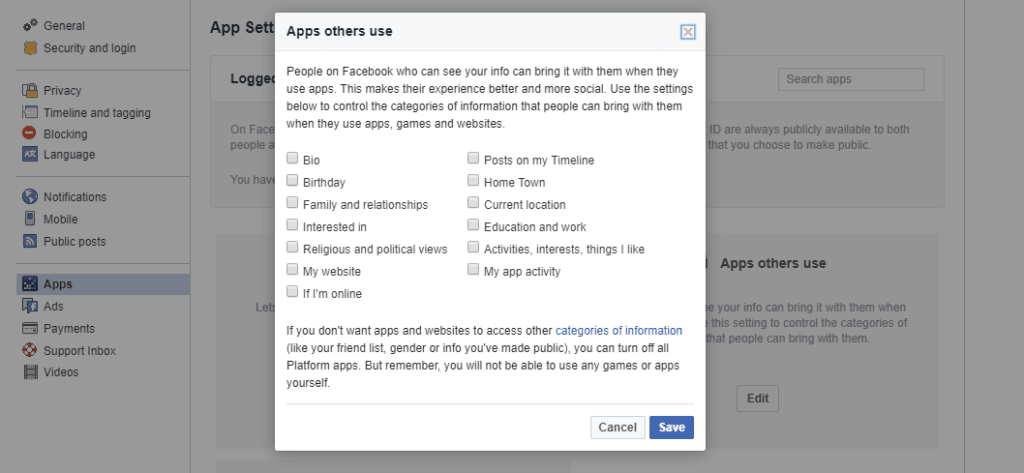 If you use Facebook's mobile app
Tap on the three horizontal lines
Go to Settings > Account Settings > Apps > Apps Others Use
Now uncheck everything and save