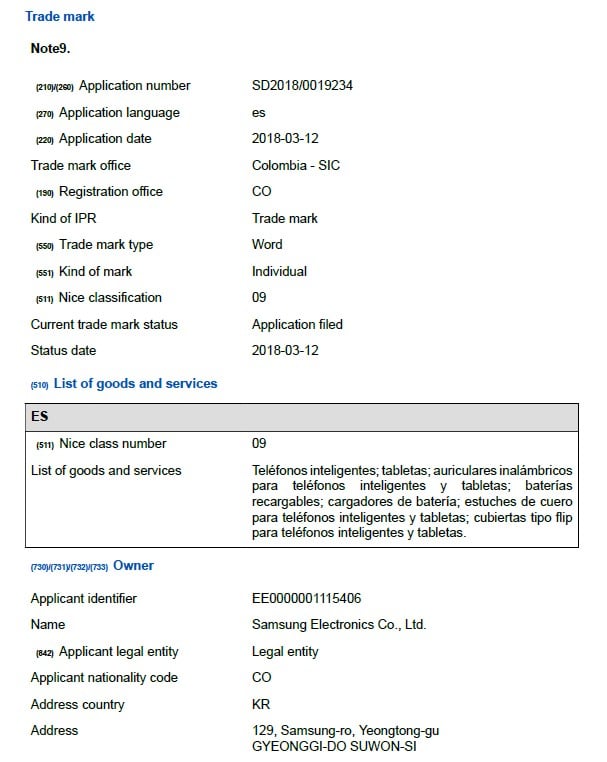 While the hottest Samsung phone on the market is currently the Galaxy S9, there's no doubt a new entry in the Note line that is currently in development. While it was pretty safe to assume that the Galaxy Note 8 would be followed by a 9, we've gotten our first confirmation of the Galaxy Note 9 name confirmed by a recent trademark filing.
Galaxy Note 9 Name
The trademark filing was discovered by GalaxyClub, and it shows that the company had filed for a trademark in Colombia for the Galaxy Note 9 name. This isn't exactly shocking, as the numbered releases have been par for the course for Samsung, but it does two things: confirms that the phone is actually in development, and also gives us a confirmation of the Galaxy Note 9 name.
ValueWalk's August 2021 Hedge Fund Update: Point72 Suffers Loss; Hedge Fund Assets Hit $4 Trillion
Welcome to our latest issue of ValueWalk's hedge fund update. Below subscribers can find an excerpt in text and the full issue in PDF format. Please send us your feedback! Featuring Point72 Asset Management losing about 10% in January, Millennium Management on a hiring spree, and hedge fund industry's assets under management swell to nearly Read More
Release Date
As far as a release date for the phone goes, we're likely a few months out. While the filing for a trademark to protect the Galaxy Note 9 name is no doubt an indication that the phone is a good ways along in terms of development, we just recently saw the launch of the Galaxy S9 and it would be a bad business move to launch a new phone so quickly after a major flagship launch. The Galaxy Note 9 name trademark proves that the successor to the Note line is in development, but we likely won't see the phone shipped until sometime in the fall. All indications point to a release date sometime in August – an estimate based both off of this Samsung Galaxy Note 9 name filing as well as the previous schedule of releases for the Note line.
While the Galaxy Note 9 name trademark no doubt gives us a general sense of the release timeframe, we'll have a much better sense of when exactly we'll see the launch when the phone starts going through certifications in the United States and China.
An August release date would put it in a position to compete with the sales of the next generation of iPhone – perhaps releasing slightly earlier to get a head start on racking up sales. In terms of competition, the only manufacturer that can really hold a candle to Samsung – at least in the West – is Apple, so preparing themselves for a successful holiday season is likely a priority for the company. With Apple rumored to release a trio of phones in Fall 2018, Samsung truly needs a winner on their hands if they're to expect to compete with a company that absolutely dominated holiday sales.
Apple also has a bit of an advantage in that the world is still pretty excited about the idea of FaceID. With a revolutionary technology that affords users both convenience and security, FaceID lets you unlock your phone with a quick glance using an implementation that adjusts dynamically based of your appearance – unlocking seamlessly even with the growth of facial hair or a new pair of glasses. If Samsung doesn't offer something novel to attract buyers that keeps the Galaxy Note 9 name in the news, they may have trouble come August.
Design And Features
In terms of design and features for the Galaxy Note 9, we don't anticipate there will be any major departure from what we've seen previously, which is both a good thing and a bad thing. Samsung has arrived at a formula that works well for them, and outside of the Galaxy Note 7 fiasco they've seen great success with the Note line. The Galaxy Note 9 name confirms we're getting a new device without telling us much about what that actually means, but we shouldn't expect anything extremely revolutionary from the line – at least for this generation. While there are features like under-display fingerprint scanners and flexible screens in the works, we like won't see those implemented in the Note line this year.
If the phone lives up to the Galaxy Note 9 name, we'll see that same Infinity Display with incredibly thin bezels. Previous rumors had suggested we might see an under-display sensor with this generation, but news has come out that suggests that sort of tech may be limited to the Galaxy Note 10. We'll also be able to expect the S pen stylus, which will likely receive a number of upgrades to make it more responsive and fully-featured, and a Snapdragon 845 process is a near-guarantee.
The Galaxy Note 9 name is now basically guaranteed, and a fall release date is also quite likely. The Galaxy S9 has been criticized for failing to bring anything particularly new to the table, so it remains to be seen whether the Note 9 will offer a little something more to entice users to upgrade.