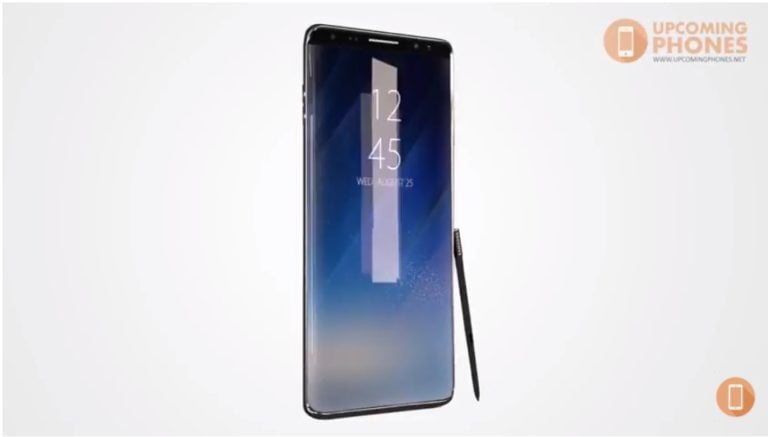 The Samsung Galaxy Note 9 is set to be one of the most impressive and exciting mobile products of 2018, but what can we expect from this handset? What we do know for starters is that Samsung is now in a strong position to arm the Note 9 with more ambitious and innovative features, after the Galaxy Note 8 was something of a placeholder following the disastrous Galaxy Note 7.

S Pen upgrade
Of all aspects Of the Galaxy Note series, the S Pen stylus makes it stand out more than any other. This peripheral helps the device to be distinguished from the increasingly impressive Galaxy S series, so it is no surprise that Samsung intends to improve the S Pen for its 2018 release.
It seems that the Samsung Galaxy Note 9 S pen may benefit from some interesting new ideas. The developer recently filed a patent with the World Intellectual Property Organization (WIPO), and this was finally published just last week. And although it is unusual for Samsung's patent applications to feature English, this particular document has text and images in both Korean and English.
Fund Manager Profile: Zhang Hui Of China's Southern Asset Management
Historically, the Chinese market has been relatively isolated from international investors, but much is changing there now, making China virtually impossible for the diversified investor to ignore. Earlier this year, CNBC pointed to signs that Chinese regulators may start easing up on their scrutiny of companies after months of clamping down on tech firms. That Read More
The text of the patent seems to suggest that the Samsung Galaxy Note 9 stylus will benefit from working more closely with one's finger. This is intended to deliver a smoother user experience, enabling such activities as writing memos to become more intuitive.
Touch gestures could also be linked to a wide variety of other actions included in the Galaxy Note 9, making for a more user-friendly device. Users will also be able to set thickness, transparency, and color for both the S Pen and fingers, according to the text, and the overall concept sounds quite exciting.
Full-screen front
Another recently uncovered patent suggests that the Samsung Galaxy Note 9 will benefit from a full-screen front panel. This may sound like a difficult technical achievement, but apparently it has already been administered by Samsung engineers, and could appear in a commercial product sooner rather than later.
Samsung has apparently developed a solution involving tiny holes in the display for such aspects of the smartphone as the earpiece, front camera, iris scanner, and other sensors. This will potentially enable the consumer electronics giant to deliver a smartphone without any bezel whatsoever, although this could potentially be delayed for future generations.
Nonetheless, there is a chance that the Samsung Galaxy Note 9 could be all screen and no bezel.
Chips included
Recent reports have also suggested that Samsung will include a 10nm processor in the Galaxy Note 9, but the Korean manufacturer has already poured water on these suggestions. In a press release, the manufacturer describes such rumors as inaccurate, suggesting that there has been no production ramp-up of second-generation 10nm LPP processors.
Previous talks had indicated that Samsung had signed an exclusivity deal related to the Snapdragon 845 processor from Qualcomm. According to the developer, the chips for the Samsung Galaxy Note 9 will be produced in Korea, with the official statement suggesting that this process is almost concluded. "In 2018, Samsung will provide 8nm and 11nm processes to meet customers' needs and start a risk production of 7-nano," the company noted.
4K resolution
One of the biggest debates with the Galaxy Note 9 will be whether or not Samsung chooses to deliver the 4K resolution that has been linked with its product range for quite some time. It would be logical for Samsung to offer 4K resolution for two reasons.
Firstly, the Korean corporation has become particularly associated with high-equality screen technology, particularly since becoming the world's largest seller of television sets back in 2008. And, secondly, 4K resolution is now a much more prominent aspect of the consumer landscape, which puts further pressure on Samsung.
Nonetheless, predictions have been made previously about 4K screens being included in Samsung products to no avail, and this certainly cannot be viewed as a certainty.
Release date
It is likely that the Samsung Galaxy Note 9 will appear in September, with a special Unpacked event having been held in August to announce the Galaxy Note 8 last year. This enabled the Korean corporation to release the Galaxy Note product ahead of the revolutionary iPhone X; an approach that Samsung is likely to adopt again this year.
Price
The likelihood is that the Galaxy Note 9 will retail at a price point in excess of $1,000. Considering the innovations and increased specifications being linked with this smartphone, it will be very difficult for Samsung to offer it at a price point less than this psychologically important mark.
With the Note 8 having sold at $949, a possible price tag for the Samsung Galaxy Note 9 could be $1,049.
Other new features and specs
The RAM of the Galaxy Note series is due to increase, and this should see Samsung bump it up to 6GB. And the design of the smartphone will obviously have to encompass the new screen technology, meaning that the camera and other sensors will be integrated within the display.
Speaking of the camera, this is expected to be an outstanding dual-lens unit, with a 30-megapixel spec having been linked with the snapper in some quarters. The screen of the Samsung Galaxy Note 9 is expected to be 6.4-inches, which suggests that the device will be both more compact and lighter than previous releases.
Elsewhere, it has also been suggested that the iris scanner technology included in the Galaxy Note 9 will be boosted, with a feature called intelligent scanner set to mimic Apple's Face ID. Finally, 512 GB of native storage have been linked with a powerful Samsung Galaxy Note 9 release, while the manufacturer will probably continue to embrace micro SD as well.
Updated on