Updated on Feb 4th by  The Quantquistador
The drought crisis is deepening at South Africa's second most populous city. With years of drought conditions worsening, Cape Town residents have suffered a massive blow to living standards, the private and public sector as water reserves deplete. Two years of painfully low rainfall has led to the drought. Specifically, in 2017 ,Cape Town airport recorded 153.5mm of annual rain compared to over 500mm in 2014. 1
It comes as little surprise that recent research from Moody's indicates that the water supply crisis is credit negative – with South Africa currently ranked at Baa3 (review for downgrade). 2 The situation is dire – with water consumption at close to 586 million litres per day, exceeding the city's August 2017 target of 500 million litres per day. Climatologists are suggesting another year of drought remains a realistic eventuality.
Day Zero Nears..
The City of Cape Town, has moved "Day Zero," forward by 10 days to 12 April 2018 from 22 April in an attempt to avoid becoming the world's first major city to run dry. The South African city's water reserves have been declining to dangerous levels and if a significant improvement to the situation cannot be implemented soon, Day Zero will be the day that taps, toilets and general water-based infrastructure of the city runs dry.
From Day Zero, the 4 million (approx.) city residents will not have water service for at least 150 days and will collect an allocation of 25 litres of water per person per day from 200 collection points in the city. Although municipal water supply will continue to reach designated high priority sites – such as hospitals and large informal settlements we expect social order, sanitation and subsequently public health conditions to deteriorate further. The stark wealth gap and palpable social inequalities have only exacerbated the crisis – with lawns and pools of the wealthy diverting water from more pressing conservation matters.2
Industry Hit
Municipal water revenues, are a significant part of economic output for the city – making up 10% of operating income in 2017 at ZAR3.9 billion. At the same time, operational costs from crisis management policies and programmes, and implementation of water supply projects are soaring. These economic outcomes only exacerbate further the direct impact of depleted water supplies.
Meanwhile, the two dominant industries of the region – tourism and agriculture are suffering. Agriculture, especially the lucrative wine industry, from reduced yields and tourism from the negative publicity and risks overall. Hits to these major sectors have wide ramifications – creating knock on effects in employment, economic output and valuable tax income.
City Response
The city has responded to the crisis with a multipronged response. The capital budget has been raised to a total capital expenditure of ZAR 7billion ($538 million) in 2018 from ZAR5.9 billion ($454 million) in 2017, mainly to implement water projects. On the demand side of defence, the per capita water target has been lowered to 50 litres per person per day starting 1 February - sharply down from the previous 87 litres per person target. 2 On the supply side, despite efforts for augmentation, the projects are small scale and falling behind - with desalination plants and ground water extraction generating less than 100 million litres of water per day when completed, failing to meet the amount needed to avoid Day Zero this year.
Credit Negative…
For now, it seems the city has maintained a strong liquidity ratio of 1.5x of its current liabilities. Promisingly, conservative debt management seems to be in place - with a debt burden of only 11% of operating revenue - according to 2017 draft financial statements.2 For these reasons the credit ranking has not been slashed faster by Moody's for the region. It appears the borrowing required to implement capital projects over the next three years has been sufficiently buffeted to prevent credit deterioration. However, if the crisis worsens the impact will be harsher – how long will the city's leaders be able to hold a steady hand on spending and debt management?
Sources:
1Cape Town University
2 Moody's Investor Services, City of Cape Town, 29th January 2018
..........................
Previously from Janury 25th...
Once a utopia, South Africa is now facing severe economic, political, and water issues. The country is facing a drought in Cape Town, which has millions of people and is also the legislative capital of the country. As ABC explains:
The city is now estimated to have enough water for less than 80 days.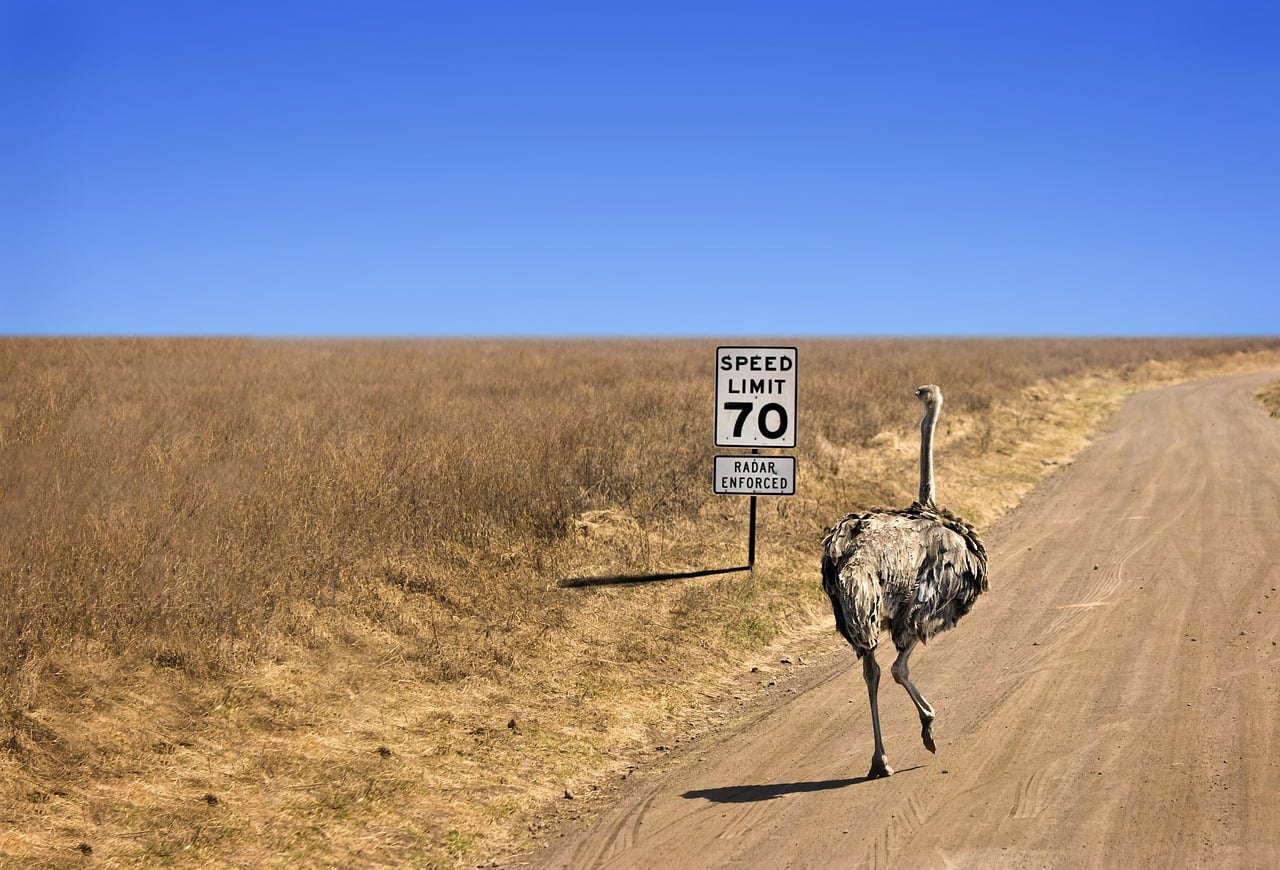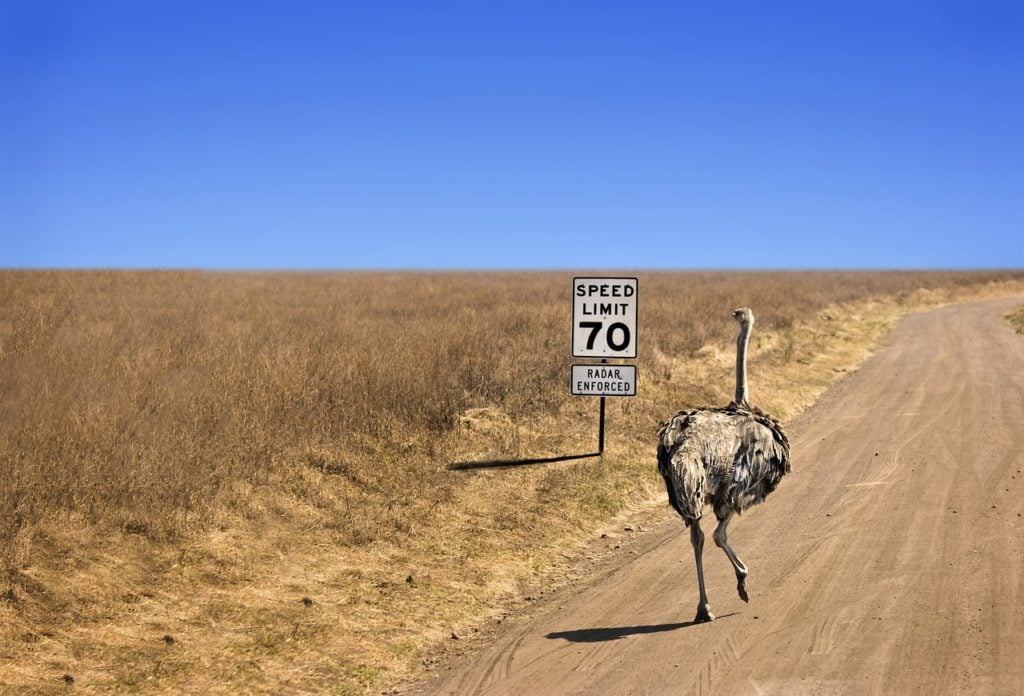 But that is not all. Moody's notes:
In some countries, including Angola, Nigeria and South Africa, stagnating or rising poverty rates will constrain savings and investment. Social tensions could intensify and trigger redistributive measures at the expense of structural reforms and the medium-term growth agenda.
And South Africa is not the only country in trouble...
The outlook for  all Sub Saharan African (SSA) Sovereign debt does not look good under the current economic conditions. Growth has remained suppressed and with both political conflict and debt levels escalating it is hard to forecast when we might see a turnaround for the region's sovereign credit quality and debt market.
Recent research from Moody's Investor Services indicates an overall negative outlook for the SSA sovereign credit market - flagging 9 of the 20 SSA sovereigns that they assess as having a negative outlook or being on review for downgrade. In particular the forecasted fundamental credit conditions in the region over the next 12-18 months will fail to deliver a rosier outcome in this segment. 1
Fragile Recovery
The SSA region has been struggling to capture momentum in growth over the past few years – each time that we see a step forward, a significant blow from commodities market shocks, political turmoil or geographic factors cuts the progress back down to size. This has further compounded economic vulnerability as SSA countries have not been able to maintain fiscal stability and subsequently not achieved substantial levels of debt stabilization.
Dragging on Progress - Institutional Bottlenecks
The region has the factors in place to successfully generate growth – the problem is that institutional and infrastructural practices erode that growth potential and exacerbate the region's vulnerability by adding to already sizeable debt burden levels. Domestic structural bottlenecks prevent flows that would generate sustainable knock-on benefits. Meanwhile, government balance sheet risks are escalating. Reforms that might remedy the situation are persistently difficult to pass through.
Ratings Roll Lower
Given these factors it is not surprising that the Moody's research indicates a negative outlook. They also indicated that 14 of the 20 sovereigns assessed, have a far from ideal sovereign credit rating – rated as B or Caa. Over the past year there has been an increase in the number of downgrades compared to the previous - with downgrades outnumbering upgrades by six to one. 1 The biggest reason for these downgrades has been the sharply rising government debt levels.
Ineffective Policy Response
These factors set against a backdrop of ineffective policy response to deteriorating conditions and a history of weak reactions by leaders to economic shocks have led to the worsening outlook.
Uncertainty is growing at an increasing rate in the region. The concern lies in the fact that the governments of these nations are taking on increasing amounts of debt but showing no clear indications of improving liquidity conditions. How will the growing debt burden be eroded? If anything, we can see that based on these factors the liquidity risks are tightening.
Growth Outlook – 2018
While the outlook is not looking good for sovereign debt the region will in benefit from global economic growth in 2018. In particular, China and India will provide some support this year –as continuing vital trading partners to the region. Regional GDP growth in SSA nations, is forecast to grow to 3.5% in 2018 from an estimated 2.6% in 2017, supported by a moderate gain in commodity prices and improving global economic conditions. 1
The growth potential exists, but it remains fragile - will the region's leaders be able to successfully navigate around the obstacles in 2018? Moody's aren't feeling confident.
To end off on South Africa here, Moody's notes: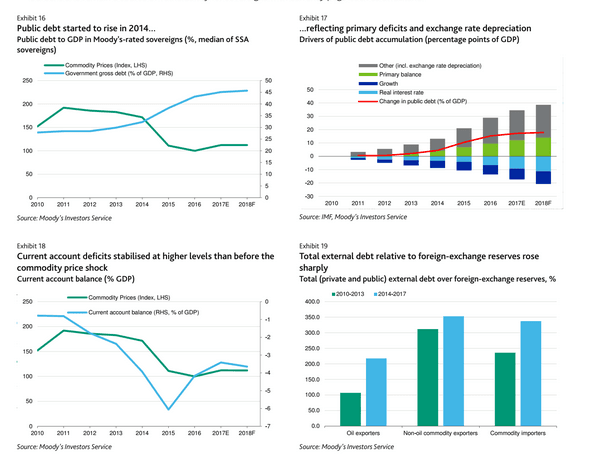 Countries experiencing heightened political and social tensions are likely to see spending pressures increase. Examples include Botswana, South Africa and Nigeria, which are due to hold presidential elections in 2018 or 2019
And
In South Africa, President Zuma announced free education for working-class students in the run-up to leadership elections for the African National Congress despite fiscal pressures.
And about the drought... Bloomberg notes:
Africa's top tourist destination is in the throes of the worst drought on record, and water levels in its six main supply dams have plummeted to an average of 27.2 percent, from more than 90 percent four years ago. With the winter rainy season still about four months away, residents may find themselves lining up for a daily allocation of 25 liters (6.6 gallons) each from April 12 unless water usage declines sharply.
Source:
1Moody's Investor Service, OUTLOOK 18 January 2018, Sovereigns – Sub-Saharan Africa