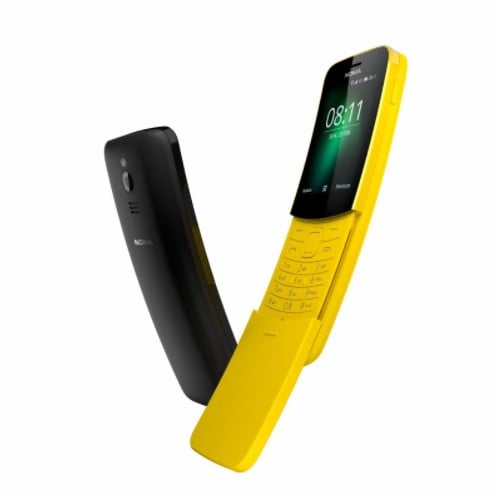 The Nokia 8110 is coming back with a fresh look decades after its moment of fame in the film The Matrix. HMD Global, which licenses the Nokia brand, is going for nostalgia again with a fresh take on a once-popular feature phone affectionately known by some as the "banana phone" due to its curved shape.
The new Nokia 8110 is being shown off at the Mobile World Congress this week. It's certainly very interesting that one of the headliners at the conference is a phone that's not only not smart, but also based on a phone from the late 1990s. Apparently, smartphone technology has come full circle, to where one of the few areas in which companies can wow fans is through a retro look rather than advanced technology. The question now is whether the tip toward nostalgia will pay off because this certainly isn't a smartphone.
The reason the Nokia 8110 was so advanced in its day was because of its curved, ergonomic shape, complete with a slider that pops down when a call is made or received. Fans called it the "banana phone" because of how it was shaped. The rebooted version of the phone will be available in a bright yellow, a nod to the "banana phone" nickname, although it will also come in black.
GrizzlyRock: Long Thesis For This European Travel Company [Q1 Letter]
GrizzlyRock Value Partners was up 16.6% for the first quarter, compared to the S&P 500's 5.77% gain and the Russell 2000's 12.44% return. GrizzlyRock's long return was 22.3% gross, while its short return was -2.9% gross. Compared to the Russell 2000, the fund's long portfolio delivered alpha of 10.8%, while its short portfolio delivered alpha Read More
The phone has been updated, but it hasn't been turned into a smartphone. It does support 4G wireless networks, but it sports a tiny 2.4-inch display and runs on KaiOS. The Nokia 8110 doesn't support many apps. HMD Global did say that it comes preloaded with an updated version of the Snake game, and it will support a very few popular apps like Facebook, Google Assistant and Twitter. HMD said there will be access to an app store, but it doesn't sound like there will be very many apps available for this phone. Of course, if you're drawn to the banana phone because of its retro look, you're probably not getting it for the apps anyway.
The phone doesn't have a touchscreen, which may put some users off a bit, but anyone who's looking for a reminder of the past might be interested anyway. Last year, the Nokia 3310 reboot was rather limited because it only supported 2G technology, making it unusable in many places. It certainly was a good move to update the Nokia 8110 to 4G technology.
While feature phones have mostly gone out of style, it doesn't mean that there isn't a market for them at all. Some users appreciate the fact that they run for days in standby without needing to be charged. Apparently, this updated version of the banana phone can last 25 days while in standby. The price also doesn't hurt, as it will sell for about $100. That's quite a steal in a time when phone prices are heading upwards of $1,000. If you find yourself with an interest in the banana phone, you'll be able to pick one up in May.