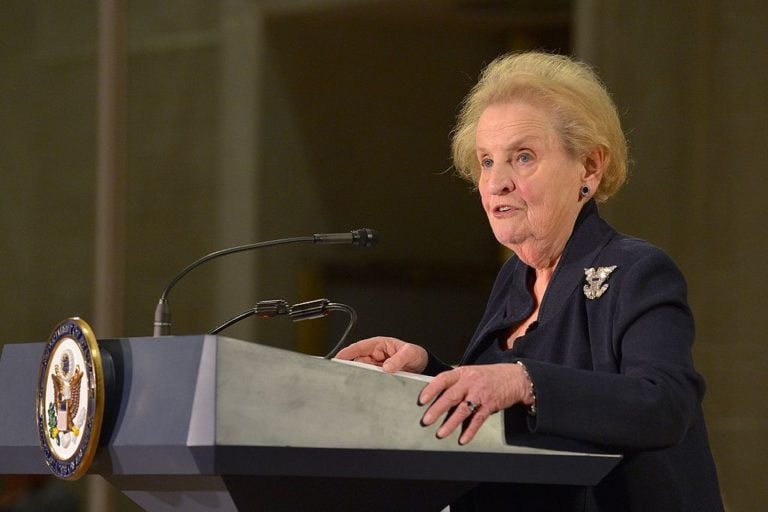 In preparing for her 2000 visit to North Korea, Madeleine Albright was told that Kim Jong-il was an avid basketball fan. "I am totally responsible for Dennis Rodman," she said. Albright explained that to her host's delight, she brought a Michael Jordan autographed basketball, which was the impetus for future visits by Rodman. That anecdote lightened a recent talk by Albright, where she also identified the biggest threat to American security.
Albright was named the first female Secretary of State in 1997 and became, at that time, the highest-ranking woman in the history of the U.S. government (and remains the highest ranking U.S. official to visit North Korea). Prior to her appointment, she served as the U.S. Permanent Representative to the United Nations and as a member of the President's Cabinet.
She spoke on February 6 at the CFA Society of Boston's annual dinner.
Consistency is what makes the top 50 best-performing hedge funds so strong
Every month and quarter, multiple reports on average hedge fund returns are released from several sources. However, it can be difficult to sift through the many returns to uncover the most consistent hedge funds. The good news is that Eric Uhlfelder recently released his "2022 Survey of the Top 50 Hedge Funds," which ranks the Read More
Albright explained that prior to her visit to North Korea, "the only other thing they told me was that Kim Jon-il was crazy and a pervert." She paused before adding, "I discovered he wasn't crazy."
But her role in North Korean relations had serious consequences. Her visit established that talks with the regime were possible, although North Korea went on to violate the terms of the agreements that had been negotiated during the Clinton administration, by progressing its program to develop nuclear weapons.
I'll review what Albright identified as America's biggest threat, but first here are some of the more entertaining anecdotes from her talk.
Why Devin Nunes would fail her class
As a professor in diplomacy at the Georgetown University School of Foreign Service, Albright is teaching a course on national security decision making this semester.
She is on record as having stated that if Representative Devin Nunes was in her class, he would get an F. During her talk last week, she was asked to explain why the chairman of the House Permanent Select Committee on Intelligence would struggle in her classroom.
"Well, first of all he should learn to write," she said.
"I hate to say this, but nobody in the government reads 35-page papers," she explained. As a result, Albright said, she teaches her students how to write a memo in a clear and logical way.
"There can't be spelling mistakes," she added, "and you actually have to do it yourself if you're going to take the class – you can't have a staffer write your paper."
"So yes, he would flunk," Albright concluded.
She went on to argue that other members of the current administration's leadership could benefit from her course because her syllabus includes a review of why diplomacy should be the primary tool used in matters of national security.
"What is interesting is the Defense Department understands that," Albright explained. "Because Secretary Mattis has said, 'If I don't have more diplomats, then I have to have more bullets.'"
"I do believe in our military," Albright clarified, "I don't begrudge the Defense Department any of its money."
"I've just been reading the Trump national security strategy," she added, "and it is absolutely appropriate for the president of the United States to say that the most important thing is to protect our people, our territory and our way of life."
But according to Albright, the current administration is undercutting U.S. power by undermining the State Department's diplomatic efforts.
"I believe that America is safer when other countries are democracies," she said.
Read the full article here by Marianne Brunet, Advisor Perspectives
Updated on