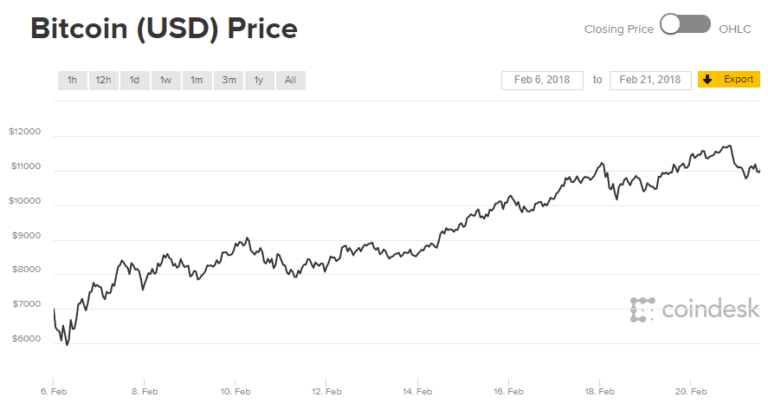 The bitcoin price has witnessed a wild ride in the last few months. After hitting an all-time high of $19,723 in December, the cryptocurrency saw its prices tumble to $5,920 on February 6th. Bitcoin price has skyrocketed in the last couple of weeks despite concerns about strict regulations. On Tuesday, it reached a three-week high of $11,722, reflecting a nearly 100% rise from $5,920 on February 6th.

However, Tuesday's gains were short-lived as the prices of all major virtual currencies plunged overnight. Industry analysts blamed mass sell-off of bitcoin for the decline. Bitcoin itself fell nearly 10% overnight before recovering to $11,031 on Wednesday, according to Coindesk. Given the way bitcoin price has gone up recently despite concerns about the US Congress considering cryptocurrency regulations, we wouldn't be surprised if it touches the $12,000 mark in the next few days.
Experts believe that the sharp increase in bitcoin price from the February 6 low is a "corrective rally." Research firm Canaccord Genuity said in a note to clients that bitcoin's price history "suggests that months of consolidation are followed by weeks of rapid advancement." The research firm noted that the best way to benefit from the potential bitcoin price rise is to "buy and hold for the long term" because it would be incredibly difficult to time it.
ValueWalk's July 2022 Hedge Fund Update: Tiger Cub Hedge Fund Shuts Down
Welcome to our latest issue of issue of ValueWalk's hedge fund update. Below subscribers can find an excerpt in text and the full issue in PDF format. Please send us your feedback! Featuring Andurand's oil trading profits surge, Bridgewater profits from credit, and Tiger Cub Hedge Fund shuts down. Q1 2022 hedge fund letters, conferences Read More
Bitcoin has suffered this year due to hacking instances and regulatory initiatives to crack down on cryptocurrency trading. A few weeks ago, hackers stole $533 million in virtual currencies from Japanese exchange Coincheck. Other digital currencies have also declined on Wednesday. Ethereum was down 1.3% to $935, and Ripple slipped 1.6% to $1.13. However, Litecoin surged 9.3% to $246 on Wednesday.
Reuters reported earlier this week that the US lawmakers were considering fresh regulations to impose "stricter federal oversight" on cryptocurrencies. Many lawmakers told Reuters that there was a "bipartisan momentum" in the House of Representatives and the Senate to address the risks posed by virtual currencies. Though President Donald Trump is not much into it, the Republican lawmakers have indicated that regulations might be required to mitigate the risks to investors and the US financial system.
Cryptocurrencies such as bitcoin have been around for years. The growing popularity of virtual currencies has attracted the interest of students, housewives, and other middle-class people. They are pouring all their savings into cryptocurrencies despite warnings from policymakers about the inherent risks. Scammers are also trying to lure investors by promising them up to 10x returns within days or weeks.
The US lawmakers told Reuters that the government must "make sure individuals don't get taken advantage of." Other countries have also raised alarms that digital currencies are widely used in terrorist financing and money laundering. Last month, British Prime Minister Theresa May expressed concern that criminals were using bitcoin for illegal transactions. Even if regulators crack down on bitcoin trading, they unlikely to stifle the blockchain innovation.
The Bank of England governor Mark Caney has said that bitcoin has "failed" as a currency because people aren't using it in the traditional aspects of money. Neither is it a store of value. On Tuesday, South Korea announced that it would support "normal transactions." The country had banned anonymous bitcoin transaction three weeks ago. South Korea's decision to soften its stance on virtual currencies should be welcomed by the community.
UFX.com managing director Dennis de Jong told media that the threat of heavy regulation or a complete ban on bitcoin trading has kept virtual currencies under pressure in recent weeks. But the Korean government's softening stance should give investors the confidence to buy. Meanwhile, China has been weeding out bitcoin miners as well as exchanges due to excessive electricity consumption and financial risks to the country's formal economy. CoinTelegraph reports that Israel is exploring the possibility to tax virtual currencies as a property rather than currency.
Regulatory oversight may hurt the bitcoin price in the short term, but it should benefit virtual currencies in the long run. It would legalize cryptocurrencies and give investors confidence to invest in bitcoin and other digital currencies.
Updated on