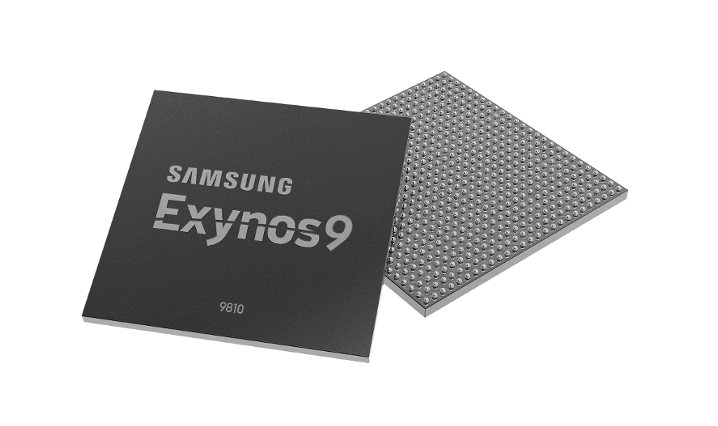 Just weeks before announcing the Galaxy S9 and Galaxy S9 Plus smartphones, Samsung has launched the processor that would power the upcoming beasts. On Thursday, the Korean company announced the Exynos 9810 chipset that would bring advanced AI capabilities to smartphones. We know that the Galaxy S-series handsets are powered by Qualcomm's flagship Snapdragon or Samsung's in-house Exynos processors depending on the region. The Galaxy S9 and S9 Plus sold in most markets would run the new Exynos 9810 chipset.
Samsung launches its most powerful processor ever
Samsung claims the new Exynos processor brings tons of performance improvements along with machine learning and AI capabilities. The Exynos 9810 chipset is built using 10nm FinFET process technology. It has four performance cores with a clock speed of 2.9GHz and four efficiency cores to preserve battery life when less power is required.
The Korean company claims the new Exynos 9810 chipset doubles the single-core performance and delivers 40% improvement in multi-core performance compared to its predecessor. It will have an additional secure processing unit to safeguard biometric and other personal data such as the iris, face, and fingerprint scans. It is among the first chips to support six-carrier aggregation, meaning it would offer a theoretical download speed of up to 1.2GB/s.
GrizzlyRock Value Partners returned 30 percent in the fourth quarter; Here are their favorite stocks
GrizzlyRock Value Partners returned 30.31% net for the fourth quarter, bringing its full-year return to 7.57% net. During the fourth quarter, longs added 42.8%, while shorts detracted 10.3%. Q4 2020 hedge fund letters, conferences and more In his annual letter to investors, which was reviewed by ValueWalk, managing partner Kyle Mowery noted that 2020 was Read More
The Exynos 9810 chipset comes with an upgraded multi-format codec (MFC) and a dedicated image processing unit. It means users will see better image stabilization when capturing both photos and videos, and brighter pictures in low-light conditions with reduced noise. Samsung also promises "real-time out-of-focus photography" and up to 120fps video shooting at 4K resolution. The Exynos 9810 chipset offers a sneak peek into what we can expect from the Galaxy S9.
Exynos 9810 chipset to bring iPhone X-like features to Galaxy S9
What makes the new processor even more interesting is that it will come with advanced AI capabilities. Samsung says it will employ neural network-based deep learning using both software and hardware. The Korean company noted that the Exynos 9810 chipset would allow smartphones to recognize people or items in photos more accurately for faster image searching and categorization. It will also offer "depth sensing" and be able to "scan a user's face in 3D for hybrid face detection."
Samsung added that the hybrid face detection would enable "realistic face-tracking filters" and "stronger security when unlocking a device with one's face." These features appear similar to Apple's Face ID and Animoji features on the iPhone X. The Galaxy S9 and S9 Plus would be competing against the iPhone X. So, users would expect them to offer advanced facial recognition and AI features.
Samsung has been investing a lot of resources in building AI capabilities. In October last year, it invested in China-based AI startup DeePhi Tech, which has extensive expertise in developing deep learning algorithms for neural language processing and voice recognition. Last year's Exynos 8895 also had a dedicated Vision Processing Unit (VPU) for analyzing data from the phone's camera.
While the Exynos 9810 chipset would power the Galaxy S9 and S9 Plus handsets sold in most markets, the US and Chinese versions of the devices would run Qualcomm's Snapdragon 845 SoC. The new Snapdragon chipset also brings improvements to AI processing, camera, security, and battery efficiency. But the Exynos 9810 and Snapdragon 845 are tailored to specific applications, which could lead to a fragmentation of features in Samsung's upcoming flagship, points out The Verge.
Galaxy S9 to offer 'Reimagined' camera experience
A trademark filing by Samsung suggests that the Galaxy S9 and S9 Plus would offer a "Reimagined" camera experience. The company filed the trademark with the Korean Intellectual Property Office (KIPO) last month for the slogan "The Camera. Reimagined." The company associated the slogan with a wide variety of products including smartphones and handset accessories.
It is unclear what the company means by "Reimagined" camera experience. Leaked photos and videos have confirmed that the Galaxy S9 would have a single camera and the S9 Plus would sport a vertically arranged dual camera on the back. The dual-tone LED flash and the heart rate sensor would be positioned next to the camera module. The fingerprint sensor will be placed below the camera, which shows that Samsung has finally listened to consumer complaints.
Galaxy S9 specs
The Galaxy S9 and S9 Plus would look similar to last year's models. They would sport 5.8-inch and 6.2-inch bezel-less Super AMOLED Infinity displays, respectively. However, the new phones would pack bigger batteries than their predecessors. According to leaks coming out of China, the S9 would include a 3200mAh battery and the S9 Plus would come with an even larger 3500mAh battery.
The new phones would retain the 3.5mm headphone jack and the USB Type-C port. Korean media has reported earlier that Samsung's upcoming flagship phones would feature an advanced iris scanner for better security. The new iris scanner would work even when users are moving their eyeballs, wearing sunglasses, or are in poorly-lit conditions. The Galaxy S9 and S9 Plus would also feature wireless charging and an IP68-rating for water-resistance.
Samsung is expected to unveil the new phones at the Mobile World Congress (MWC) in Barcelona in the last week of February. The Galaxy S9 and its bigger sibling would go on sale in early March.