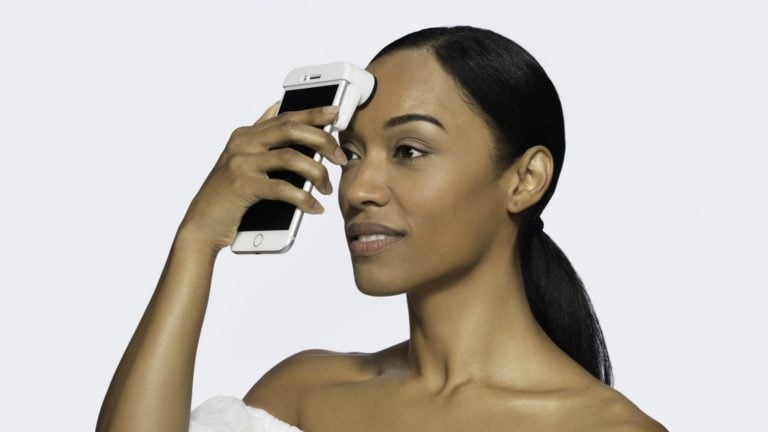 Neutrogena is a major player in the skincare industry, with over $1 billion of owner Johnson and Johnson's quarterly sales coming from the beauty segment reported last fall. A new skin-scanning device and application will now help users recognize skin issues that can be addressed with their products.

Neutrogena Skin Scanner
Beauty and skincare is a gigantic industry with a huge amount of primarily female customers driving billions of sales each year. Neutrogena is perhaps one of the most recognizable brands, and they have established themselves as the go-to brand for accessible and effective skincare. In an effort to appeal to younger, technology oriented young people, the company has collaborated with New York-Based Company Fitskin to deliver a new product called SkinScanner.
The Verge reports that the device, which will formally be revealed at this years CES in Las Vegas, connects to the upper portion of a smartphone and uses sensors to give users a magnified picture of their facial skin – similar to that seen in before-and-after photos featured in many beauty advertisements. The Neutrogena SkinScanner syncs up seamlessly with a mobile app called Skin360 which will show skin health over time and suggest ways to improve the user's skin.
London Value Investor Conference: Joel Greenblatt On Value Investing In 2022
The first London Value Investor Conference was held in April 2012 and it has since grown to become the largest gathering of Value Investors in Europe, bringing together some of the best investors every year. At this year's conference, held on May 19th, Simon Brewer, the former CIO of Morgan Stanley and Senior Adviser to Read More
The SkinScanner device uses 12 LED lights alongside a 30x magnification lens to capture the image of your skin, as well as a moisture sensor around the rim of the lens. Users simply open the app, press the device onto their face, and take a series of images. The app will then record your skin's moisture levels, wrinkles, and pore size.
Pushing Product Sales
While this technology is a cool idea and may actually help people out, the fact remains that it's essentially a way for Neutrogena to push their products. By pointing out potential problems with the skin and then providing a convenient button that leads customers directly to their online store, Neutrogena stands to make a major profit under the guise of assisting in the identification of skin issues.
The SkinScanner device only addresses aesthetic issues at this current point in time, and will not give any solutions for acne or identify melanoma, as those applications require FDA approval. As it stands, the SkinScanner has a valuable role in identifying ways in which the skin could be improved, but only in terms of beauty. There's something to be said for having beautiful skin, and the entire beauty and skincare industries are built around aesthetics, but if Neutrogena isn't careful, the SkinScanner could come across as a way to point out flaws and insecurities rather than a useful utility.
Regardless of any potential "moral" issues, there's no doubt that there's potential here for Neutrogena to make a hefty profit. It remains to be seen whether young people will be confident enough in the company's recommendations to buy a $50 device that essentially tells them to buy more products.
The Neutrogena SkinScanner is scheduled for a US release this coming summer.
Updated on