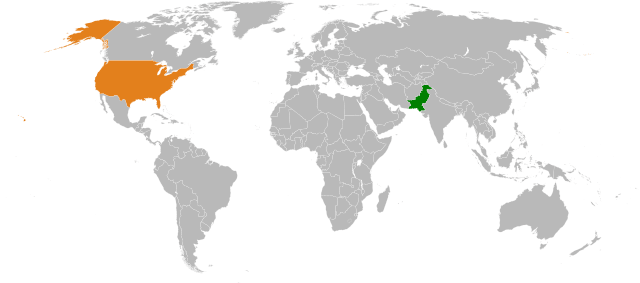 As promised, Monday saw the visit of a senior US State Department official to the Pakistani capital of Islamabad. The visit came on the heels of two weeks of US-Pakistan tensions following President Donald Trump's tweets on January 1st.

President Trump has accused Pakistan of lying to the US and providing safe haven for terrorists. According to the American President, the US has given Pakistan some $33 billion in aid, while Pakistan has returned the favor with only "lies and deceit."
Pakistan, meanwhile, says they have made enormous sacrifices in human life, infrastructure, and finances to fight terror, although the US has failed again and again in Afghanistan. The US State Department has since announced that they will be ending all arms shipments and security aid to Pakistan, worth up to $2 billion, just a small fraction of the $33 billion the US has paid out to Pakistan in the past 15 years.
Is First Gen An Overlooked Power Play That Deserves A Re-Rating?
The post was originally published here. Highlights: Resolving gas supply issues ensures longevity A pioneer in renewable energy should be future proof Undemanding valuation could lead to re-rating Q1 2022 hedge fund letters, conferences and more
Monday's Meeting Amid US-Pakistan Tensions
Monday, US Acting Assistant Secretary of State Ambassador Alice Wells, visited Islamabad to hold talks with senior Pakistani officials. Ambassador Wells met with Foreign Secretary Tehmina Janjua in an effort to rebuild the alliance between the two nations. The meeting was also joined by US Ambassador to Pakistan David Hale and senior officials from the US National Security Council.
Pakistan feels that their sacrifices have not been acknowledged by the US. Ambassador Wells moved to remedy this by publicly acknowledging Pakistan's contribution to fighting terrorism. Ambassador Wells also highlighted the desire of the United States to cultivate a new relationship with Pakistan built on mutual interests in the region, including the development of a stable Afghanistan and the defeat of terrorists militants.
Wells, however, did not overlook the Trump administration's qualms with Pakistan, including in her statements the accusation that Pakistani intelligence has not been cooperating with the US. The senior ambassador underscored "the need for strengthening intelligence cooperation between the two sides to improve coordination in counter-terrorism efforts."
Statements made by Secretary Janjua's office hold that the US delegation was informed of "recent counter-terrorism actions taken by Pakistan that has contributed to a visible improvement in the security situation in the country."
Reports indicate that Pakistani officials took well to Ambassador Wells' meeting and remain optimistic about future relations. One unnamed official said:
Wells was cooperative, not assertive. The talks were more like allies than uneasy partners. Of course, they have their demands and we have our views on several issues. The two sides are looking for a middle way out.
Why the Tension?
US-Pakistan tensions are nothing new and are said to have been escalating within the intelligence community for years. According to US intelligence, safe havens for militants in Pakistan have only prolonged the war in Afghanistan. Recent reports have also indicated that Pakistan has preventing the US from seizing wanted terrorists.
The US has also insisted that terrorists from Afghanistan are able to flee to Pakistan, where they can safely rebuild, strategize, and plan attacks. Pakistan on the other hand feels that they are being scapegoated for the US' lack of success in Afghanistan despite more than 15 years of war. Additionally, Pakistan holds that terrorists from Afghanistan have been plotting and executing terror attacks in Pakistan, as recently as last week.
Washington also alleges that Pakistan has profited from the war in Afghanistan due to NATO supply routes that cut through Pakistan. Meanwhile questions remain over why Osama bin-Laden was found to be hiding in Pakistan for 6 years in a specially designed mansion less than 1 mile away from the Pakistan Military Academy.
A War of Words
President Trump's tweets sparked a war of words with Pakistan that US officials hurried to mitigate. Defence Minister Khurram Dastgir Khan, stated that Pakistan has ceased intelligence sharing with the US, while other officials claimed that the alliance between the two nations was "over." Many officials expressed their frustrations at being scapegoated by Washington. Chief General Qamar Javed Bajwa told US Central Command chief Geneneral Joseph Votel last week that Pakistan would not seek further US security aid.
Despite an initial backlash from senior government officials in Pakistan, Islamabad eventually seemed to pull in the reins and issued an officials statement via the Foreign Ministry. Spokesman Dr. Mohammed Faisal stated last week that despite "provocative statements" from the US, Islamabad remains committed to their partnership with Washington, considering the interests of the region as a whole.
Also on Monday, Marine General Joseph Dunford, a top US military official, gave statements on Pakistan while speaking to reporters in Brussels, "Do we agree on everything right now? No we don't. But are we committed to a more effective relationship with Pakistan? We are. And I'm not giving up on that." Dunford serves as chairman of the Joint Chiefs of Staff.
What About India?
Indian officials were eager to condemn regional enemy Pakistan following President Trump's comments. Pakistan split from India in 1947, becoming its own nation. Since then, the two countries have faced almost unending hostilities, particularly in the contentious Jammu and Kashmir region.
India alleges that Pakistan has been sneaking terrorists across the border into India. This week Indian army chief Bipin Rawat, enraged Islamabad by saying:
Pakistan Army has been continuously trying to help terrorists sneak into India along LoC (Line of Control) in J&K [Jammu & Kashmir]. We are using our might to teach them a lesson. If we are forced, then we may resort to 'other action' by stepping up military offensive.
Indian officials were all too pleased with President Trump's statements against Pakistan that seemed to exacerbate US-Pakistan tensions. Secretary Janjua did not hesitate to condemn India's near gleeful response that she believes are escalating tensions, particularly the comments made by army chief Rawat. She also drew attention to India's mortar attacks along the border that saw the death Pakistani soldiers this week. Janjua requested that the US give counsel to India to de-escalate their tactics and cease the hawkish remarks from officials.
This weeks visit to Islamabad was Ambassador Wells' third visit to Pakistan since August. Pakistani officials report that they are looking forward to a US business delegation's forthcoming visit to Pakistan.
Updated on