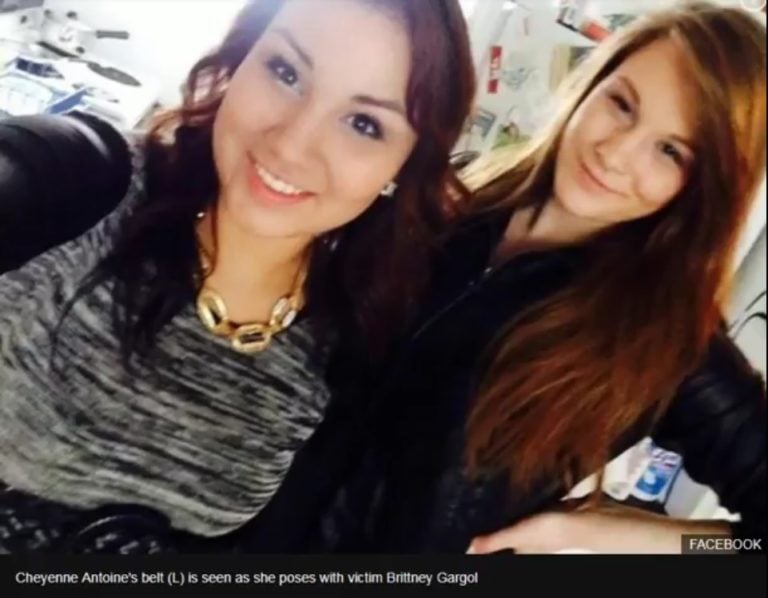 The emergence of social media has changed nearly everything from the way we develop friendships to the way products are marketed. Now, it's even altering the way murders are committed and investigated.

In 2015, the body of 18 year old Brittney Gargol was found near a landfill in Saskatoon, Saskatchewan. The body of the Canadian teenager was discovered early in the morning of March 25. She had been strangled to death with a woman's belt which was lying nearby. The last person known to have seen her alive was her close friend Cheyenne Rose Antoine.
The Alibi
When the police had initially questioned Antoine, she held that the two friends had gone to a house party, then some bars before parting ways. According to Antoine, Gargol left with a strange man, while Antoine went to see her uncle. In the morning, Antoine sent a number of Facebook messages to Gargol to see if she made it home alright. The police did not realize until later that Antoine had purposely left the messages to mislead the police, while her alibi was false and the story about a strange man was concocted as a diversion.
London Quality Growth Investor Conference: Buy Dassault Systemes
At this year's inaugural London Quality Growth Investor conference, Denis Callioni, analyst and portfolio manager at European investment group Comgest, highlighted one of the top ideas of the Comgest Europe Growth Fund. According to the speaker, the team managing this fund focus on finding companies that have stainable growth trajectories with a proven track record Read More
More red flags, Antoine was seen to have bruises on her hands, but she said her younger cousin had bitten her and she had fallen when drunk.
After police could find no evidence to corroborate Antoine's story, they became suspicious, but had virtually no leads for two years, having been sent on a wild goose chase by Antoine. After combing over her Facebook posts, they found a selfie of Antoine and Gargol posted the very same day as the murder. In the picture, Antoine is wearing the belt that was used to murder her friends. The Facebook murder selfie was posted just 6 hours before Gargol's body was found.
Confession and Sentence
Antoine ending up drunkenly confessing to the murder to a friend, claiming that the two girls were drunk and high when they got into a fight. She claims that she doesn't actually remember the murder, but knows that she did it. She was also unable to say what cause the argument between the two best friends.
Antoine was originally charged with second degree murder in what has become known as the Facebook selfie murder case, which could result in a 25 year sentence. Instead, Antoine pleaded guilty to manslaughter charges and faces a 7 year sentence. The judge showed some leniency, pointing to Antoine's life of abuse in the foster care system and her apparent remorse. A month before the murder, Antoine had even gone to the police to report abuse from her foster parents. Her lawyer argued that the girl was deeply involved in drug and alcohol abuse after being sexually abuse by her foster father.
Antoine's lawyer, Lisa Watson, told the court, "My client had some very deep, personal issues that she was dealing with, and unfortunately they turned into a very tragic situation for all involved."
Members of Gargol's family, have been less forgiving. Brittney's aunt testified in court about how the murder haunts the family.
Cheyenne Antoine was already in jail for an unrelated offense when the police arrested her for the murder of Brittney Gargol.
In a statement read by her lawyer, Antoine said, "I will never forgive myself. Nothing I say or do will ever bring her back. I am very, very sorry… It shouldn't have ever happened."
Despite the compassion of the judge and Antoine's insistence that she doesn't even remember the murder, her actions immediately afterward are chilling. How could a teenager who claims to not remember the murder lay such subtle diversions and traps for the police? Could this imply a level of premeditation to the murder?
"Facebook Murders"
Brittney Gargol's murder isn't the first time Facebook has influenced a murder case. A 2014 study on the relationship between Facebook and murder looked at 48 Facebook related murders. In 27% of these cases, the murderer reacted to something they had seen on Facebook as justification for the murder. One man studied murdered his estranged wife when she announced on Facebook that she had separated from her husband and was looking to meet other men.
The study out of Birmingham University found that in 22.9% of these cases, the murderer had actually announced their plans on social media before committing the murder. For example, a Colorado man who kidnapped and murdered his two year old daughter before committing suicide posted, "I told u I can't live without u lol u thought I was joking now me n Mia out this bitch."
In other cases, murderers may use public info on Facebook to collect information about potential victims, or lure them into a trap, sometimes even creating fake profiles to befriend their potential victim. Maybe you'll think twice before publically RSVPing for an event on Facebook.
Other times, the murderer uses Facebook to throw the police off of their scent, like Antoine did in the Facebook selfie murder case. Murderers may even log onto their victim's Facebook page to make it seem like they are still alive.
The study also found that women are most often the victims of Facebook murders, while murder-suicides are especially common. The age of both victims and perpetrators was found to be lower in Facebook related murders than average.
Facebook isn't the only tech to be used in murder investigations. Recordings taken from an Amazon Echo have even been used in a murder trial, while a murdered wife's fitbit and Facebook accounts were used last April to charge her cheating husband.
Last spring, after a man posted a live video of himself committing a random murder, Facebook came under fire for enabling this kind of behavior. Facebook defended themselves claiming that they can't possibly censor what people post, before it's even posted. Considering that many murderers post their plans or at least concerning messages to Facebook before committing the crime, many have called on Facebook to conduct better monitoring. Facebook claims that they rely on users to reports suspicious or violent material. This has given rise to a debate around Facebook's role in preventing or prosecuting murders and other crimes. While some would like to see better monitoring strategies, others worry that social media giants like Facebook and Twitter are dangerously close to crossing the line into Big Brother territory.
Updated on