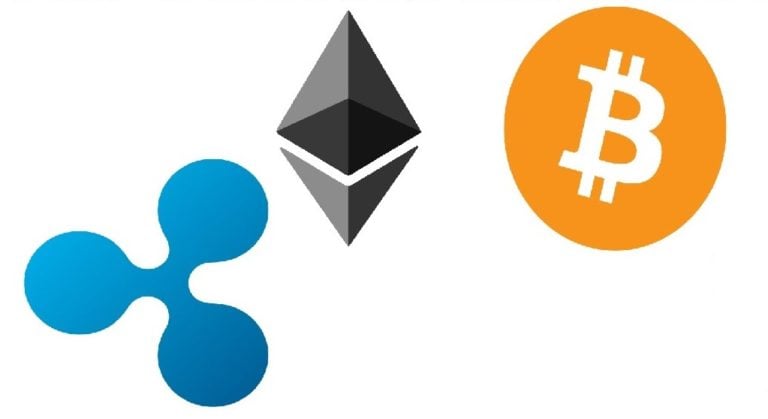 Monday morning Bitcoin and many Altcoins took a downward turn against the US Dollar on news that Coinbase removed several Korean cryptocurrency exchanges without warning. Ripple also got caught up in the downward spiral dropping to third overall in market capitalization. Meanwhile, Ethereum price continued to rise.
Ethereum Price Rise Continues
While the majority of the top 100 cryptocurrencies, by market capitalization, on Coinbase saw declines on Monday, Ethereum price was rising. Come Tuesday morning and Ethereum is still on the rise while others like Bitcoin (#1 market cap), Ripple (#3), Cardano (#5), and TRON (#10) are still down.
Ethereum is defying gravity as it sees a second day of increases. Ethereum price rises have been consistent since December 31st. From 12/31/17 to 1/8/18 it rose 61.5%. Meanwhile others like Ripple saw some big rises that were then wiped out on Monday up only over 12% after being up 64% or so.
Carlson Capital's Double Black Diamond Strategy Gains 5.3% On Jewelry Play
Carlson Capital's Double Black Diamond fund added 3.09% net of fees in the second quarter of 2021. Following this performance, the fund delivered a profit of 5.3% net of fees for the first half. Q2 2021 hedge fund letters, conferences and more According to a copy of the fund's half-year update, which ValueWalk has been Read More
The Ethereum price rise continued even through the news of the Meltdown and Spectre CPU vulnerabilities which saw some exchanges taking wallets offline while they patched servers.
Ripple Price Fall Continues
Ripple had seen some good gains in the first week of January but saw that wiped out today dropping back down to $2.35 with low daily volume starting Saturday. The Ripple fall Monday wiped out most of the gains it had made since January 3rd. Today it continues to flounder under $2.40 leaving it in the number three spot based on market capitalization.
Ethereum Price Rise, Tech Lags
There are several tech problems with Ethereum. The Gas Oracle which sets gas price cost of transactions was found to be charging up to 70% more than expected. This problem is due to a glitch in the gas pricing function. This was believed to be based on how it determines prices by looking at previous transaction prices which were artificially inflated. This can be overcome by users manually calculating transaction prices but most just use the automated system. In response Bittrex, one of the most popular crypto exchanges, delisted Ethereum.
The Ethereum price rise has also weathered a couple other tech issues including problems syncing the blockchain which can create a long wait for a new node. That means opening a new wallet or starting a new miner comes with a long upfront wait time.
Additionally, the Casper Testnet was in a bad way for quite some time until Ethereum devs finally launched it on January 1st. The Casper Testnet for Ethereum is aimed at moving the cryptocurrency off of proof-of-work (PoW) and onto a proof-of-stake (PoS) algorithm. The high cost of mining Ethereum makes it hard for many to justify continuing. With a PoS algorithm, the overhead cost of validating transactions is lowered meaning that validators can be motivated by lower rewards. A PoS algorithm base would also help to decentralize the network making it more secure and lowering the possibility of a 51 Percent Attack.
A 51 Percent Attack is when a single group has more than 50% of the mining hashrate of a network which can result in stopping payments for some users while being able to reverse transactions allowing the 51% group to spend the same coins twice.
Ethereum Price Tops $1000
On January 4th, Ethereum price topped $1,000 in trading but fell back to just under $981 on the day. The next day it opened lower, again moved past $1,000 but then fell and again closed under, but just barely. At this point it looked like it was inevitable that the Ethereum price would remain over $1,000 and on January 6th it did just that opening at $995 and closing the day at $1041+.
Today, Ethereum price continued that trend and has already topped $1200 for its second day.
Ethereum Price in 2018
Several outlets have predicted that Ethereum price would continue its 2017 growth pattern into 2018 and, at least in the opening days of the year, that looks to be true. The predictions for its price in 2018 range from $1000 to "beating Bitcoin." If it continues the growth rate that it had in 2017, ~6700%, through 2018 then it could pass Bitcoin in the second quarter of the year.
However, massive sustained growth of that nature is not realistic and would put Ethereum price at around $50K at the end of 2018. If it sees 10% of the growth it saw in 2017 then it could end 2018 around $4,900 at year end. Even if you buy in today at around $1,200 you could see 308% growth on that investment at year end with a $3,700 profit per Ethereum coin. That's not investment advice, it's just mathematics. There's no guarantee that Ethereum will continue its growth pattern. There's also no guarantee that the Ethereum network, plagued with technical issues as it is, could even sustain that amount of growth or manage the number of users necessary for that growth.
Like the old adage says, if you're going to start investing, only start with as much as you can stand to lose. If that's $1200, then Ethereum might be a good place to put it. Just remember, Ethereum prices are still so volatile that it can, and has, lost up to 25% of its value in a single day. It's also recovered that amount and more in a single day, so investing in it is not for the faint of heart or those with itchy trigger fingers.