At the end of 2017, credit rating agency Moody's warned that despite the improving US economy, 2018 would be a challenging year for borrowers and lenders particularly for auto and student loan credit as interest rates tick higher.
Specifically, the report noted that "although the likely continuation of the US economic expansion for a ninth year will offer support for the collateral performance of consumer asset-backed securities (ABS) in 2018, some pockets of borrowers have been experiencing growing financial strains while underwriting in many consumer lending categories has loosened." It continued, "many Americans are grappling with higher expenses on a number of fronts that are lessening the benefits of declines in debt payments to generally low levels relative to incomes."
Looser loan covenants have become a feature of credit markets. Indeed, a Moody's report published last week highlighting that its Loan Covenant Quality Indicator (LCQI) has now deteriorated to its lowest level ever recorded. The LCQI is a two-quarter rolling average loan covenant quality (LCQ) score (based on several factors of loan quality) of each loan scored in the relevant period.
Credit Protection At Worst Level On Record
The LCQI score hit 4.15 in the third quarter of 2017, surpassing the previous record of 4.09 (the scale runs from 1 to 5 with five being the worst).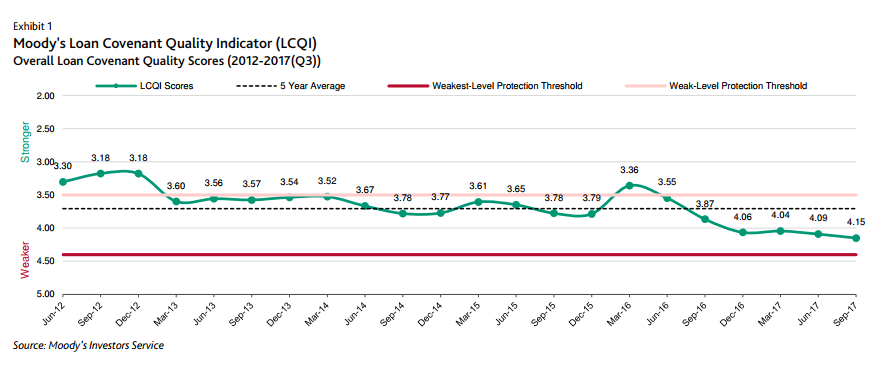 Moody's notes that borrowers are "borrowers are making the most of a wide-open loan market" as demand for credit continues to outstrip supply. What's more, "borrowers are opportunistically refinancing at six-month intervals when repricing protections lapse," which is piling further pressure on credit investors.
Against this backdrop, the risks are all too apparent but the rewards Moody's notes, are hard to see. Spreads remain narrow, and investors are seemingly "sacrificing covenants while getting little in return."
Moreover, many bonds now include a Restricted Payments carve-out, which allows an issuer to make payments outside the restricted group if it can meet a leverage ratio. 95% of restricted payment covenants contained such a carve-out in 2017, up from just 49% in 2015. Even more concerning is the fact that "nearly half of the leveraged ratio based RP carve-outs were already satisfied as of a loan's closing date, meaning such restricted payments would be permitted immediately after the closing."