Watch the video with Andrew Stotz or read a summary of the World Class Benchmarking on Home Product Center Public Company Limited.
Background
Home Product Center Public Company Limited is a Thailand-based retailer of building materials and home improvement products under the name "HomePro".
HMPRO has 91 stores nationwide, most of which exist in the greater Bangkok region.
Its Hard line unit (home items) accounts for 83% of revenue, and its Soft line unit (decorative items) make up the residual 17%.
Business Description
HMPRO is a retailer involved in Home Servicing. Its businesses include selling goods and providing a complete range of services related to construction materials, additions, renovation.
Its operations include home improvement products (including bathroom and sanitary ware), kitchen and home appliances, electrical equipment and lighting, bedding and household decorative goods.
The HomePro brand targets the end user directly, while Mega Home is a one-stop shopping center, offering a full range of wholesale and retail housing and construction products. HMPRO has 36 private brands covering more than 1,000 items. They are sold at 91 outlets in Thailand and two outlets in Malaysia. The retailer plans to open another two to three shops in Malaysia in 2017.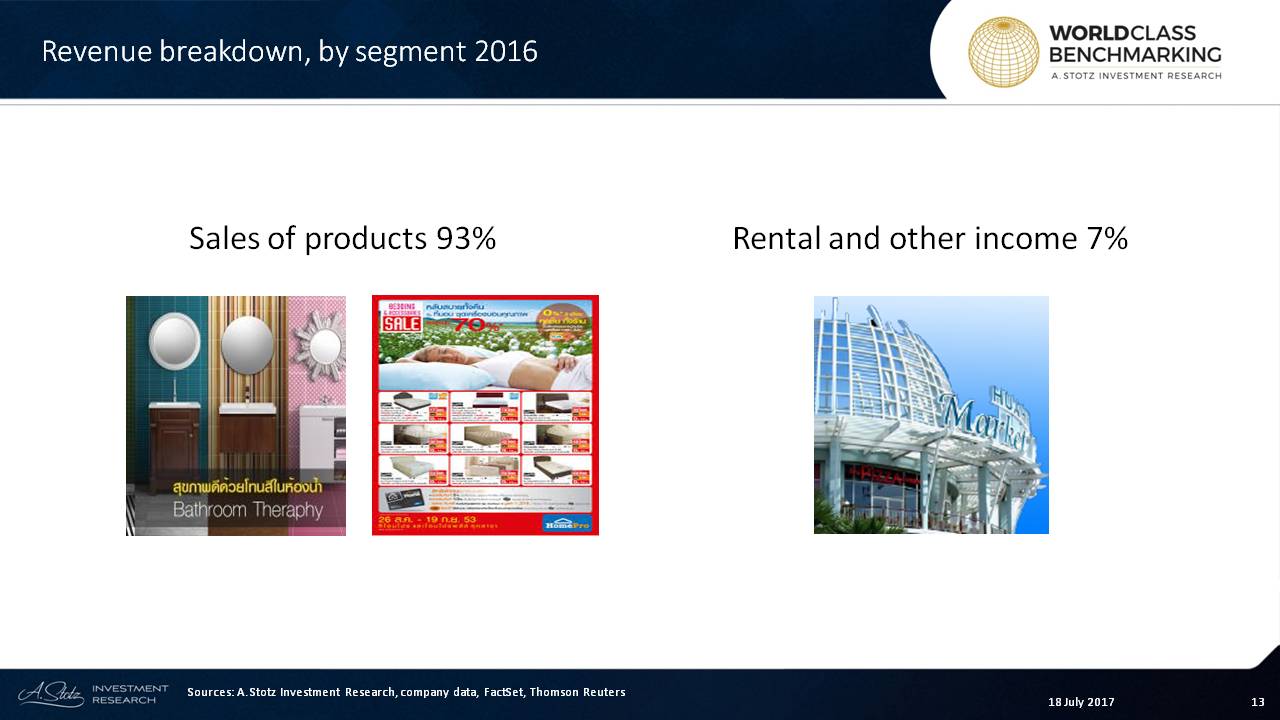 In 2016, HMPRO expanded into new customer groups through the Bike Club: a bike center providing a complete range of related services.
HomePro Living, a home furniture and decoration shopping center should offer around 50% of items as private brands.
Leadership
Manit Udomkunatum has served as Chairman of HMPRO since 2007 and as a director since 2001. He has been Director and Chairman of the Executive Committee of Shanghai Inn Company Limited since 2006.
He has been a Director and Chairman of the Executive Committee of Koh Maphrao Island Company Limited since 2004 and Chairman of the Executive Committee of USI Holding Company Limited since 2001. He also serves as Director of Fashion People Company Limited and Active Nation Company Limited.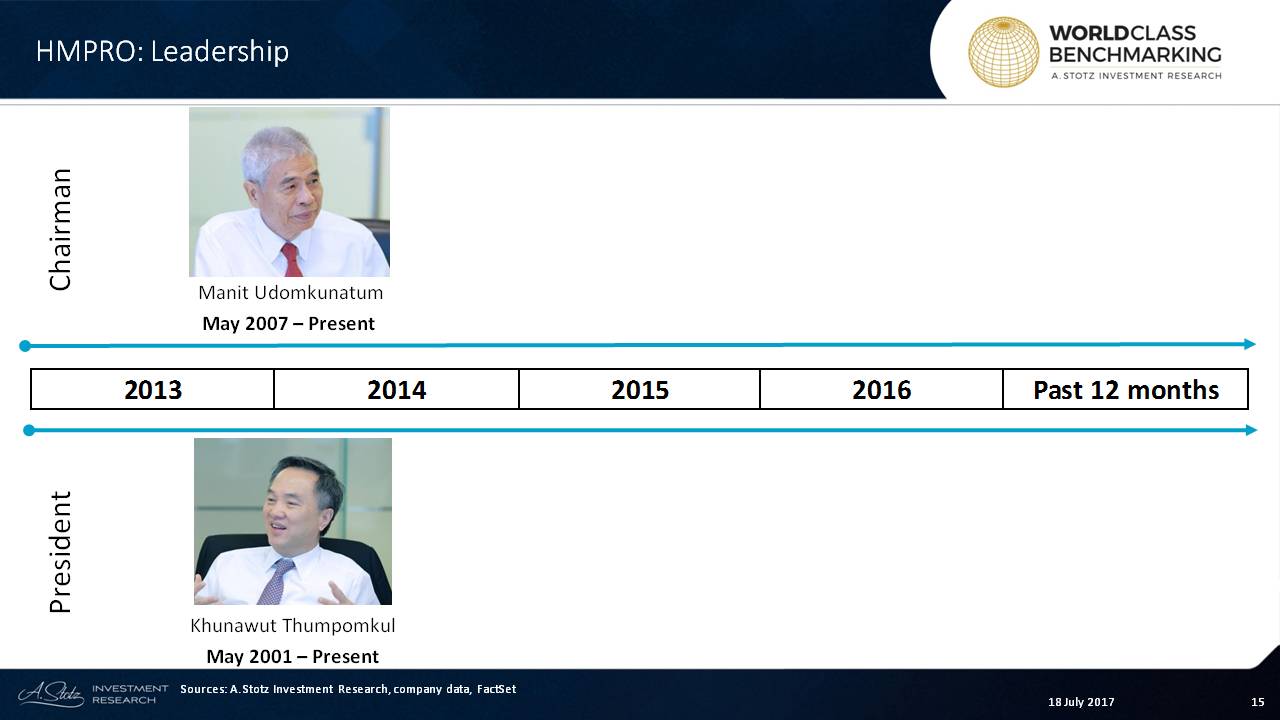 Khunawut Thumpomkul has been the Managing Director of Home Product Center Public Company Limited since 1995 and as its President since 2001. He holds an MBA from the National Institute of Development Administration and a Bachelor's degree from Ramkhamhaeng University.
Mr. Thumpomkul has also been an Executive Director of Land and Houses Bank Public Company Limited since March 2012.
Under his watch, HMPRO has performed competitively among its peers, consistently producing above average profitability and growth.
World Class Benchmarking
Profitable Growth has remained #3 since 2013, which ranks HMPRO among the top 372 of 1,240 large Consumer Discretionary corporations.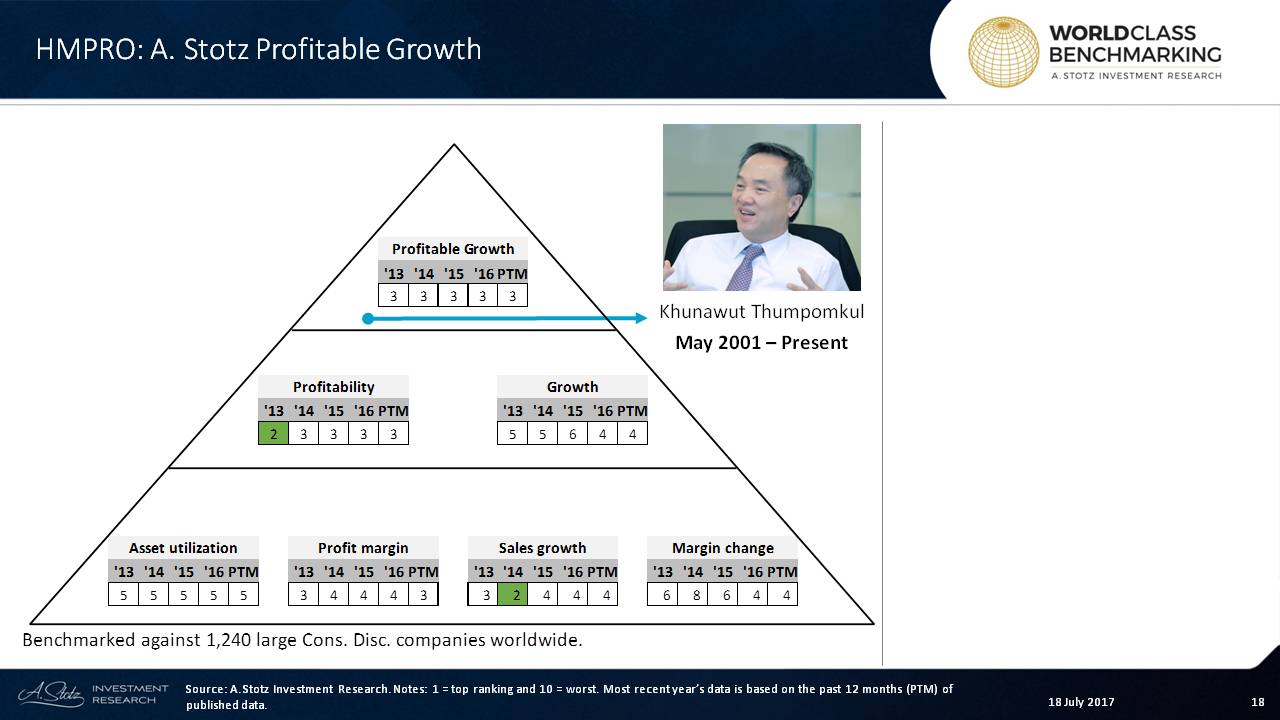 Profitability is in the top 3 as well, while Growth has increased to above average.
Asset utilization is ranked average, though Profit margin drives Profitability.
Both Sales growth and Margin change sit just above average as well.
Article by Dr. Andrew Stotz, Become A Better Investor