2:00PM EST: NOTE: All our coverage of protests against Mohamed Morsi will now be posted in descending order to provide the latest updates on top. We just found some great live streams which are embedded below and will be kept on the top of this post:
Broadcasting live with Ustream
Sunday PM EST Mohamed Morsi Protests
4:30: Lots of big news items coming out now!
Egypt's Defense Minister Abdel-Fattah el-Sissi to give statement soon according to Wael Elebrashy
Egypt State TV: Army vehicles deploy near Cairo Airport, passenger vehicles searched
Police officers are standing in front of Dokki police station holding flags in support of the anti-Morsi protesters. Ahram
AJA reporting that two protesters have been killed in clashes between pro- and anti-government people in Assiut.
Several reports that 4 MB Shura Council parliamentarians have fled to London with their families – (Hayat TV and others)
4:17 BREAKING: Egypt: Minister of State for Legal Affairs and Parliamentary Councils Hatem Bagato submits resignation http://goo.gl/vCGFJ  Arabic
4:15  Unidentified assailants fire at anti-Morsi demonstrators in Assiut
Unidentified assailants riding a motorcycle opened fire on anti-Morsi protesters rallying in front of Assiut's city council on Sunday evening.
One protester was shot in the head. He was transferred to an Assiut hospital where the protesters later gathered and said they will stage a sit-in.
Hundreds clash outside FJP headquarters in Fayoum
Hundreds of opponents of Islamist President Mohamed Morsi clashed with his supporters on Sunday outside the Muslim Brotherhood's Freedom and Justice Party headquarters in Fayoum.
Both sides are pelting sticks and stones at each other in al-Masala area of Fayoum.
An Aswat Masriya eyewitness said that rubber bullets were fired from both sides. No causalities have been reported thus far.
Sixty injured in June 30 protests – MOH
2:50: Is this a first?
Brotherhood leader detained in Beni Suef on accusations of firing at Tamaroud activist https://t.co/vnR7CetIhx via @AlMasryAlYoum #Egypt

— ????? ?? ?????? (@SultanAlQassemi) June 30, 2013
Brotherhood leader detained in Beni Suef on accusations of firing at Tamaroud activist https://t.co/vnR7CetIhx via @AlMasryAlYoum #Egypt

— ????? ?? ?????? (@SultanAlQassemi) June 30, 2013
1:45  Anti-Morsi protesters in Tahrir Square exceed 200 thousand
NSF just released "Revolution Statement 1" calling on people to hold ground until fall of regime. NSF urges Egyptians nationwide to continue protesting peacefully & to 'abstain from dealing with falling Brotherhood govt'
Sky News Arabia: Brotherhood governor of Gharbiya exits through backdoor, protesters give him one hour to leave governorate
Muslim Brotherhood's HQ in Moqattam has been attacked by protesters, police reportedly absent from scene.
Muslim Brotherhood's HQ in Moqattam has been attacked by protesters, police reportedly absent from scene
1:15  Presidential spokesperson: No need for army to intervene
12:35PM EST: Update 2: Latest on protests against Morsi after his first year in office
Sunday AM EST Mohamed Morsi Protests
11:59: Protesters saying to military guards at Pres Palace: please tell Morsi that we would like to talk to him.  Update: Security forces teargas protesters to control clashes in Tanta
Egypt Brotherhood forms operations room to protect Ittihadiya presidential palace if republican guards fail to do so Egypt Independent reports
here are only a few hundred protesters at the presidential palace – surprising considering the numbers protesting elsewhere – chanting "leave," waving with Egyptian flags and holding red placards reading "No to Morsi." Numbers are expected to swell with thousands heading to the palace this evening.
March chants: "Down with the Morshed" – referring to the Supreme Guide of MB who moves the strings in Egypt

Youssef El-Qaradawi, known for his support of the Muslim Brotherhood, is expected to arrive to the sit-in in a show of support for President Morsi, Al-Ahram's Arabic news website reports.
11:30: Morsi Critics Gather for Protest as 8 Killed in Clashes, So far today at least 5 FJP offices attacked/torched across Egypt, Opposition rallies begin to reach Egyptian presidential palace: Al Arabiya, Al Masry Al Youm: Police officers march in anti-Morsi rally carrying banners calling on Morsi to leave
Rumors: Ikhwan going from Rabaa al Adawiya to Itihadiya now
Hundreds of army soldiers are chanting 'Egypt' and protesters along with them: Al Arabiya
small protest at Moqattam's Nafoura sq. where MB Hq is. People singing and dancing
 There is a concentration of armoured vehicles and presidential guards in front of gate 5 of the presidential palace. All the other gates are unguarded, state news agency MENA says.
Police are nowhere to be seen around the presidential palace.
Alexandria protests right now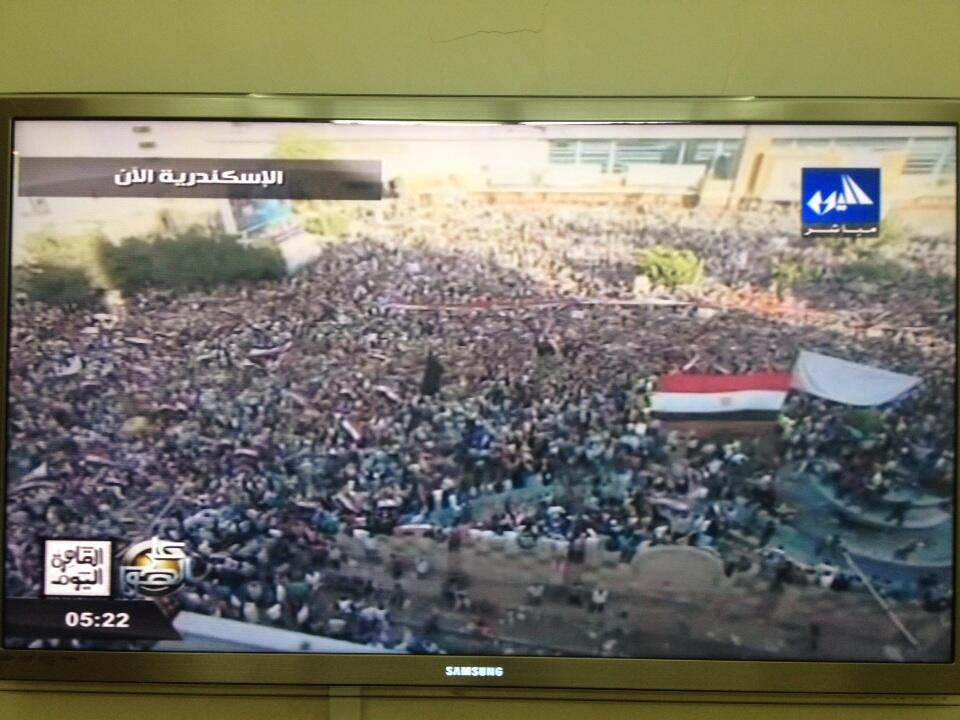 The word of the day being handed out on red cards. "Leave"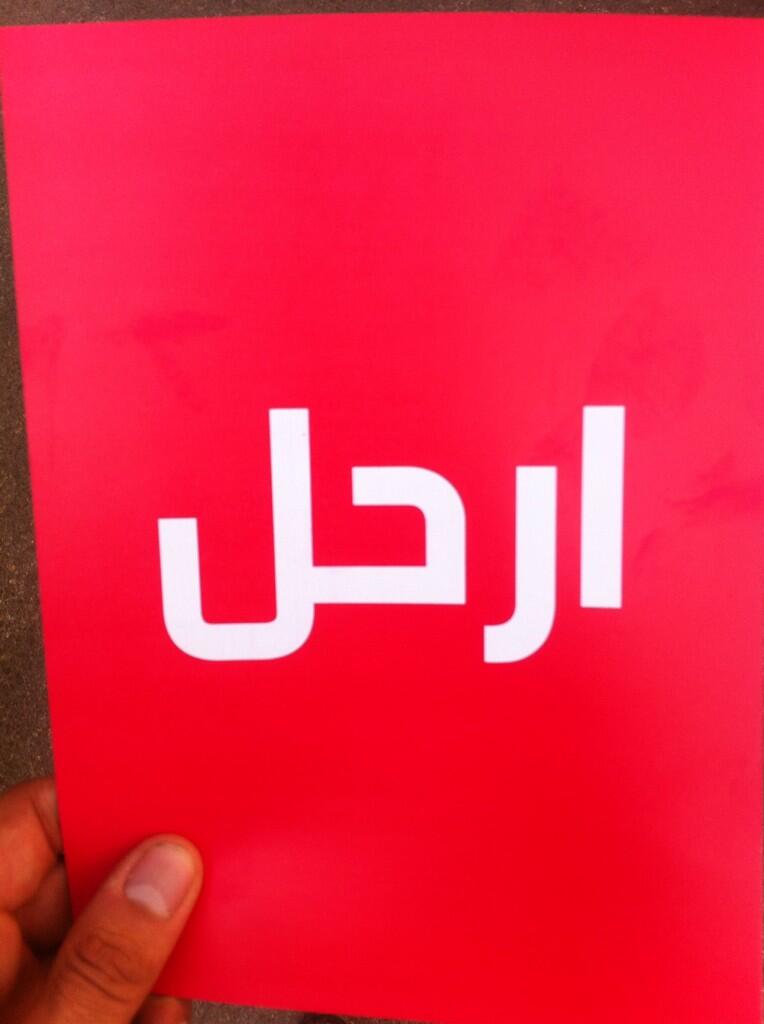 11:05: Thousands are marching against Moray chanting leave heading to presidential palace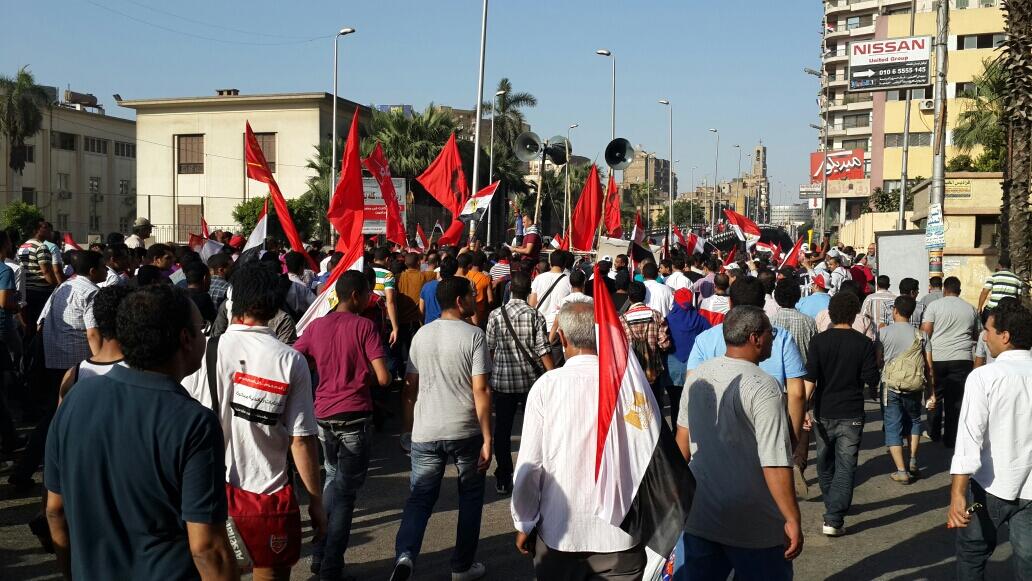 Reham Sayed tells Ahram Online's Yasmine Fathi that Morsi's election victory showed "how incompetent the people are."
"We don't want a new period of military rule. We want the army to create a presidential council and manage the transition," Sayed says, emphasising that she has never been pro-military rule.
The army will not interfere unless there is violence, she adds.
"Cases of poisoning are reported among protesters in Alexandria after drinking water distributed by unknown men": Al Arabiya
In Suez, anti-Morsi protesters in Al-Arbaeen Square have arrested an "infiltrator" carrying a pellet gun
Chant: I'm a rebel until the supreme guide's regime is toppled
FJP We Defend 'Democracy'; Elected President a Red Line fjp statement here 
Evan Hill is a multimedia journalist based in Cairo and correspondent for the Times newspaper.  He has also written for the Economist, Foreign Policy, the Atlantic and the Guardian, has a great new piece titled  How did we get here?
Batons/clubs and helmets everywhere at Muslim Brotherhood rally near Nasr City
10:35:  Tahrir Square fills up before scheduled rallies to oust Morsi
More FJP offices reportedly attacked today.
BREAKING: Offices of Egypt's Muslim Brotherhood in Dakahlia and the Eastern provinces have been torched.
'Details: The Muslim Brotherhood's headquarters in Sharqiya's Abu Hammad was torched on Sunday, al-Jazeera Mubasher Misr reported.
Details were not immediately available.
Several Brotherhood headquarters in a number of cities were torched during the past two days.
Wow out of Egyptian population of approximately 85 million………
Exclusive: Source tells me Egypt military estimates that three million anti-Morsy protesters now in all streets of Egypt #June30

— ????? ?? ?????? (@SultanAlQassemi) June 30, 2013
Via Ahram
The FJP accuses anti-Morsi Rebel campaigners of attacking the party's office in Alexandria's Al-Hadra district earlier on Sunday.
The Brotherhood's Guidance Bureau held a meeting on Saturday attended by all its members as usual, says Muslim Brotherhood spokesman Yasser Mehrez.
President Mohamed Morsi is currently at the El-Qobba presidential palace, an anonymous source tells Al-Ahram Arabic news website. Morsi is keeping a close eye on events and stresses the need to prevent clashes, the source adds. A plane is reportedly at the palace ready to evacuate the president if required.
The number of protesters gathered on Sunday in Tahrir Square has increased to fill it up before the date that had been set for rallies to begin against President Mohamed Morsi.
Mursi's opposition has planned mass demonstrations on Sunday to push for a no-confidence vote against him and call for early presidential elections, exactly a year after the Islamist president was sworn into office.
The committees coordinating the June 30 protests have decided to launch several rallies heading to Tahrir Square in the afternoon.
Estimated crowds of tens of thousands were seen waving Egyptian flags and carrying banners against Mursi, while chanting for the fall of the rule of the Muslim Brotherhood.
10:05  Updates on protests across Egypt against Morsi after his first year in office
Here are the latest news updates from our correspondents in various governorates:-
Cairo:
Hundreds of protesters gathered at Tahrir Square on Sunday, chanting against the Muslim Brotherhood and President Mohamed Mursi.
Egyptian flags and banners opposing Mursi's government were seen raised in Tahrir Square while protesters set up a podium for different speakers to chant slogans.
Mursi supporters and security personnel were both absent from the scene, but a heavy presence of street vendors was noticed.
Alexandria:
Hundreds of protesters gathered outside al-Qaed Ibrahim Mosque on Sunday, chanting against Mursi and the Muslim Brotherhood.
The protesters carried banners which read "leave!" and "the people want to bring down the regime" – both slogans were popular during the 2011 uprising that brought down Hosni Mubarak's regime.
Some protesters blocked two lanes of the Courniche Road while other streets were almost empty of cars.
No security personnel could be seen within sight.
Suez:
Around 400 protesters gathered at al-Arba'een Square, demanding the ouster of the president, on Sunday.
Protesters closed down al-Giesh Road leading to the square, which resulted in quarrels with minibus drivers.
Suez's security department issued a statement confirming that it will not side with any of the sides while the army insisted that it will not fire any gunshots at demonstrators.
The army stressed that its role is limited to securing public property and vital installations.
The Third Army's field commander inspected security checkpoints at the strategic area surrounding the Suez Canal.
Heavy security presence was seen at ports, oil companies and the Ahmed Hamdi Tunnel, which connects Suez to Sinai.
Freedom and Justice Party Spokesman Ahmed Radwan said that the president's supporters will gather at Cairo's Rabaa al-Adawiya Square and will not be present at Suez in order to avoid clashes.
Minya:
Around 100 protesters gathered at Palace Square, chanting against the regime and the Brotherhood, on Sunday.
Around 500 lawyers, who launched a rally from the courts' complex in Minya, also chanted against the Brotherhood.
Muslim Brotherhood youth in Minya formed popular committees to protect the headquarters of the Freedom and Justice Party.
An Aswat Masriya witness observed heavy security presence around vital installations.
Minya's security department issued a statement confirming that its role is limited to securing the demonstrations and that it stands at the same distance from all political groups.
Fayoum:
A calm atmosphere prevailed in the governorate on Sunday unlike in other locations around the Egypt.
Beheira:
Protesters have blocked the governorate's main building and prevented employees from entry since the morning.
Security forces withdrew from outside the governorate building while a number of protesters have announced a sit-in at al-Horreyah Square outside the City Council and blocked the Cairo-Alexandria road.
Arish:
A calm atmosphere prevailed in the governorate on Sunday while a heavy security presence could be seen.
Freedom and justice Party youth formed popular committees to secure the party's headquarters while banks and government offices operated regularly amid a low turnout of citizens.
Damietta:
Around a thousand demonstrators gathered at al-Sa'a Square on Sunday, chanting against the president and the Muslim Brotherhood's supreme guide.
Shops in al-Sa'a Square were shut down while protesters threw out Governor Tariq Khedr from the square, chanting "leave!"
Roads were almost empty of cars amid a weak security presence.
Sharqiya:
Dozens of demonstrators rallied at the governorate's city council on Sunday, chanting slogans against the Muslim Brotherhood and its Freedom and Justice Party.
Scores of al-Houd al-Taweel Village residents cut Belbis-Minya al-Qamh road and demanded the ouster of the president.
An Aswat Masriya eyewitness reported an absence of security.
Kafr al-Sheikh:
Anti-Mursi demonstrators sealed several city councils in the governorate with locks and chains and put up"No entry until the Muslim Brotherhood leaves" posters on them.
Hundreds marching and carrying anti-Mursi posters heard gunshots coming from a building on al-Istad al-Riadi Street.
In Nasr Square, the demonstrators set up a large platform and chanted slogans calling for the toppling of the president.
Gharbiya:
Hundreds marched from the Qahafa area headed to al-Shohadaa Square on Sunday, chanting anti-Mursi and Brotherhood slogans and demanding the toppling of the regime.
Other groups of demonstrators marched from several areas to the governorate's city council.
Monofeya:
Anti-Mursi political powers organized a march from Mostafa Kamel Square to the city council, Al-Shorouk Portal reported.
The protesters chanted "Down with the regime" and "The Brotherhood's rule is illegitimate".
With red cards in their hands, the protesters said they will not stop demonstrating until the Brotherhood is gone and early presidential elections are held.
North Sinai:
Large crowds moved to the province's office early on Sunday to call for the ouster of the regime while police and army forces were deployed to secure the building and prevent vandalism.
Tamarod's Sharm al-Sheikh branch has announced a demonstration at mid-day in Neama Bay and expressed its intention to begin an open-ended strike until the government responds to its demands.
Port Said:
Revolutionary forces have called for four marches after mid-day prayers from the Dawahy neighbourhood, al-Zohour neighbourhood, the new Fish Market and Ber Fouad.
The protesters will meet in front of Mariam Mosque and move from the Saad Zaghloul Street to Shohdaa Square.
About three hundred people have gathered so far while tents have been set up in the Square for an open-ended sit-in until the protesters' demands are met.
Sohag:
Revolutionary forces have announced their intention to march after mid-day prayers to the Culture Square – one of the largest squares in the city.
Tamarod announced that it will enter an open-ended sit-in in the square until its demands are met.
Aswan:
Verbal Confrontations between supporters and opponents of President Mohamed Mursi escalated early on Sunday in Aswan's Shohdah Square, which has been prepared for June 30's demonstrations.
Lawyers have begun gathering in front of Aswan's court of first instance to march to the square.
Aswan's security director has insisted that he will personally head the operation room to receive complaints and information about the demonstrations and said that the police will protect its offices as well as state property.
He insisted that the police will protect the people and not the regime or any political party.
Qena:
Complete calm has prevailed in Qena and protesters have decided to delay their demonstration due to the high temperature.
Qena Churches are praying for Egypt.
A large number of demonstrators have started heading to Mostafa Mahmoud Mosque in Cairo's Mohandessin in order to join the rally to Tahrir Square that is scheduled for Sunday afternoon.
The protesters demand holding early presidential elections and unseating President Mohamed Morsi on the anniversary of his inauguration, June 30.
They staged a demonstration outside the mosque, waving Egypt's flags and chanting against the Muslim Brotherhood, reported the state-owned news agency.
9:36: Now were starting to get some real news its coming in fast but here we go!
There are two presidential briefings tdy 5 PM & 10 PM (15G & 20G)
Pope Tawadros II to Egyptians: Express your opinion but respect the other
Man in uniform (rank unidentified) leading anti Brotherhood chants at the Defense Ministry. At a march toward the palace passing the Defense Ministry, people are carrying a cop and a military officer. "The police, the people and the army are one hand!" is the chant.
All side streets to Tahrir have huge number chanting and marching against Morsy telling him to leave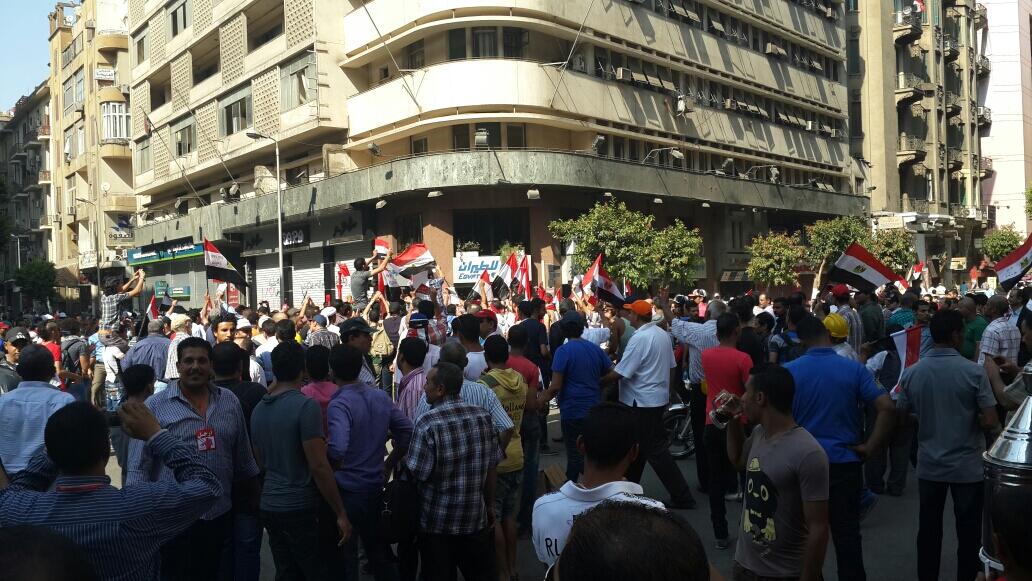 9:15
Al Arabiya: National Salvation Front leaders will participate in anti-Morsy demos in Tahrir today
Stock market in Egypt closes up for the day. On the financial front EFG Hermes notes in a new report out today:
Short-term market performance will be driven by the outcome of demonstrations against President Morsi over the next week or two. We believe that the market is pricing in significant civil unrest, and any reduction in tensions could drive a powerful relief rally, supported by recent strong growth in EGP liquidity and low valuations.
Furthermore they note:
Loans from Qatar and Libya have reduced pressure on the balance of payments (BoP) in the short-term, but the longer-term outlook for BoP financing is unclear. In the meantime, the government continues to run a large fiscal deficit – public sector net lending has grown at an average of 33% Y-o-Y since the 2011 revolution (the run rate was 35% Y-o-Y in April 2013). We do not expect a sustained rally in the stock market until we see signs that the public sector deficit will be reduced and the FX market will clear – a resolution of either looks unlikely until the political environment permanently improves.
Matt Bradley of the Wall Street Journal reports on twitter (to the utter shock of many followers)
From the Press Center: You are kindly requested to be at Koba Palace today at 5:00 PM to cover presidential event ( Reporters only) #june30

— Matt Bradley (@MattMcBradley) June 30, 2013
Anti-Morsi protest outside Egyptian embassy in Sweden!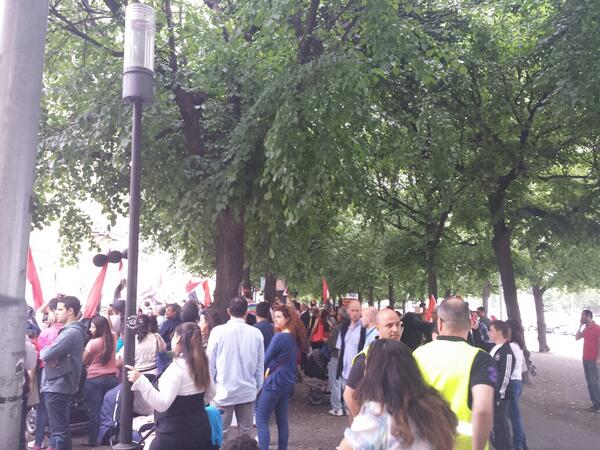 Pro-Morsi rally at unidentified location, but sent via Ikhwan (Muslim Brotherhood)
Men with shields at the pro Morsi demonstration.
Anti-Morsi protests in Tahrir square.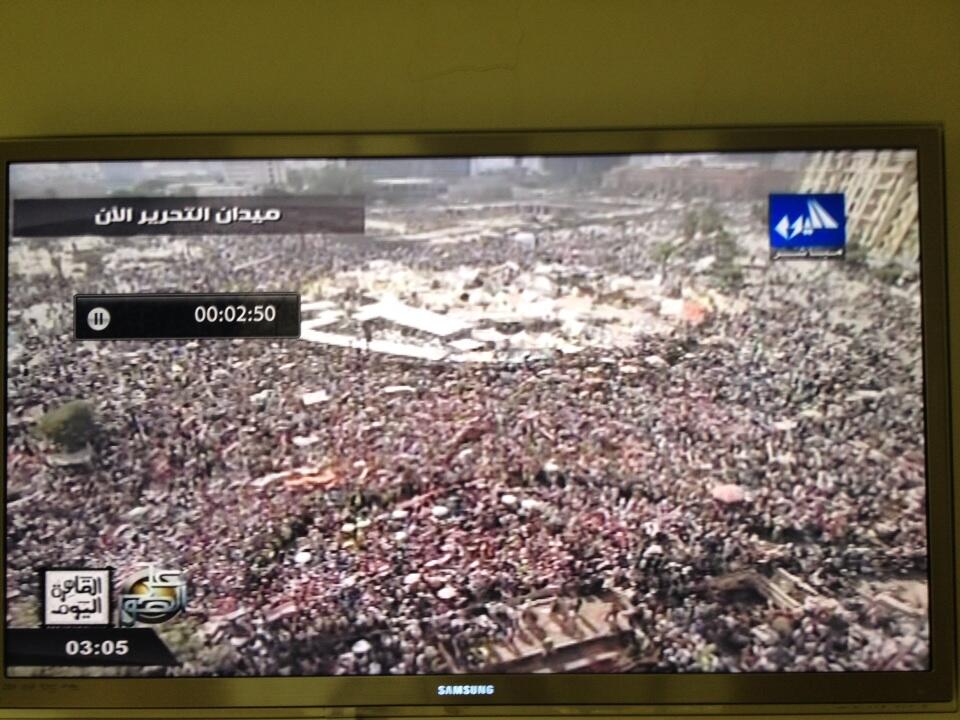 8:43 Protesters already scaled the walls erected around Morsi palace to secure it, no presidential guards, police outside
Another casualty is being reported: One person was killed after armed assailants attacked an army checkpoint in Gowra, Sinai on Saturday night, according to the media office of the Armed Forces.
Lots of people at pro Morsi rally w sticks and hardhats, say they'll go to the palace to protect the presidency if it's threatened. Thick security checks at the beginning. Only dozens of Egyptians at Presidential palace. People expected to go there later. Anti Morsi action is in Tahrir.
Important to note  that there are protests in several other governorates, not just Tahrir and the palace.
Sunday 8:13AM EST
Four Apache helicopters buzz Tahrir twice. The crowd erupts (see photo below).

Cairo-Alexandria train stopped, all other rail lines have green light despite protests
Morsi and his family moved into the Cairo headquarters of the Republican Guard, the branch of the army tasked with protecting the president.
Tahrir Doctors Society: Health Ministry ill-prepared for 30 June protests
Protesters show Mohamed Morsi the 'red card'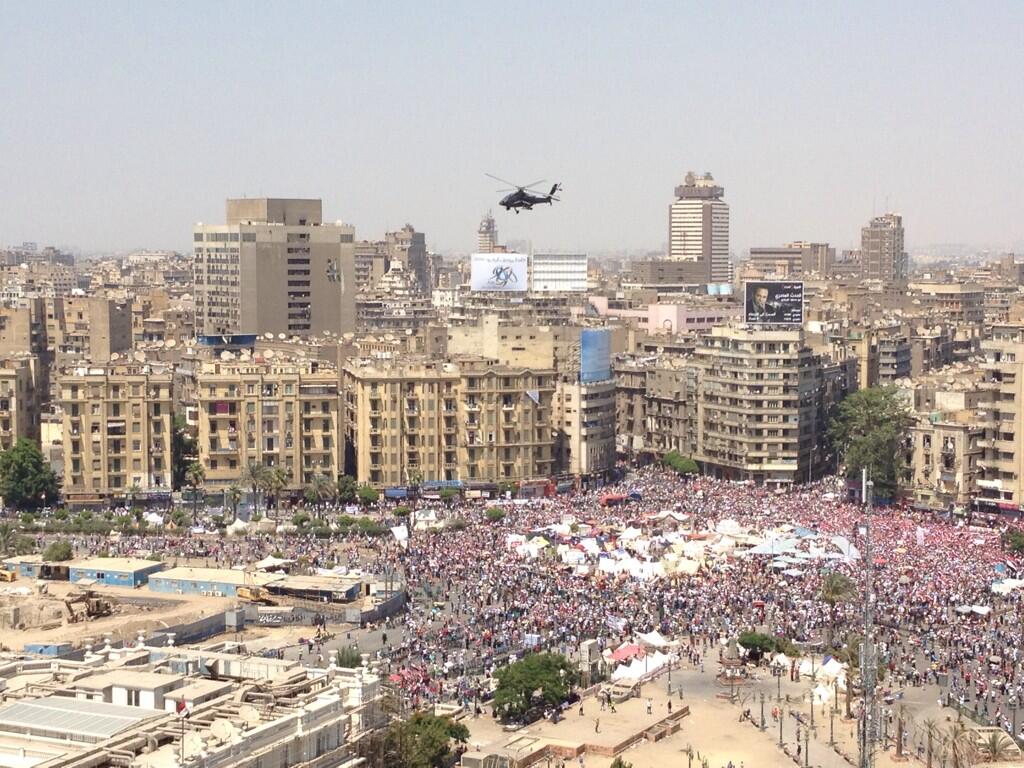 Another picture of helicopters over Tahrir square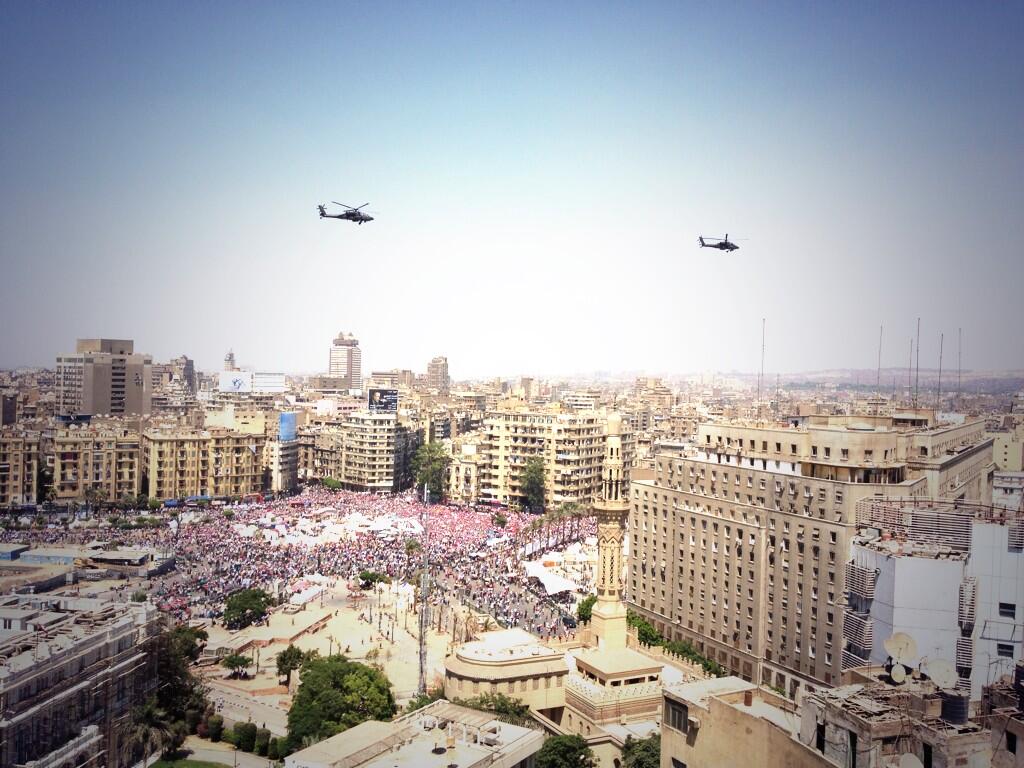 Muslim Brotherhood supporters prepare for fights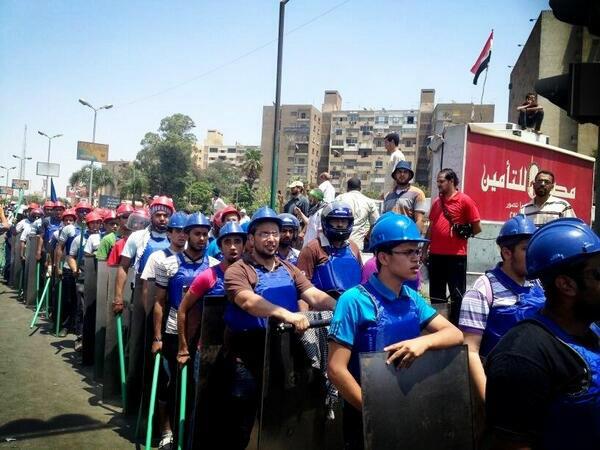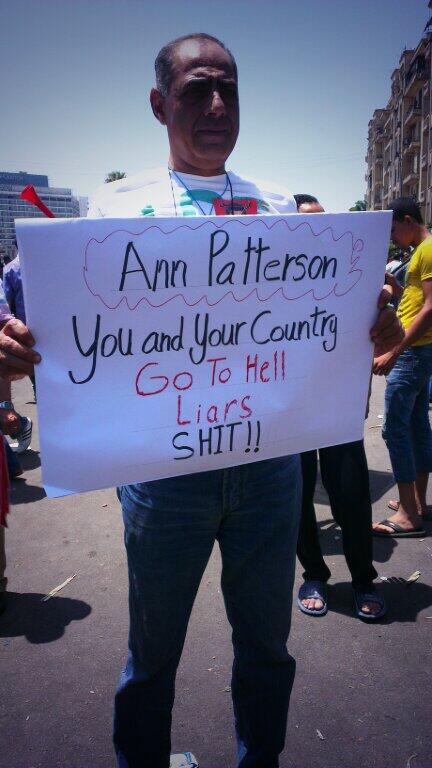 Sunday 7:43AM EST
FJP newspaper (It's on the front page of horreya wa adala.) reports today on an Al Jazeera poll in which 90.6% of Egyptians say june 30 protests are a coup against democracy.
Sunday: 7:30 AM EST: Mohamed Morsi vows to Guardian: No second revolution
In an exclusive interview with the Guardian ahead of mass anti-regime demonstrations, Egyptian President Mohamed Morsi insisted there will be "no second revolution".
The Egyptian president rejected calls for early elections and warned that his early removal would only lead to chaos.
"If we changed someone in office who [was elected] according to constitutional legitimacy – well, there will be people or opponents opposing the new president too, and a week or a month later, they will ask him to step down," Morsi told the Guardian.
He assured the Guardian that he is confident that he will remain in power and that the army will not step in.
Egypt's Azhar Imam and Grand Mufti urge self-restraint on June 30
Ahmed al-Tayeb, the Imam of al-Azhar – the most prestigious Islamic institute – urged Egyptians to practice self-restraint and avoid all types of violence on Sunday.
Tayeb stressed on the importance of prioritizing national interest on a day like today, where mass demonstrations against the regime are expected to take place, and avoid all acts that could harm this interest, reported the state news agency.
The Azhar Sheikh expressed wishes on Saturday evening for June 30 to act as a dialogue between Egypt's rivals, warning against civil war.
Meanwhile, Grand Mufti Shawky Allam called on all state institutions to protect citizens and public and private property and practice self-restraint.
The Mufti called on all parties to not aim their weapon against one another to protect lives and coordinate with security apparatuses.
June 30 Front forms operation rooms to monitor events
A front named after the day set to hold mass demonstrations against the regime in Egypt urged protesters on Sunday to remain peaceful.
The June 30 Front urged President Mohamed Morsi's opponents to unite their cause and wave the national flag instead of signs affiliated to political parties or specific figures.
In a statement on Sunday, the Front announced the formation of two operation rooms, one to monitor demonstrations and rallies and another for political coordination and issuing press statements.
The Front named Hussein Shahin its spokesman and appointed former Member of Parliament Bassem Kamel as its media coordinator.
It appointed other members to monitor the different locations where demonstrations are taking place today.
Egypt deploys 35 trucks and 6 tanks to key locations
Egypt stepped up security in the downtown area where the parliament headquarters and the interior ministry are located on Sunday morning ahead of planned demonstrations against the regime.
Thirty-five Central Security trucks, six tanks and four firetrucks were deployed in the location, reported the state news agency.
Security forces also placed metal wired barricades on all the roads leading to the area to prevent vandalism.
President Mohamed Morsi's opponents continued their sit-in by the presidential palace for the third day in the row on Sunday as an increase in the number of tents is now seen in the area.
The protesters have closed the Merghany Street to traffic and have placed cement blocks and wooden barriers in all directions before a podium which has been set in front of the Heliopolis sporting club.
About 60 tents have been set up by Amr Ben Abdel Aziz Mosque near the palace, the state news agency reported.
Chanting against the regime, the protesters have formed popular committees to protect participants in today's planned demonstrations.
Opponents of President Mohamed Morsi returned to Cairo's Tahrir Square on Sunday morning for planned demonstrations to demand his removal.
Chanting against the president and his Muslim Brotherhood, most of the protesters gathered by the only podium in the square which is located close to Mohamed Mahmoud Street, reported the state news agency.
Tens of protesters marched in the square early on Sunday, carrying a 70-meter-long national flag as they chanted anti-regime slogans.
All the entries to the square have been blocked as protesters formed popular committees to prevent thugs and outlaws from entering Tahrir.
Islamists block all roads to their sit-in on June 30
Sunday: Screenshots of anti Mohamed Morsi protests just beginning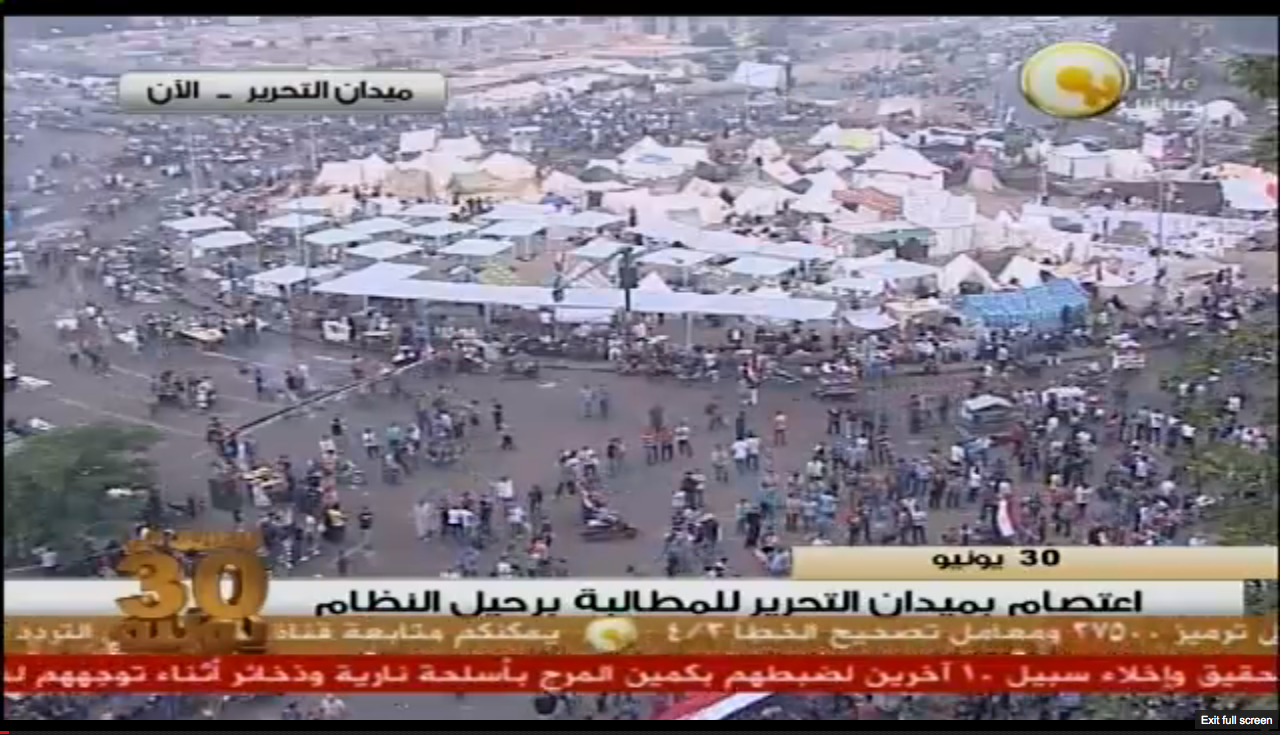 The political roadmap proposed by Rebel's 30 June mass protests in a press conference last week suggested the following via Ahram:
1.      Hand power to an independent prime minister who represents the January 25 Revolution on the condition that he does not run in the first upcoming presidential or parliamentary elections.
2.      "The independent prime minister will head a technocratic government whose main mission is to put together an urgent economic plan to save the Egyptian economy and to expand social justice policies," said Tamarod co-founder Mohamed Abdel-Aziz. He also hinted that the premier would not be from drawn from among well-known politicians.
3.      "The head of the High Constitutional Court would be assigned the duties of the president according to protocol, where all executive powers are assigned to the prime minister in a six-month transitional period that ends by presidential elections judicially supervised and monitored internationally, followed by parliamentary elections," the Tamarod co-founder added.
4.      Dissolving the Shura Council, suspending the current constitution and drafting a new constitution are steps in the roadmap proposed by the newly founded Front.
5.      The prime minister will give the National Defence Council the authority to fulfil its national security responsibility towards the country.
Saturday 11:05PM EST: D-day has begun in Egypt, it is now morning (5AM) in the country. Massive rallies are expected today. There is still talk of military intervention and a potential civil war. We will be providing extensive coverage/updates. So make sure to check back and spread the word.
Saturday 9:47PM EST:   Hundreds rally at Defence Ministry for anti-Mohamed Morsi protest
Hundreds of protesters rallied at the Ministry of Defence to take part in an anti-Mohamed Morsi demonstration on Saturday evening, the Middle East News Agency reported.
Dozens have been sitting-in at the ministry for almost a week to declare their rejection for Morsi's rule and call for early presidential elections.
The demonstrators waved Egypt's flags and held red cards for Mprsi while chanting slogans against the Muslim Brotherhood and its General Guide Mohamed Badie.
They held banners denouncing the U.S. ambassador to Egypt Anne Patterson and claimed she is supports the Brotherhood.
The protesters called for handing power over to Minister of Defence Abdel Fattah al-Sisi and chanted slogans supporting him.
ElBaradei: Egyptians gave Mohamed Morsi driving license but he couldn't drive
On the eve of the June 30 protests, Mohamed ElBaradei urged Egyptians to take to the streets on Sunday and demonstrate peacefully to call for early presidential elections and a new constitution.
Egypt is headed towards a dead end, the National Salvation Front member said.
The regime completely failed, he added.
Egyptians gave President Mohamed Mursi a driving license but he couldn't drive, ElBaradei, the Dostour Party founder, stated.
In a recorded speech televised on Saturday night, ElBaradei called on Mohamed Morsi to listen to the people's demands of holding early presidential elections, drafting a new constitution and achieving national reconciliation.
"I hope and trust that tomorrow we will be united in one voice … to show Egypt and the world that we will realise our revolution," he said.
President Mohamed Morsi met with Prime Minister Hisham Kandil and Interior Minister Mohamed Ibrahim on Saturday evening to discuss the interior ministry's preparations to protect citizens and maintain security during the planned June 30 demonstrations.
Earlier today, Morsi met with Minister of Defence and Military Production Abdel Fattah al-Sisi to talk over the ministry's plan to secure vital and strategic state facilities, protect the people, and secure the borders, a presidential source told the Middle East News Agency.
Saturday 11:25 AM EST:  Egypt top opposition figures accused of plotting coup
7:30: Reports state that the US is sending marines to protect the American embassy in Cairo. Additionally, State Department issues warning against travel to Egypt; permits non-essential embassy staff to leave country
"Further details on what we reported earlier: An American..photographer who had gone to the Alexandria protests to film the event – was stabbed to death
Huge Crowd chanting in front of the Palace in Egypt now
A popular photo being circulated now of Mohamed Morsi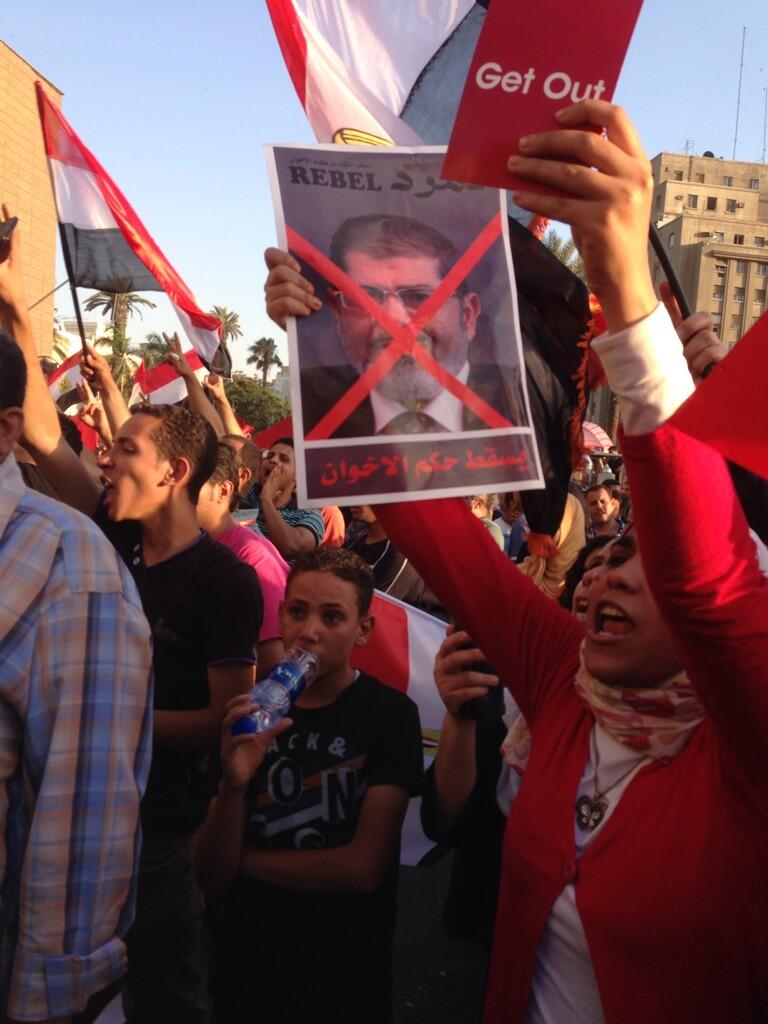 Muslim Brotherhood militia shooting in Alexandra video footage
5:50:  One dead, five injured in Port Said explosion
 5:04   Tens of thousands demonstrate against Mohamed Morsi in Tahrir Square
2:30: Reports now on CBC of arrest of Egypt factory owner who makes police uniforms. 2:20: BREAKING: CNN:  Four members of Egypt's Muslim Brotherhood were killed in violence over the past day, a spokesman for the group said.   2:11PM EST: Protesters in front of presidential palace chant "step down you sheep" cars honk horns to chant beats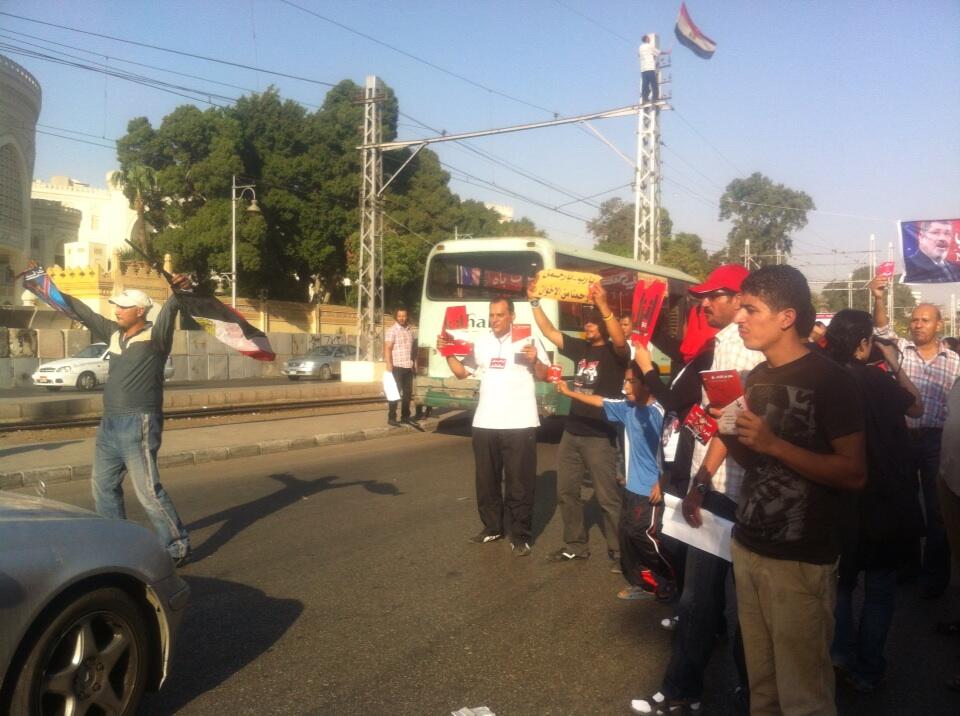 Protesters are gathering in cities across Egypt in an attempt to topple the increasingly authoritarian government of Mohamed Morsi. The protests are expected to peak on Sunday and there is talk of civil war, army coup etc. We will be providing live updates on the topic throughout the weekend. Here some background and the latest. We have started coverage of the event at 12:20 AM EST on Friday.
 Health Ministry: Clashes in four cities leave one dead, 434 injured
Egypt's Health Ministry said that clashes in four governorates over the past two days left one dead and 434 injured.
In Sharqiya alone, the number of people injured in clashes that occurred at the governorate's city council is 177, the state news agency reported a health ministry official as saying.
In Mansoura, one died and 250 were injured in clashes at the city's new security headquarters, head of the central administration of the critical and urgent care Khaled al-Khatib said.
Three were injured in Gharbiya's city council clashes and four others were injured in Monofeya in scuffles on Omar Effendi Street, Khatib added.
Of the 434 injured, 375 were released from hospitals after they had been treated for minor injuries. Fifty-six are still receiving treatment at several hospitals.
Egyptian rights organizations warn government against coal usage
After the Egyptian government recently announced its intent to import coal as an alternative source of energy, a number of rights organizations issued a warning statement condemning such intent.
The warning came after the government called on local plants of energy-intensive industry to use coal because of the continuous shortage in gas and electricity supply in Egypt.
"In terms of environmental and economic realms, the government's decision neglects dangerous pollutants and greenhouse gas emissions resulting from the burning of coal, and the magnitude of hazardous pollutants and radiation as the main cause for diseases and health risks worsened for incinerator workers or residents in the surrounding area," Hoda Baraka of Green Peace International Organization said.
According to statements published recently in local press, the Ministry of Industry plans to transform existing and planned cement plants to rely on coal. It would also expand towards converting energy-intensive industry sectors towards coal. It also intends to run three power plants under construction on coal.
The organizations that signed on the warning statement include the Egyptian Initiative for Personal Rights (EIPR), Greenpeace, 350.org, the Arab Youth Climate Movement (AYCM), the Egyptian Center for Economic and Social Rights (ECESR), the Hurghada Environmental Protection and Conservation Association (HEPCA), the Nature Conservation Egypt (NCE) , the Green Arm – Nahdet Al Mahrousa, the Egypt National Climate Change Coalition (ENCCC), Dayma and the Association for Health and Environmental Development (AHED).
Signing this statement strongly emphasizes the adverse effects of coal usage on more than one level, according to rights organizations.
"There is also a disregard for the harm caused by coal-run plants on soil and water quality in the areas exposed to the emitted pollutants. Not to mention the cost of dealing with thousands of tons of solid waste