[ad#234 by 60]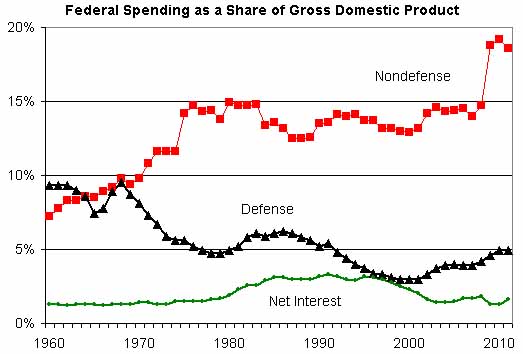 Source: Cato Institute
Corsair highlights SPAC FG New America ahead of OppFi merger
Corsair Capital highlighted its investment in a special purpose acquisition company in its first-quarter letter to investors. The Corsair team highlighted FG New America Acquisition Corp, emphasizing that the SPAC presents an exciting opportunity after its agreement to merge with OppFi, a leading fintech platform powered by artificial intelligence. Q1 2021 hedge fund letters, conferences Read More
I decided to write a short post on an interesting chart I just found.
I was actually surprised by this chart since defense spending has ballooned since 9/11. The wars in Afghanistan and Iraq have been very costly. President Obama has proposed a $708 billion defense budget for fiscal year 2011. I suspect the reason non-defense spending has gone up in relation to defense spending is because the Government is spending so much money on TARP, stimulus bill etc. that it dwarfs the increase in defense spending.
Regardless, the defense budget is far too high at its current levels. Hopefully, as the wars in Iraq and Afghanistan wind down these numbers will drop dramatically. I also hope that a lot of pork in the defense budget is cut although pork seems to be the favorite item nowadays in Washington.
Non-defense spending will also have to decrease. Three of the largest areas the Government spends money on are Medicaid, Medicare and Social Security. The later two are expected to balloon in the coming years. This is the area where the Government really needs to be doing some cost savings.  My biggest disappointment with the current health care bill is how little it cuts from the Federal Deficit. Reforming healthcare was the biggest opportunity to trim or even balance the Federal deficit.
The CBO estimates the bill will cut $1.2 trillion from the deficit over the next twenty years. It is impossible to predict numbers that far into the future as history as shown. So I am highly skeptical of this estimate. Even if the CBO is right this is a drop in the bucket considering the deficit is supposed to increase 10 trillion over the next ten years. In addition assuming average inflation of 3% per year over the next 20 years the $1.2 trillion is really much less than meets the eye.
[ad#Google Adsense-3]