Check out this week's Danger Zone interview with Chuck Jaffe of Money Life and Marketwatch.com
First mover advantages erode quickly when first movers ignore new competitors. This week's Danger Zone pick has seen its market share decline while competitors' market shares have exploded. At the same time, this firm's already negative margins and limited revenue model undermine its ability to compete at this point. We think the ship has sailed on this business, but the stock is still pricing in huge improvements in profitability and market share. Pandora Media (P: $12/share) is in the Danger Zone this week.
Profitless Revenue Growth
Pandora Media's after-tax profit (NOPAT) declined from -$27 million in 2014 to -$311 million in 2016. This profit decline comes despite revenue growing 23% compounded annually over the same time, per Figure 1.
Figure 1: Pandora's Losses Soar As Revenue Grows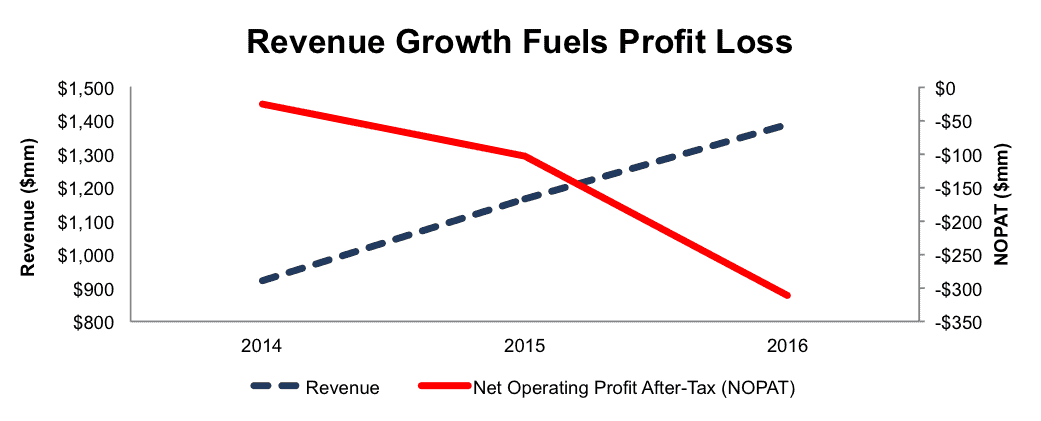 Sources: New Constructs, LLC and company filings
The company's return on invested capital (ROIC) is currently a bottom-quintile -30% and its NOPAT margin is -23%. Additionally, Pandora has burned through $1.2 billion (44% of market cap) in free cash flow over the past two years. It burned $355 million in FCF in 2016. With only $237 million in cash on the books, Pandora has less than a year before it dilutes investors and raises capital, files for bankruptcy or suddenly turns its business around. Despite impressive revenue growth, Pandora's fundamentals are headed in the wrong direction.
Compensation Plan Overlooks Shareholders
After reviewing Pandora Media's executive compensation plan, we are not surprised to see the major cash losses. Put simply, Pandora's executive compensation incentives are not aligned with shareholders' interests.
Pandora executives are eligible for base salaries, cash incentives, and long-term equity awards. The cash bonuses are tied to the "corporate performance objectives" of revenue and adjusted EBITDA. Adjusted EBITDA, a non-GAAP metric, conveniently removes stock-based compensation expense (10% of 2016 revenue) and is not correlated with shareholder value creation. As we've shown in Figure 1, revenue growth is not aligned with profits.
Long-term equity awards are given in the form of restricted stock units and market stock units. Restricted stock units are given yearly and vest over a set time frame while market stock units vest according to Pandora's stock price performance. In either case, executives are incentivized by metrics that do little to create shareholder value and investors should be wary of heavy use of stock price as an incentive. Decisions can be made to maximize stock price in the short-term while the long-term best interests of the business go ignored.
We've demonstrated through numerous case studies that ROIC, not adjusted EBITDA or other non-GAAP metrics, is the primary driver of shareholder value creation. Without major changes to this compensation plan (e.g. emphasizing ROIC), investors should expect further value destruction.
Non-GAAP Metrics Can Only Lessen Losses
Pandora uses non-GAAP metrics such as non-GAAP gross profit, non-GAAP net income, and adjusted EBITDA to effectively minimize its losses. Our research digs deeper so our clients see through the illusory numbers and understand the true profitability of the firm. Below are some of the items Pandora has removed when calculating its non-GAAP net income:
Stock-based compensation expense
Amortization of intangibles
Amortization of non-recoupable ticketing contract advances
Pre-1972 sound recordings settlement
RMLC publisher royalty charge
These adjustments have a large impact on the disparity between GAAP net income, non-GAAP net income, and economic earnings. In 2016 and 2015, Pandora removed over $138 million (10% of revenue) and $111 million (10% of revenue) respectively in expenses related to stock-based compensation to calculate non-GAAP net income. When added with the other adjustments, Pandora reported 2016 non-GAAP net income of -$118 million. Per Figure 2, GAAP net income was -$343 million and economic earnings were -$380 million in 2016.
Figure 2: Disconnect Between Non-GAAP & Economic Earnings

Sources: New Constructs, LLC and company filings
Negative Profitability In A Highly Competitive Market
Pandora Media was one of the first Internet radio providers in the market, long before the current competition entered the space. This first-mover advantage provided little economic moat and the firm's "freemium" model was no path to profitability. In today's music and radio landscape, Pandora faces competition for listeners from, but not limited to, traditional broadcast radio, Apple's (AAPL) Apple Music, Amazon's (AMZN) Amazon Music, Alphabet's (GOOGL) Google Play Music & YouTube Music, Sirius XM (SIRI), iHeartRadio, Spotify, Soundcloud, and Deezer. In addition, the firm faces competition for advertisers from Facebook (FB) and Twitter (TWTR) as well as traditional broadcast media such as Disney's (DIS) ABC and ESPN, CBS, and Twenty First Century Fox (FOXA).
The key takeaway from Figure 3 is Pandora's ROIC and NOPAT margin rank below all competitors. More importantly, music streaming is a secondary focus for many of the firms below. For instance, Apple, Amazon, and Alphabet offer music services as an add-on to their already profitable businesses. Furthermore, these firms can afford to take a loss in an effort to gain market share, or as a way to upsell another product line. Meanwhile, Pandora's business model provides a free service while relying on advertising revenue to fund operations. We are not surprised that Pandora's profitability aligns more along the lines of previous Danger Zone pick Twitter, which is another free service reliant upon advertising.
Figure 3: Pandora's Negative ROIC & Margins

Sources: New Constructs, LLC and company filings 
Bulls Case Ignores Broken Business Model & Market Share Losses To Formidable Competitors
Pandora bulls will point to the shifting nature of its business model as reason to invest in the largely unprofitable firm.
Until recently, Pandora's business model has largely revolved around providing free music streaming and serving ads, much like a social media service such as Twitter or YouTube. However, Pandora's revenue growth has been unable to match the growing cost of this service and its NOPAT margin has fallen from -3% in 2014 to -23% in 2016.
Pandora's business model poses a dilemma in regards to its already negative margins. To attract advertisers, Pandora must prove that its user base is listening to its service. However, as listener hours increase, content acquisition costs also increase. Essentially, as more users listen to Pandora, the underlying service grows more expensive. Since 2014, content acquisition costs have grown 28% compounded annually while revenue has grown just 23% compounded annually.
Worse yet, Pandora has no plans to cut costs. With significant competition and the roll-out of a new paid service, the firm plans to increase investments. From the company's 2016 10-K, in regards to product development costs, "We intend to substantially increase investments in developing new products and enhancing the functionality of our existing products." From the same filing, in regards to sales & marketing costs, "We are substantially increasing sales and marketing expenses to drive growth as we hire additional personnel to build out our sales and sales support teams."
Bulls hoping for a quick turnaround to profitability may be left waiting. Pandora's cost growth already outpaces its revenue growth and the firm expects to increase these costs moving forward. Per Figure 4, Pandora's product development,