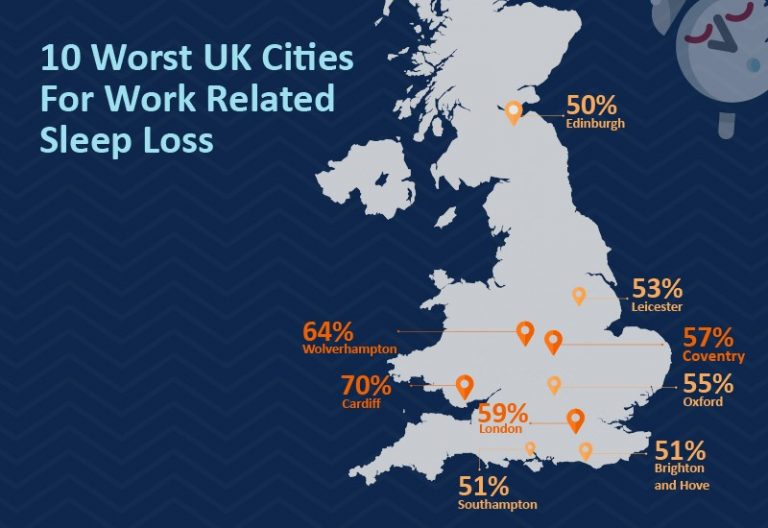 It's no secret that with our increasingly fast-paced economy, long working hours and the pressures involved with work stress can often affect our personal lives, and even our health.
Studies have shown that workers in the UK and US are getting less than the recommended amount of sleep – both clocking up an average of 6.8 hours to be exact – and the reasons behind this are often put down to stress, specifically work stress.
Having studied how work stress affects nightly rest in both countries, Mattress Online have discovered the key affects of work stress on sleep:
Gates Capital Management Reduces Risk After Rare Down Year [Exclusive]
Gates Capital Management's ECF Value Funds have a fantastic track record. The funds (full-name Excess Cash Flow Value Funds), which invest in an event-driven equity and credit strategy, have produced a 12.6% annualised return over the past 26 years. The funds added 7.7% overall in the second half of 2022, outperforming the 3.4% return for Read More
Q2 hedge fund letters, conference, scoops etc
The annual cost of a lack of sleep to the UK economy is £40bn ($53.2bn) while this figure reaches £310bn ($411bn) in the US.
This is due to a huge loss in working days – 200,000 in the UK and 1.2m in the US – plus the lowered productivity of those who do make it in.
UK workers put in an average of 42 hours per week (8.5 per day) while those in the US work for 44 hours (9 per day).
Almost 75% of Brits sleep less than 7 hours per night (Royal Society for Public Health) while 65% of Americans get 7 hours or less (Gallup poll).
Adding 1 extra hour of sleep per night could boost your wages by 5%.
Unsurprisingly, work-related anxiety is one of the leading causes of the national snooze shortage. Whilst any form of stress has severely negative consequences on your sleep patterns - work stress has a less obvious solution, as issues at work may be out of your control.
Here are the locations in the UK and US which reported the highest job stress levels which directly relates to a lack of sleep.
The figures above are from a 2018 study from Perkbox, showed the top 10 most stressed-out areas in the UK due to work. This kind of anxiety has detrimental effects on sleep patterns so it's no wonder that 65% of Brits cite work as the cause of their lack of nightly rest.
A lack of sleep can affect your overall wellbeing in a number of ways, which then goes on to impact your work performance – possibly making you more stressed!
A large part of the stress causing this sleep shortfall is the hours we all work. Long working hours leaves little time for work/life balance.
 Could you increase your salary by earning more?
By increasing the amount of sleep you get by 1 hour per night (assuming you're getting less than the required amount) you could increase your wage by as much as 5%, found a study by University of California.
This may seem too good to be true but, when you consider the negative aspects of poor sleep:
It's obvious why an extra 60 minutes of slumber could improve your performance at work, due to its effects on mental health and energy.
A lack of sleep won't just hit you in the pocket. A study by the National Center for Biotechnology Information found that sleeping for 6 hours a night for 14 nights (as opposed to regularly getting 8 hours) caused 'cognitive performance issues' equivalent to having two full nights of total sleep deprivation.
On the opposite side of the coin, a Sleep Council study of UK workers has shown that people who earn more tend to get a longer, better-quality night's sleep.
Which jobs are the most stressful?
There are a number of similarities between the UK and US when it comes to which professions get enough sleep. This extends right to the very top of the ladder.
Although those with more money have been proved to sleep more soundly, this doesn't always translate into roles with a huge amount of responsibility. Take the leaders of both countries as an example...
This unhealthy sleep standard being set by those in powerful positions could be sending the wrong message to employers and their workforce. There is no evidence to suggest that less sleep correlates to greater performance – in fact, it's actually highly detrimental.