When we think of rainy cities, the likes of Seattle in the USA and Manchester in the UK come to mind. Grey skies, constant drizzle and the great music inspired by the gloom surely signify that these are amongst the rainiest cities in the world. Except, they're not. That image of year-round dark clouds and downpours doesn't match up with the reality of what the wettest cities actually look like.
Q3 2021 hedge fund letters, conferences and more
Gates Cap Management Reduces Risk After Rare Down Year
Gates Capital Management's ECF Value Funds have a fantastic track record. The funds (full-name Excess Cash Flow Value Funds), which invest in an event-driven equity and credit strategy Read More
For example, Seattle may have been the home to some of the USA's gloomiest (and best) music of the early 1990s, but America's actual wettest city is one more associated with sunshine, blue skies, macadamia nuts, volcanoes and waterfalls. Hilo in Hawaii has 211 days of rain every year, but has somehow produced no successful grunge rock bands at all, so maybe we need to change how we think about rainy cities.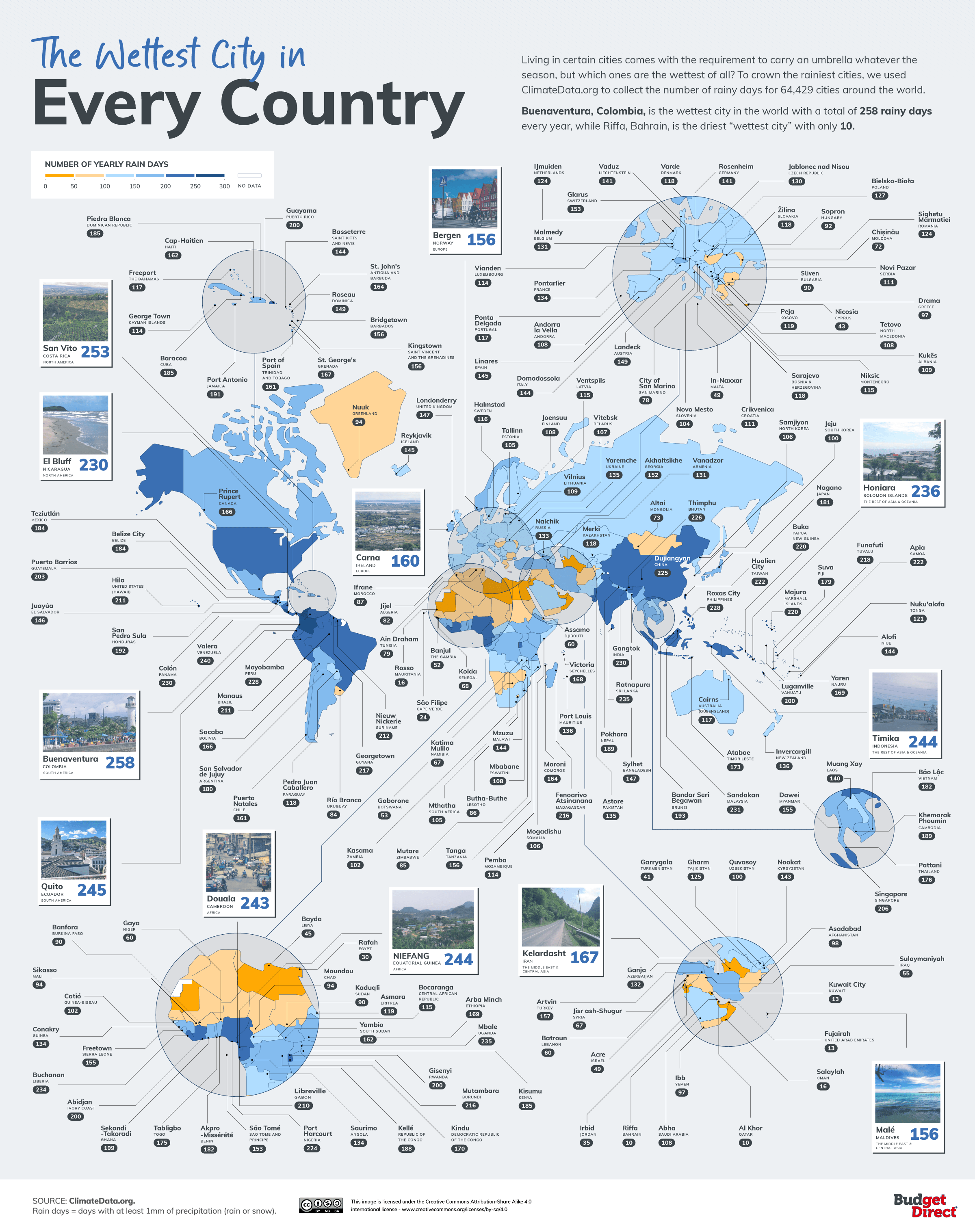 The World's Wettest Cities
Budget Direct has created a map of the wettest cities in every country and the top ten demonstrates that it's not chilly Northern cities that are the wettest but hotter cities in countries much closer to the equator. The top two both come from Colombia, with Buenaventura and Manizales having 258 and 257 rainy days respectively thanks to tropical conditions and the presence of the Andes.
The rest of the top ten features cities from Costa Rica, Ecuador, Equatorial Guinea, Indonesia and Cameroon, all of which have more than 243 wet days a year, mostly during rainy seasons amongst the usual hot and sunny weather that we'd expect in those countries.
The Wettest Cities In North America
If you were going to guess between San Vito in Costa Rica and Nuuk in Greenland as to which was North America's wettest city, how many people could pick San Vito? However, they'd be right, because with 253 rainy days it's a clear winner ahead of El Bluff in Nicaragua.
Nuuk, meanwhile, is the continent's least rainy city, with just 94 days of rain up there in the frozen North. That puts it well behind much hotter cities like Bridgetown in Barbados (156 days), Port Antonio in Jamaica (191 days), Baracoa in Cuba (185 days) and Teziutlan in Mexico (184 days).
The Wettest Cities In South America
South America is home to some of the world's wettest cities (not to mention the Rainforest of course), with half of the top ten found here. Buenaventura is the rainiest city in the continent, with Valera from Venezuela not far behind Quito in third place thanks to its 240 rainy days a year.
At the opposite end of the scale, Rio Branco in Uruguay is South America's wettest city with the least rainy days, just 84, ahead of Pedro Juan Caballero in Paraguay, which has just 118 days of rain a year.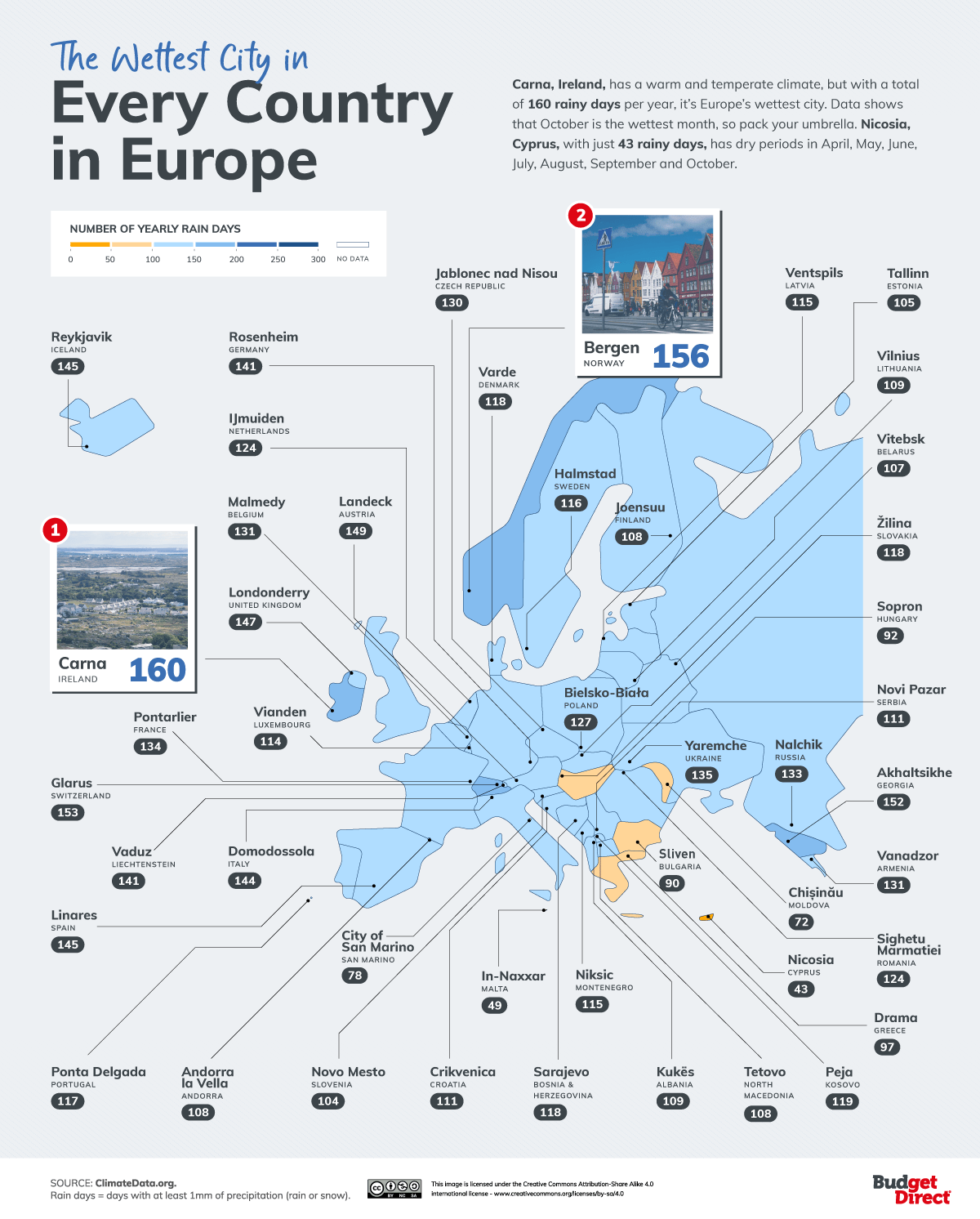 The Wettest Cities In Europe
None of the wettest cities in Europe come close to matching those in South America and North America, with the most rain falling in Carna in the Republic of Ireland, where umbrellas are needed 160 days a year. Bergen in Norway is the second wettest with 156 rainy days, which would make it the third driest in South America.
Europe's wettest cities are generally much less rainy than those on other continents and the driest of these is Nicosia in Cyprus, which has just 43 rainy days, six fewer than Malta's In-Naxxar.
The Wettest Cities In The Middle East And Central Asia
The Middle East isn't known for its constant rain, and its wettest city is Kelardasht in Iran, which sees 167 rainy days a year, one of only nine cities featured with triple figures for days of rain.
There are several cities here with the least amount of rain, including Fujairah in the United Arab Emirates and Kuwait City, which have 13 each, while Al Khor in Qatar and Riffa in Bahrain both having just 10 days of rain a year.
The Wettest Cities In The Rest Of Asia And Oceania
Timika in Indonesia is the wettest city in this region with 244 days of precipitation a year, putting it in the top ten wettest cities in the world. Honiara in the Solomon Islands is another tropical location that sees a lot of rain as well as sunshine, with 236 wet days.
As with other regions, the least wet city here is one that is too frozen for rain much of the year. Altai in Mongolia is high up in the mountains and only gets 73 wet days, half as many as any of the other wettest cities here.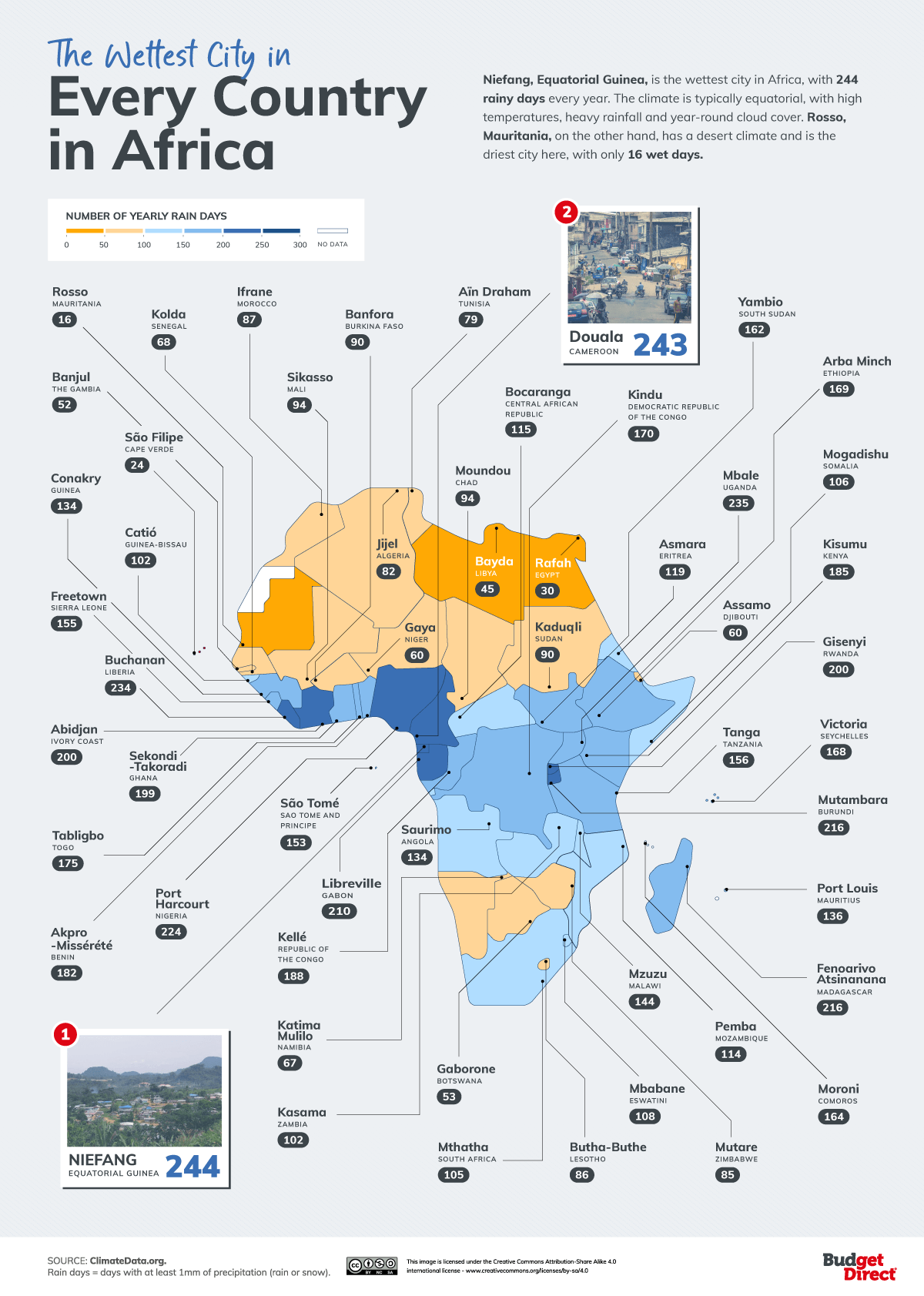 The Wettest Cities In Africa
If you were to assume that Africa had less rain in general than the other regions, you'd be right based on this data. However it does feature three of the top 10 wettest cities in Niefang and Micomeseng from Equatorial Guinea and Douala from Cameroon, all of which have between 243 and 244 rainy days a year.
Generally though, the drier weather of Africa comes through with 19 countries having wettest cities that experience less than 100 rainy days and Rosso in Mauritania having just 16 of them while Sao Filipe in Cape Verde sees just 24 days of rain.
Why not check out the full data to see what your country's wettest city is? You may well be surprised...