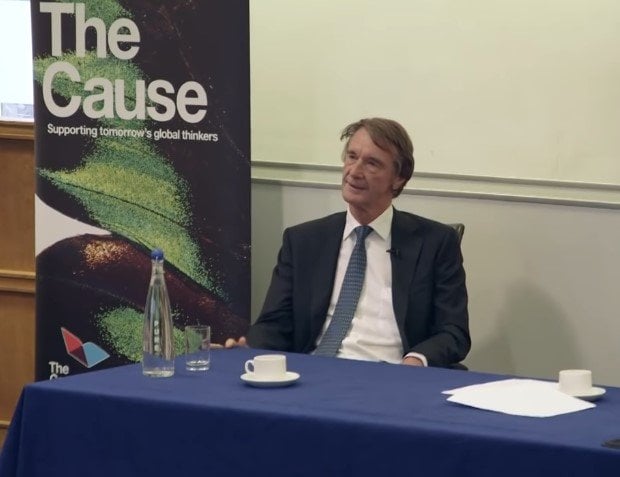 An interview and Q&A with billionaire and founder of INOES, Sir James Ratcliffe. In this interview, James discusses becoming the UK's richest man and founding INOES. James also talks about leadership, his career and advice of acquisitions.
Q2 hedge fund letters, conference, scoops etc
James Ratcliffe: Becoming The UK's Richest Man And Advice On Entrepreneurship
What Value Investors Can Learn From Walter Schloss And Ben Graham Today
Walter Schloss isn't a name many investors will have heard today. Schloss was one of the great value investors who trained under Benjamin Graham and specialized in finding cheap stocks. His track record was outstanding. In Warren Buffett's 1984 essay, the Super Investors of Graham-and-Doddsville, he noted that between 1956 and 1984, Schloss's firm returned Read More
Transcript
I had always had an interest I suppose in doing something myself at some stage. But I do remember having lunch with you about a year ago and I don't whether you live when when I was here which is 1978 to 1990 and she was a lecturer in finance and accounting and we had lunch recently so we knew each other a little bit. Obviously I was amongst a hundred. I think we were 100 in the end be a year at that time so I wouldn't really be expected to remember me. But he did say that he doesn't remember me but he didn't for a minute think I'd be as successful as I've turned out to be not one of my best side. And I think I probably would share that really I don't think. I don't think I had that interest in possibly doing something entrepreneurial or something myself eventually but I have to follow a classical career really until I received a phone call when I was about 30. I worked for Quartos which is a sort of manufacturing industrial company for course and over the last ten years I suppose after London Business School. So I sort of did my conventional degree and that was three years of chemical engineering. I qualified in accountancy in my in my own time in the next few years for US petroleum Esso sent me here for two years then join coattails. I had a conventional industrial carry was courthouse and then I received this phone call at about the age of 35 074 from some Hadham to asking whether I'd be interested in going into the venture capital world. And the reason I said yes to that apart from the fact that we get to triple my salary and we were going to give me a better card in the chairman of quartiles is driving at the time were just a fact they gave me a BMW 555 which I was quite attractive.
I've always remembered that in my retreatment compact cars cause torque.
But I took it because I took that role in venture capital because it sort of I felt it would probably give me an opportunity of maybe seeing something which I might be able to do myself which was not likely to happen in an industrial company like kowtows where you know you just you know you step up the ladder you know sort of conventional sense there's no great vision to start with in the sense playing but not. No no no. I wouldn't say you know that was mine case first.
Because I mean you know getting back to traffic money mother would tell you that it was used to so I wanted to be a millionaire. But most kids say the other.
But because also it was quite late as it were in your career it wasn't as if you started in your 20s you know this came came quite late.
Well yeah but I think the world has changed a little bit you know with a lot of these modern companies you know the Google and Facebook and what have you. They are very young things aren't they for young people and they're started by young folk. But if you go back you know 20 or 30 years I think 40 40 or so you know 40 hours a day. That's how I set off on my own. And that you know I'd accumulated 20 years of experience when I was 14 you couldn't be quite tough to set of chemicals at the age of 25 30 you'd just be you just a boy really you'd have no experience no knowledge no no sort of presence really no one would want to talk to you all listen to that. These chemicals are slightly different to.
Some of these Mothman come and I mean can you say about the start of in-house itself. All right so it sort of what led into your move from Advent to say I'm going to do something completely different this is quite different kind of opportunity. There's something about what happened. What are your thoughts about the time.
Well you know if you work I mean some of you might take an interest in but because it's well-paid.