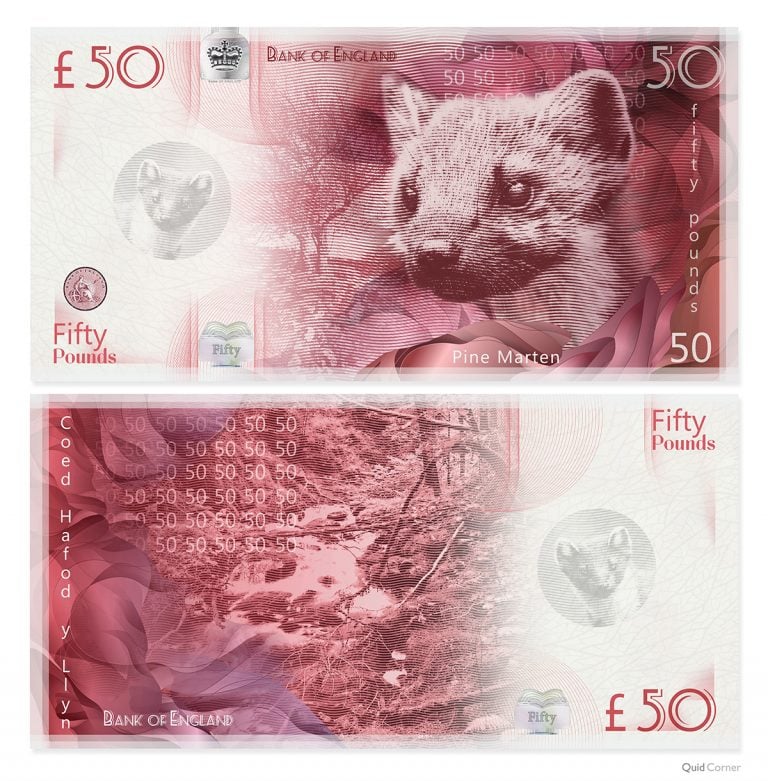 Even in the age of contactless and mobile payments, bank notes are still important parts of our daily lives as visible representations of money that we have available to spend. That's not all they represent though, as most have designs that celebrate and commemorate important historical figures, even if the many of the people who use the notes couldn't actually say for sure who these figures actually were. So what if bank notes were redesigned to showcase something more relevant than people from centuries ago? What if they were used to raise awareness of important issues affecting the modern world instead? These alternative designs for UK paper money have set out to do just that, replacing the dusty old faces with images of endangered animal species from around the country:
Q3 hedge fund letters, conference, scoops etc
According To Jim Chanos, This Is The Biggest Story No One Is Talking About
When a liquidity crisis struck China's Evergrande Group in the summer of 2021, it shook the global markets. Debt payments by China's second-largest property developer by sales were estimated in the hundreds of billions of dollars, and the company missed several payments. Those missed payments led to downgrades by international ratings agencies, but the Chinese Read More
£5: Red Squirrel bank notes

The adorable red squirrels used to be found all over the United Kingdom and was an icon of the countryside and particularly the Lake District, as immortalized in Beatrix Potter's The Tale of Squirrel Nutkin. However, when the non-native grey squirrel was introduced the country in the 19th Century, something went terribly wrong. The bigger and more aggressive greys started to dominate the countryside instead, carrying with them a squirrel pox that has all but wiped-out the reds. Now there are just a few pockets of the UK where you can still see them, and even these are under protection from the constant threat of pox.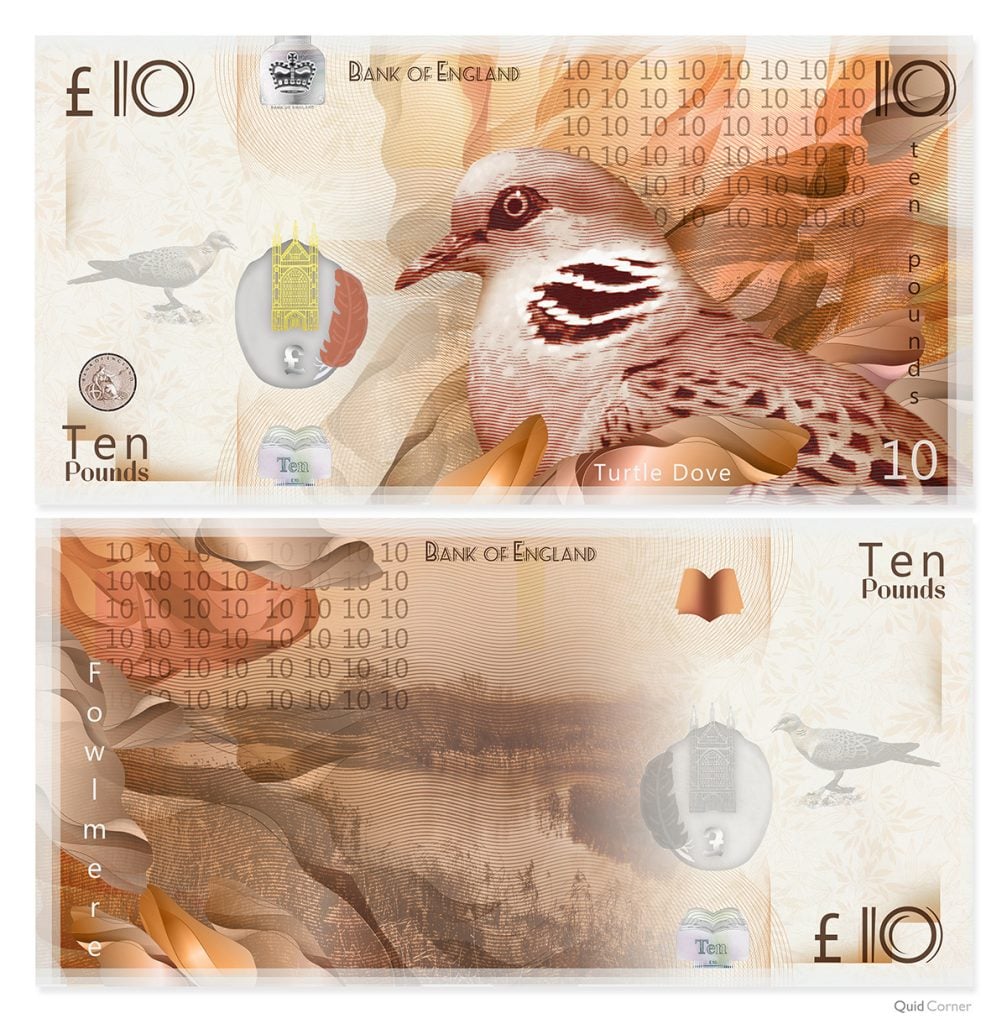 £10: Turtle Dove
Two turtle doves may have been given as a present on the second day of Christmas in the famous song, but since it was written in the 18th Century, they have become much harder to find in the UK. There are now less than 5,000 breeding pairs in the country and the RSPB estimates that 94% of turtle doves in the UK have been lost since 1995, an astonishing and dismaying decline seemingly caused by the loss of many wildflower meadows that used to supply their food. They can still be seen at Fowlmere Nature Reserve in Hertfordshire, which features on this £10 design.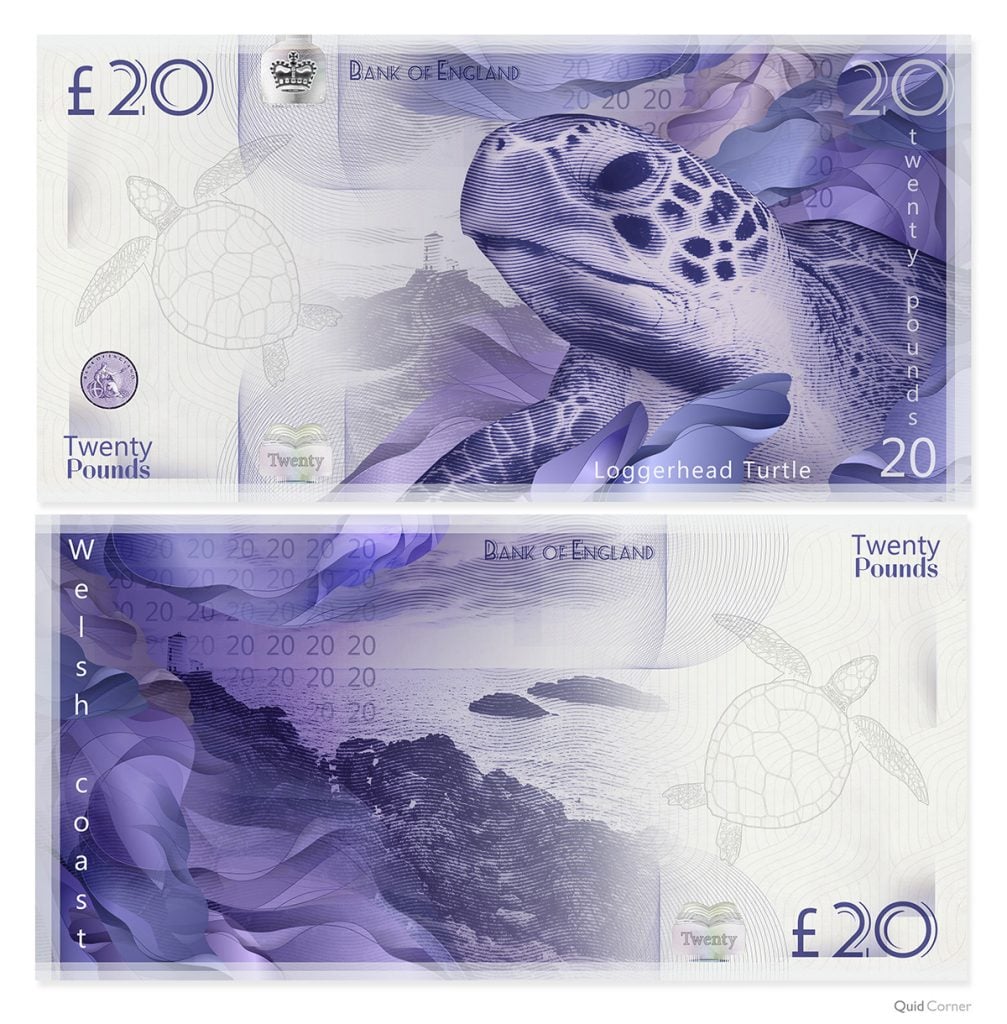 £20: Loggerhead Turtle
From turtle doves to actual turtles, these bank notes can be found on the Welsh coastlines but their numbers are dwindling because of a wide range of threats including fishing nets, climate change and coastal developments. They're now rated as Vulnerable by the WWF and like all of these animals featured on these designs, they need humanity to change its destructive habits soon or we will lose them.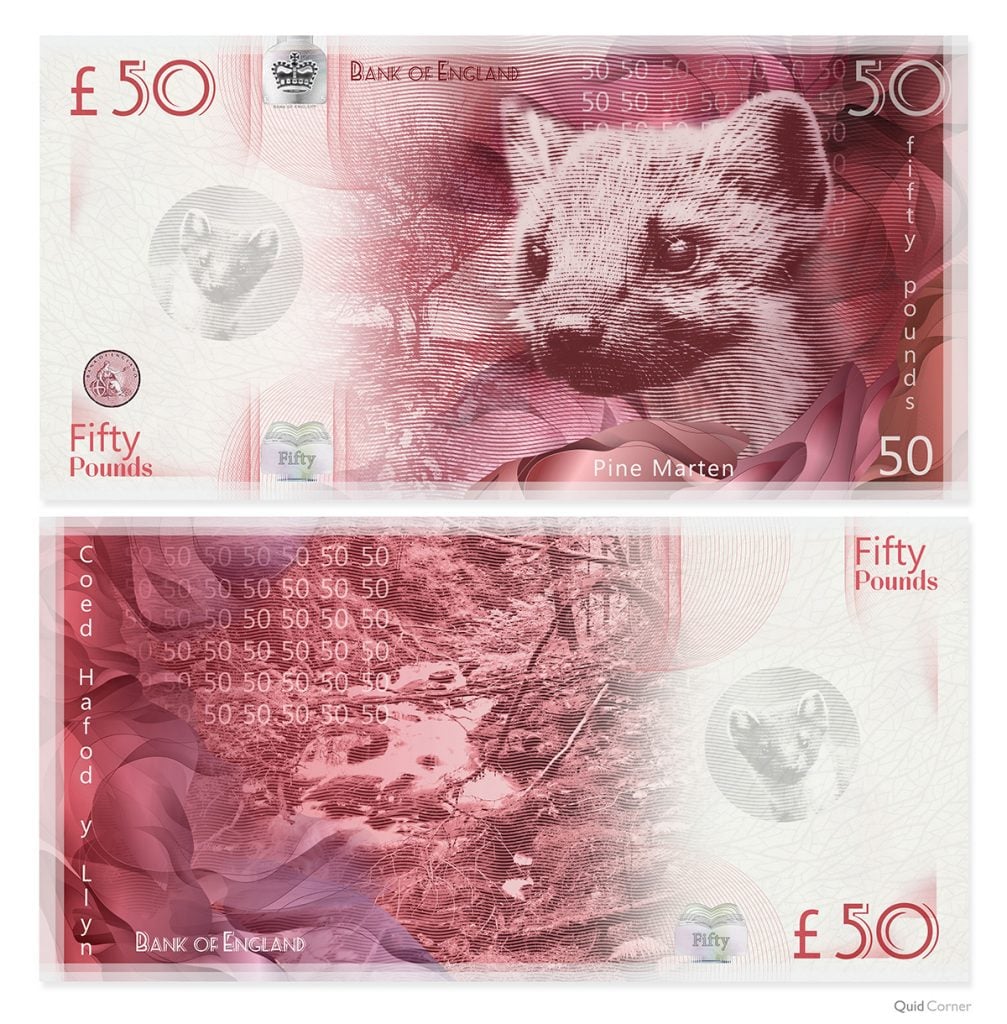 £50: Pine Marten
Deforestation in the UK has inevitably taken its toll on the species that used to live in the acres of forests that covered the country, and one of those animals most under threat is the pine marten. Mostly found in the north of England and Scotland, it's a carnivorous mammal that lives in the woodlands and feeds on small rodents and birds, but the loss of so much of its habitat has left it needing protection. Some pine martens have been reintroduced to Coed Hafod y Llyn in Wales, in a bid to build up their numbers again in areas where they were once common, but there is still a long way to go.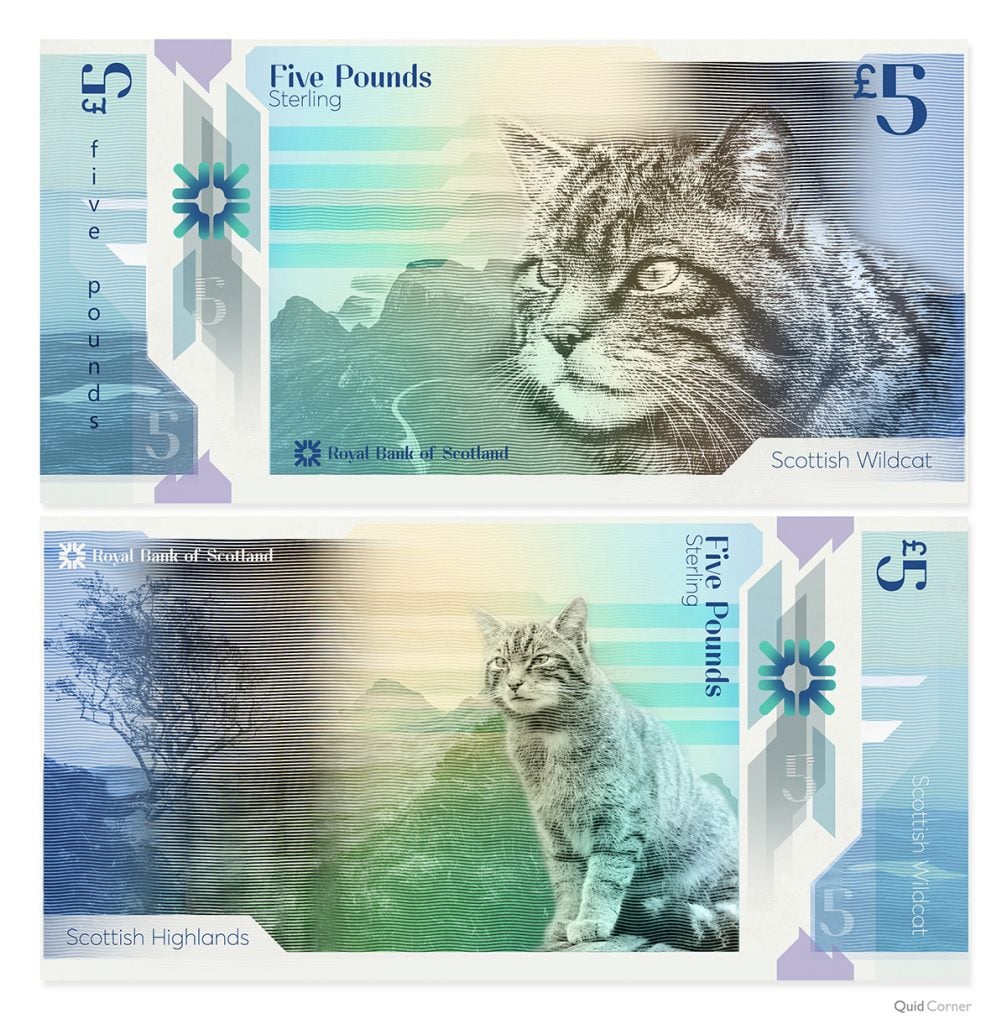 Scottish £5 bank notes: Scottish Wildcat
Many of these endangered animals are now so rare that if they were featured on real bank notes, it would be the only place many UK residents would ever have seen them, and that's certainly the case the Scottish wildcat. It's believed that there might only be less than 300 of them left and they're so rare that they have started breeding with feral house cats, which is affecting their genetic lineage and only making things worse, particularly as it leads the spread of disease.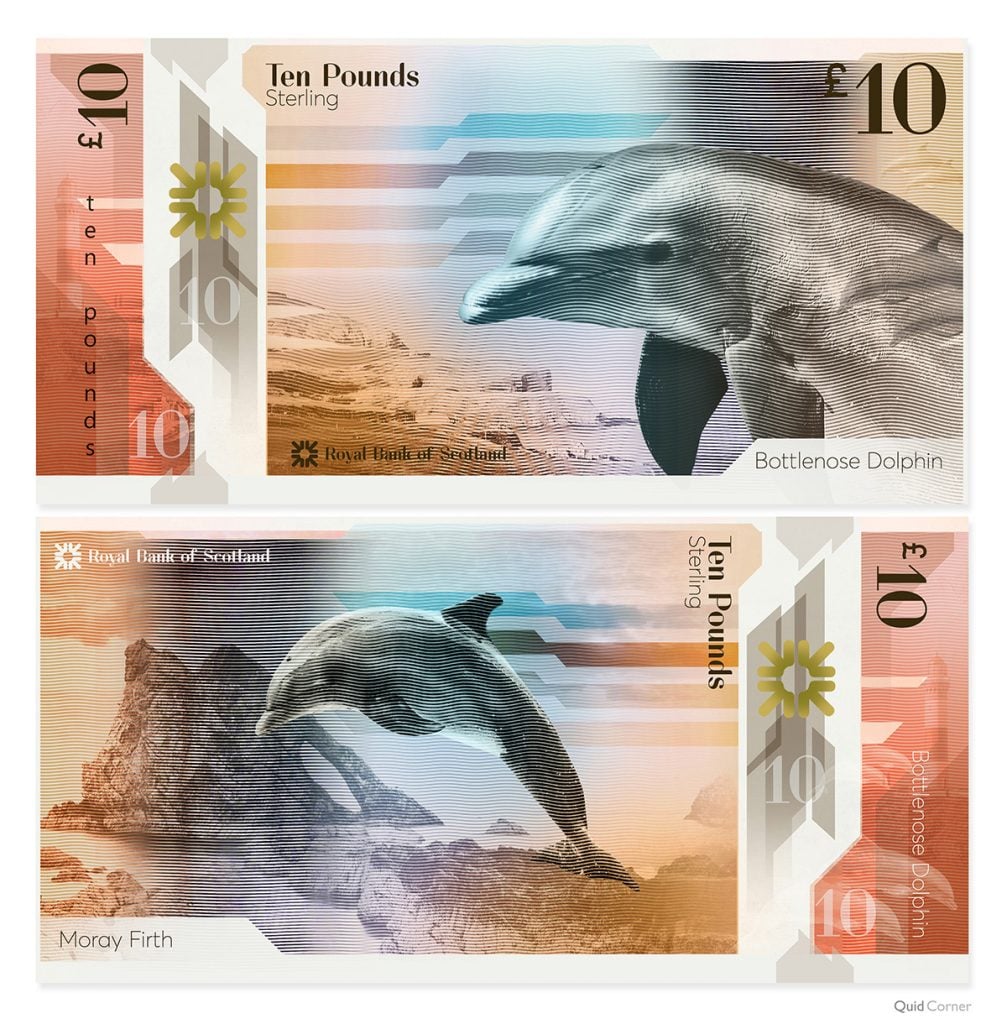 Scottish £10: Bottlenose Dolphin
A species you might not associate with the UK, the bottlenose dolphin might actually end up not being found there at all if circumstances don't change soon. Usually seen in the Moray Firth and Cardigan Bay, there's now believed to be only a few hundred left, with overfishing of those areas decimating the food they need to survive, while they've also been affected by chemicals seeping into the waters.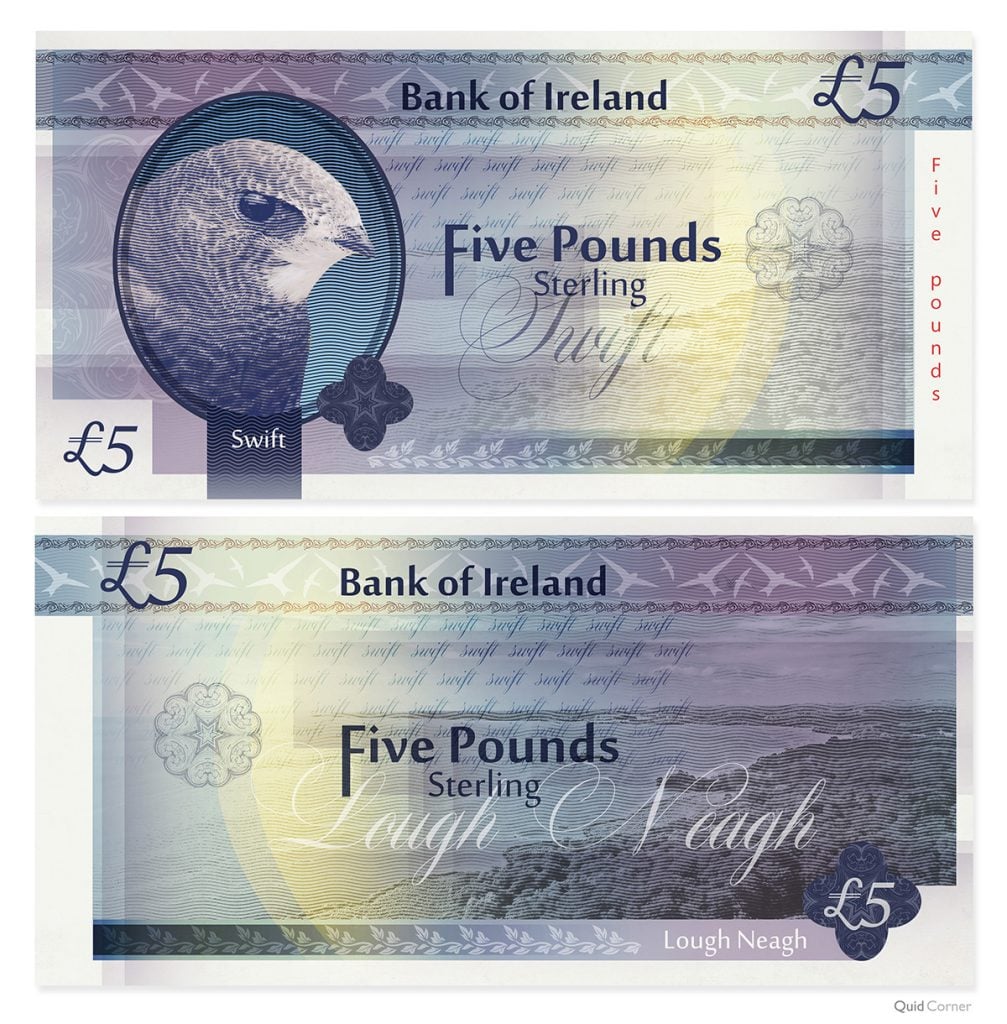 Irish £5 bank notes: Swift
Unfortunately, the swiftest thing about these native birds in recent years has been their decline, with numbers halved over the last 25 years. A migratory species, swifts like to return to their old nests after overwintering in Africa, but too often find that the building they called home has been knocked down and replaced. This means that it's an easy situation for people in the UK to try to remedy by protecting swifts' nests when they find them and setting up nest boxes for them to encourage them to set up a new home.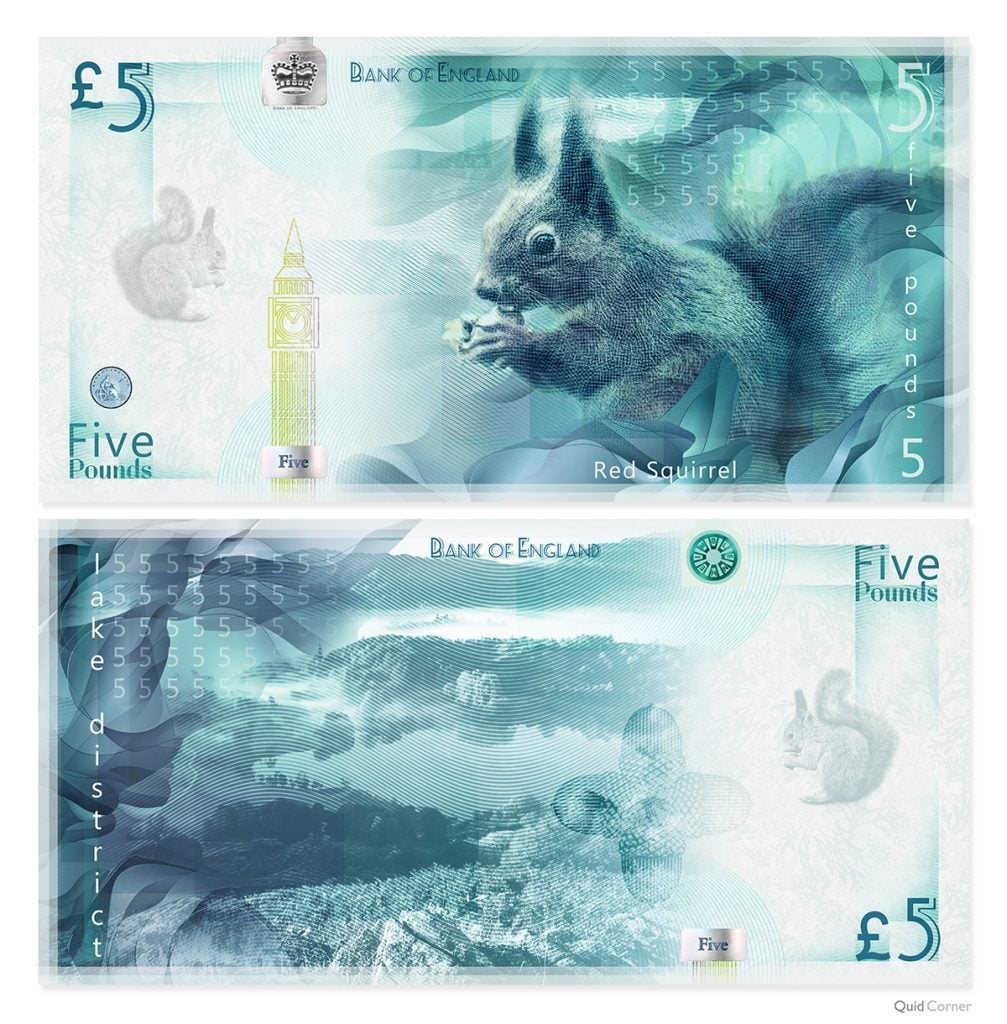 Irish £10: Irish Hare
While some of these species have been down to the last few hundred animals left before extinction, there are still hundreds of thousands of Irish hares out there, but their numbers are declining rapidly. Nature's best boxers may be good at putting up a fight, but they are being squeezed out of their shrinking habitats and falling victim to diseases and competition from rabbits and other hares.
These bank notes may only be mock-ups but the message they have to offer is a very real one affecting animals across the UK which may soon be gone forever. So spread the word and do what you can to help protect them before it's too late.