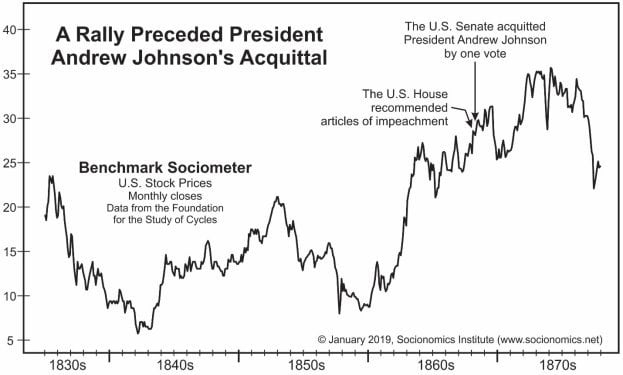 The political left is busy gathering rationales for impeaching President Trump. The political right is busy crying foul. Both sides may be missing an important indicator of his fate: the stock market.
The U.S. House of Representatives has voted to impeach a president twice in history. In both cases, the stock market was rising, and in both cases, the Senate voted for acquittal.
Q3 hedge fund letters, conference, scoops etc
This Crypto Hedge Fund Manager Thinks The Crypto Winter Is Almost Over
When the Great Financial Crisis hit in 2008, the pseudonymous Satoshi Nakamoto published the first paper on bitcoin, proposing a new financial system that didn't depend on "trusted" third parties. However, today's crypto ecosystem has diverged so far from the original intent of cryptocurrency set out in that paper that it's virtually unrecognizable. Now we're Read More
Figure 1
Figure 1 shows the timing of President Andrew Johnson's impeachment. On March 2, 1868, the House of Representatives formally submitted eleven articles of impeachment against Johnson. Yet the Senate acquitted Johnson on May 26, 1868, during a stock market rally that added to the 250% increase since October 1857.
Figure 2
Figure 2 shows that a substantial rally in the Dow preceded President Bill Clinton's impeachment in the House and subsequent acquittal in the Senate. Some of the most dramatic events in the Monica Lewinsky scandal occurred during the largest slide in the Dow during Clinton's presidency. And despite a $70-million prosecution of perjury and obstruction of justice charges, the Senate ultimately acquitted the president as the Dow, Dow/gold and Dow/PPI rose to important peaks.
Figure 3
Figure 3 shows the Dow Jones Industrial Average surrounding President Richard Nixon's near-impeachment and resignation from office. The Watergate break-in occurred toward the end of a strong 67% rally in the Dow from May 1970-January 1973. That rally preceded Nixon's landslide re-election. But as the Dow fell, the Watergate investigation ramped up, and Nixon's fortunes changed. With almost certain impeachment looming, Nixon resigned from office on August 9, 1974.
Why are stocks and presidents' fates tied so closely together? Socionomic theory posits that society's mood influences both stock prices and the public's perceptions of its leaders. Positive social mood makes society feel optimistic, buy stocks and credit leaders for their good feelings. Negative social mood makes society feel pessimistic, sell stocks and blame leaders for their bad feelings.
These tendencies show up in the results of U.S. impeachments and near-impeachments, and they're also evident in presidential re-election outcomes. My colleagues at the Socionomics Institute demonstrated in a 2012 paper that stock market declines have tended to precede defeats of incumbent U.S. presidents, while stock market advances have tended to precede re-elections of incumbents. In fact, they found that the stock market proved to be a better re-election indicator than inflation, unemployment and GDP growth combined.
Figure 4
So, what does this mean for President Trump? We considered this question in the June 2017 issue of The Socionomist. Figure 4 is a chart from that issue, updated to the present. It depicts the trend of social mood as reflected by the Dow. We left the gray arrows showing our 2017 analysis, and we added red arrows to suggest the possibilities going forward. In July 2017, Congressman Brad Sherman formally introduced an article of impeachment against Trump in the House of Representatives. Yet the impeachment process fizzled as the stock market advanced during 2017. Following the stock market peak on January 26, 2018, however, the tone of the critiques shifted, and even some on the political right became more disapproving of the president.
Since the October 3 stock market peak, criticism of the president has grown more raucous, and the Mueller investigation has implicated more of the president's inner circle in illegal activities. The Democrats won control of the House in the 2018 midterms. On November 23, A New York judge allowed a lawsuit against the Trump Foundation to move ahead. A November 26 Gallup poll revealed Trump's disapproval rating had hit an all-time high. By December 17, the Mueller investigation had issued more than 100 criminal counts and charged 34 people, 10 of whom have been found guilty. That same day, Wired published its list of "All 17 (Known) Trump and Russia Investigations" and said, "it's increasingly clear that, as 2018 winds down, Donald Trump faces a legal assault unlike anything previously seen by any president."
On December 18, the Trump Foundation agreed to dissolve, accused by the New York attorney general "of engaging in 'a shocking pattern of illegality' that included unlawfully coordinating with Mr. Trump's 2016 presidential campaign." On December 20, Secretary of Defense James Mattis resigned, followed closely by diplomat Brett McGurk. Pentagon chief of staff Kevin Sweeney has also resigned. Christmas week, the National Christmas Tree stayed dark due to the government shutdown. Several news organizations ran stories Christmas Eve with versions of The Atlantic's headline, "President Trump's Nightmare Before Christmas," as the stock market plunged. Of course, staunch supporters of the president remain, though it's worth noting that Nixon had an approval rating among Republicans of approximately 50 percent when he resigned. Yet the number of critics of Trump is rising. According to a December 19 NBC News/Wall Street Journal poll, 41% of Americans favor impeachment hearings.
What the Mueller investigation will ultimately reveal remains a big question. But social mood may play a bigger role in Trump's fate than the facts. For that, watch the stock market closely, our best reflection of the trend of social mood.
---
About Alan Hall
Alan Hall is a senior analyst at the Socionomics Institute and writer for The Socionomist.