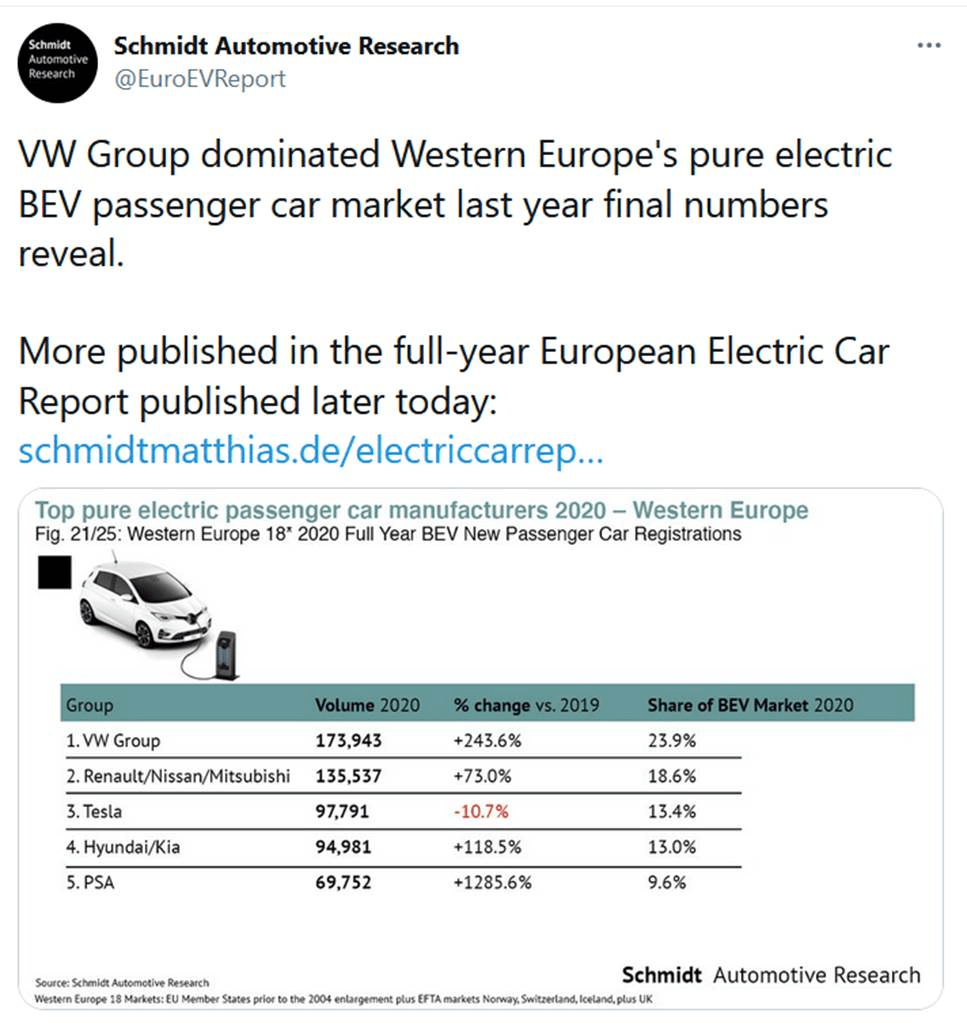 Whitney Tilson email to investors discussing Tesla's GameStonk valuation needs more than this; Western European market share; GM announcement; Musk becomes unlikely anti-establishment hero in GameStop saga; China dominates EV market; EVs are better for the planet; hybrid recommendations.
Q4 2020 hedge fund letters, conferences and more
Tesla's GameStonk Valuation Needs More Than This
1) After Tesla reported earnings last week, Bloomberg columnist Liam Denning wrote this column (full text at the end of this email): Tesla's GameStonk Valuation Needs More Than This
Crypto Hedge Fund Three Arrows Blows Up, Others Could Follow
A few years ago, crypto hedge funds were all the rage. As cryptocurrencies rose in value, hundreds of hedge funds specializing in digital assets launched to try and capitalize on investor demand. Some of these funds recorded double-digit gains in 2020 and 2021 as cryptocurrencies surged in value. However, this year, cryptocurrencies have been under Read More
2) In 2020, Tesla fell to 3rd in Western European EV deliveries, down 10.7% year over year (source):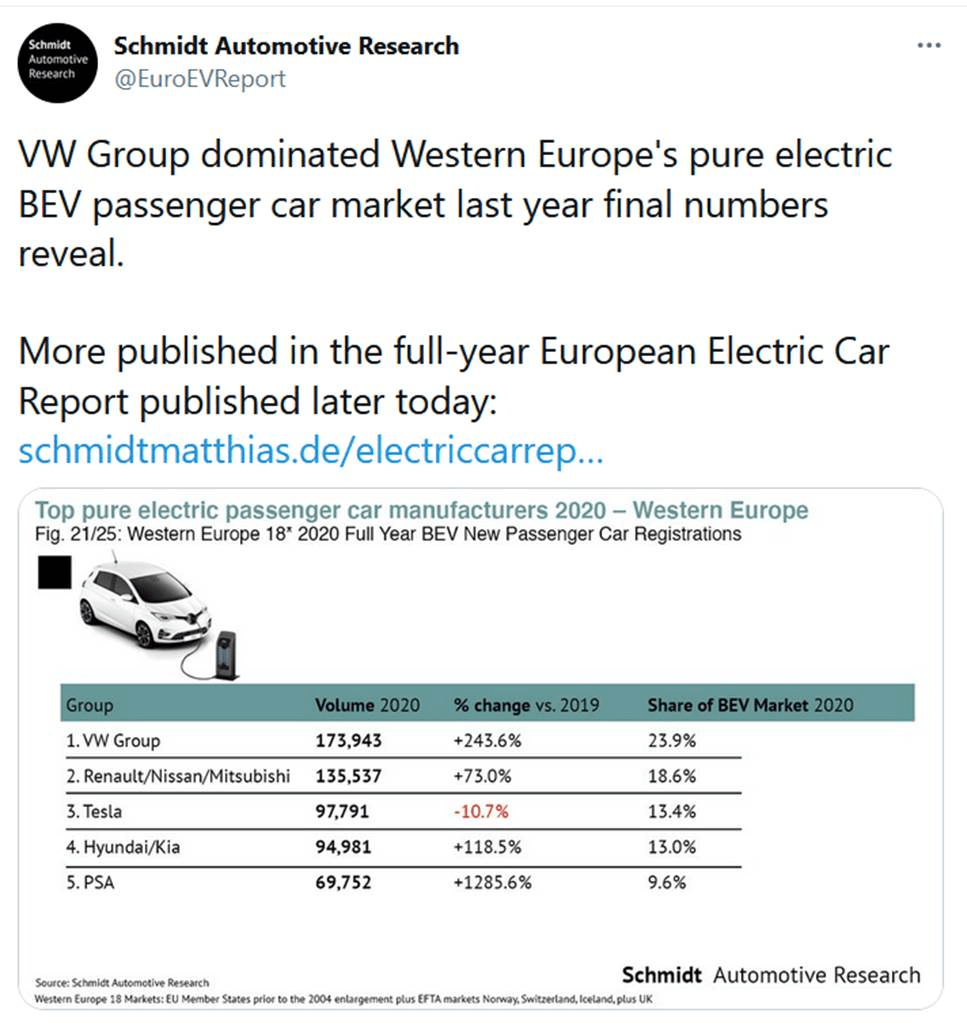 GM Announcement
3) This article is on the front page of today's NYT: G.M. Announcement Shakes Up U.S. Automakers' Transition to Electric Cars
Musk Becomes Unlikely Anti-Establishment Hero in GameStop Saga
4) And these two are on the front page of the NYT business section:
EVs Are Better for the Planet
5) In response to this NYT article, Electric Cars Are Better for the Planet – and Often Your Budget, Too, a friend wrote:
............
The average person drives 1,000 miles per month. That's 20 gallons (1000/50). Multiply by the gasoline price -- today's nation-wide average is $2.39 per gallon -- and you get $48 per month. Incidentally, that's $576 per year.
Even if the electricity price was zero, would the hassle of having to find and remember to plug in your car be worth saving a lousy $48 per month? I buy two lattes per day and depending on where I buy them, two lattes per day are $6 to $12 in total. So that's somewhere between $180 and $360 per month.
$48 per month for gasoline, compared with $180-$360 per month for my daily coffee habit? Seriously?
Whatever my motivation for buying an electric car is or would be, saving on "fuel" just isn't even a decimal point away from entering the equation.
Hybrid Recommendations
6) A friend who lives in NYC is looking to replace his old Audi A6 and wants a hybrid, not all-electric, new car because he parks on the street. He writes: "I'm leaning toward an environmentally friendly car that looks and feels like a European sedan. If Audi had an A6 hybrid, I would buy it in a second."
I put him in touch with another friend, who is a car expert, who wrote:
Let's start with Audi, seeing as you mentioned that it would be an ideal hybrid if they had one. If you're willing to step up to the A7 instead of the A6, then there's a plug-in hybrid version that starts around $76,000 before discounts. Or if you want the SUV version, the Q5 plug-in hybrid starts around $53,000 before discounts.
If you want the most traditional sedan version of a body style, and you don't need all-wheel drive, then the Hyundai Sonata hybrid is superb all-around, with the best interior.
In terms of non-plug-in hybrid powertrain, nobody beats Toyota/Lexus. Toyota offers the Camry and Avalon -- and Lexus offers the ES and LS:
-- Camry: $28,000+
-- Avalon: $38,000+
-- ES: $43,000+
-- LS: Arriving later in the Spring, probably around $80,000.
If you're willing to buy an SUV instead of a sedan, then you have many more hybrid and plug-in options -- so many of them I hardly know where to begin. Here are the most popular examples:
Toyota RAV4 hybrid SUV
Toyota Venza SUV
Toyota Highlander SUV
Honda CR-V hybrid SUV
Ford Escape hybrid (FWD and AWD) SUV
Ford Escape plug-in hybrid (FWD only) SUV
Ford Explorer hybrid (FWD and AWD) SUV
Lincoln Aviator plug-in hybrid SUV
Mitsubishi Outlander plug-in hybrid SUV
Hyundai Tucson hybrid (not yet available, but later in 2021) SUV
Hyundai Santa Fe hybrid (not yet available, but in a couple of months) SUV
BMW offers plug-in hybrid variants of 3-series sedan, 5-series sedan, 7-series sedan, X3 and X5 SUVs
Volvo offers plug-in hybrid variants of S60 and XC90 + XC60 SUVs
Porsche offers plug-in hybrid variants of Panamera and Cayenne SUV
Hyundai offers a plug-in hybrid variant of the Ioniq
Kia offers a plug-in hybrid variant of the Niro
Subaru offers a plug-in hybrid variant of the Crosstrek
Range Rover offers plug-in-hybrid versions of the Range Rover and Range Rover Sport
Mazda MX-30 plug-in hybrid arrives later in 2021
RAM offers hybrid versions of the 1500 pickup truck
Jeep offers hybrid versions of the Wrangler SUV
Chrysler offers a plug-in hybrid (FWD only) of the Pacifica
Ford offers a hybrid version of the F-150
Mercedes offers the GLC plug-in hybrid SUV
…. And so on. I am sure I have forgotten about more than a few.
I think you will have to narrow down your preferences a bit, otherwise the hybrid list will get pages long.
For example, my 5 favorite hybrid vehicles in the market are, in no particular order:
Jeep Wrangler 4xe
RAM 1500 eTorque pickup truck
Ford F-150 hybrid
Chrysler Pacifica plug-in hybrid
Toyota Sienna
Those would be what I would buy. But you may have entirely different needs, limitations and preferences.
My friend replied: "Sedans only. From what you say, I'm liking the Sonata."
Friend 2 replied:
The 2021 Sonata is indeed a top choice for a sedan. It's got the best interior in my opinion. The base price is $28,745 -- before discounts! -- which is an almost incredible value. Alex Dykes was the first to review it in March of last year:
I am colored by the fact that I know that Hyundai (and its sister companies/brands Kia, Genesis and Ioniq) now has the best interiors in the business, and still delivers them at a price that is no higher than the competition.
I drove the (non-hybrid) version of the Sonata in December 2019 for a half-day in Arizona and it was unsurprisingly flawless. The exterior design takes some time to get used to, but the interior is a cut above everything else in the market. In terms of interior style, I'd put the Mazda 3 and Mazda MX-30 as the next-best.
I am driving the very smallest (shortest) Hyundai -- the Venue -- this week. It is absolutely fantastic. I've been driving into the city almost every day and because it is only 159 inches long, I was able to squeeze it into parking spaces that would otherwise have caused me to drive around for several minutes more before finding a suitable parking spot.
The Hyundai Venue starts at $19,935 before discounts. I would buy one strictly for my street-parking needs in the city.
And to be clear, the Venue isn't a hybrid. I mention it in the context of yet another example of Hyundai producing what I believe are the most superb vehicles in the market today overall. I've been averaging 33 MPG this week, and that's while driving the Venue unusually hard.
My friend replied: "I am sold. As soon as one more thing goes wrong on my A6, I'm Sonata-bound. Thanks so much for the help!"
Updated on