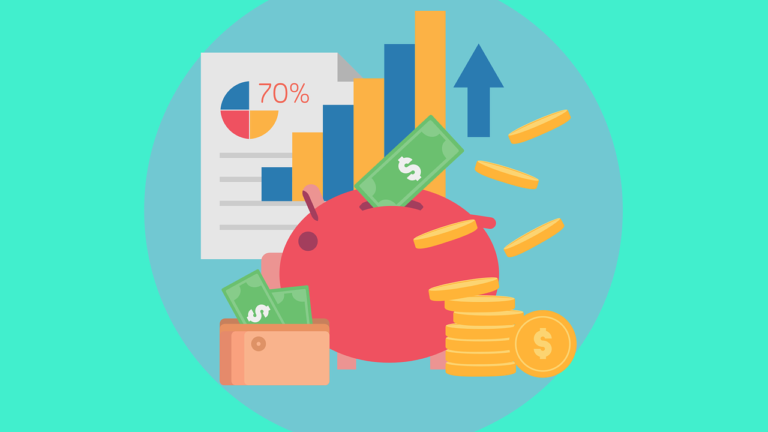 Sustainable investing is frequently in media headlines, investors across the spectrum are investing in ESG products and policy makers and regulators taking notice. The trend is clear – the utilization of environmental, social and corporate governance (ESG) criteria in the investment process continues to shape global capital markets, with the bulk of ESG assets now found in the United States.
Q2 2021 hedge fund letters, conferences and more
Fund Manager Profile: Kris Sidial Of Tail Risk Fund Ambrus Group
A decade ago, no one talked about tail risk hedge funds, which were a minuscule niche of the market. However, today many large investors, including pension funds and other institutions, have mandates that require the inclusion of tail risk protection. In a recent interview with ValueWalk, Kris Sidial of tail risk fund Ambrus Group, a Read More
The 2020 Global Sustainable Investment Review (GSIR), published by the Global Sustainable Investment Alliance (GSIA), reports that sustainable investments across five markets, including the United States and the European Union, have reached US $35.3 trillion in assets under management, equivalent to 36 percent of all professionally managed assets in these markets. The US market alone grew 42 percent between 2018 and 2020 to US $17.1 trillion.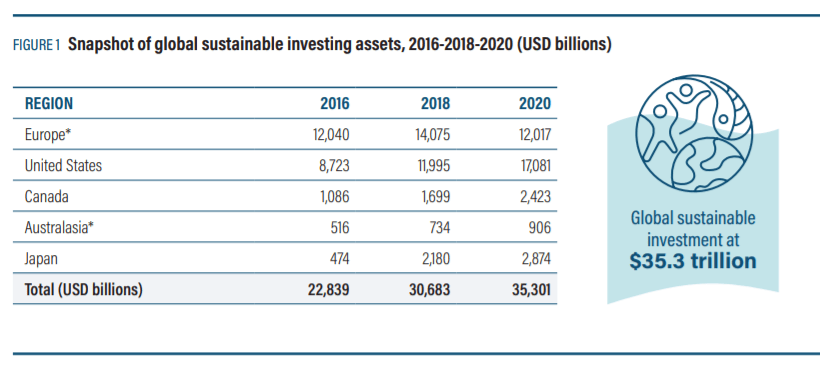 Sustainable Investing Continues To Grow
Reinforcing the trajectory reported in the GSIR, Morningstar and other industry sources have also reported that sustainable investing continued to grow throughout 2020 and 2021, with interest continuing to accelerate. This growth is being fuelled by rising interest from retail and institutional investors, strong financial performance and the increased understanding of the materiality of social and environmental issues from worker pay to racial equity to climate change and decreasing biodiversity.
According to Proxy Preview, the tumultuous events of 2020 prompted a slew of new shareholder proposals in 2021. There were increases in shareholder resolutions about racial justice and equal opportunity, but proponents also raised new ideas about worker safety, climate transition planning and lobbying. We should expect investor interest in these social and economic issues to continue.
While four of the markets included in this report saw growth of at least 25 percent, the European Union reported a 13 percent decline in the growth of sustainable investment assets. This does not reflect dampened investor enthusiasm for ESG in Europe, but rather a change in the parameters for what can be considered a sustainable investment product based on revised definitions of sustainable investment included in the European Union's Sustainable Finance Action Plan.
While the European Union was an early mover in creating frameworks and definitions for sustainable investment, countries including Australia and Canada have followed (and the UK has also set out a Green Finance Plan). The Canadian Expert Panel on Sustainable Finance released its final report in 2019 which set out 15 recommendations to mobilise sustainable finance in Canada to support the transition to a climate-smart, low-carbon economy. The creation of a Sustainable Finance Roadmap in Australia was led largely by industry rather than the government.
The Shift In US Regulatory Policy Environment
In the United States, the regulatory policy environment for sustainable investing has drastically shifted since Joe Biden became President. While the former administration sought to limit sustainable investing (and also took actions that compounded the climate crisis rather than taking steps to mitigate it) through actions taken at the Department of Labor (DOL) and the Securities and Exchange Commission (SEC), President Biden's administration has taken measures to reverse damaging actions and to move forward on an ESG focused set of regulations.
Some notable regulatory and policy drivers this year include:
The DOL released a statement of non-enforcement of rules enacted by the previous administration related to voting proxies and utilizing ESG criteria in ERISA governed pension plans. The DOL also committed to revisit and release new guidance on these rules.
A bill was introduced in the Senate that would allow ESG criteria to be considered in ERISA governed retirement plans with a companion bill introduced in the House of Representatives. Passage of such legislation in both houses of Congress would provide greater certainty about the use of ESG criteria in pension plans.
The SEC issued a request for feedback on climate risk and ESG disclosures, which received thousands of responses. This is expected to lead to a proposal for mandatory issuer disclosure on climate change and potentially a broader set of ESG issues.
The SEC has indicated that it intends to open a rulemaking on ESG disclosures in investment products. Additionally, the CFA Institute has been working on ESG disclosure standards for investment products.
The White House released an Executive Order on Climate-Related Financial Risk, a wide- ranging directive instructing federal agencies to take sweeping action to combat climate-related financial risks.
The Federal Thrift Savings Plan, the largest retirement plan in the country, has confirmed that the launch of their mutual fund window, in summer 2022, will include ESG fund options, the first time federal employees will have access to such options.
While investor interest in sustainable investment has been increasing every year in the United States, we are now at a point where regulatory and legislative interest is starting to catch up. Increased disclosures will allow for better informed decision making by investment firms and retail investors alike.  Clarity and consistency in retirement related regulations will make plan sponsors and plan participants more comfortable offering and investing in ESG oriented funds.  And with the Biden government acting on the climate and economic and racial justice crises, there will be policy measures to drive forward the environmental and social issues that investors consider to be priorities.
---
About the Author
Lisa Woll is CEO of US SIF: The Forum for Sustainable and Responsible Investment, the leading voice advancing sustainable and impact investing across all asset classes. Its mission is to rapidly shift investment practices toward sustainability, focusing on long-term investment and the generation of positive social and environmental impacts.