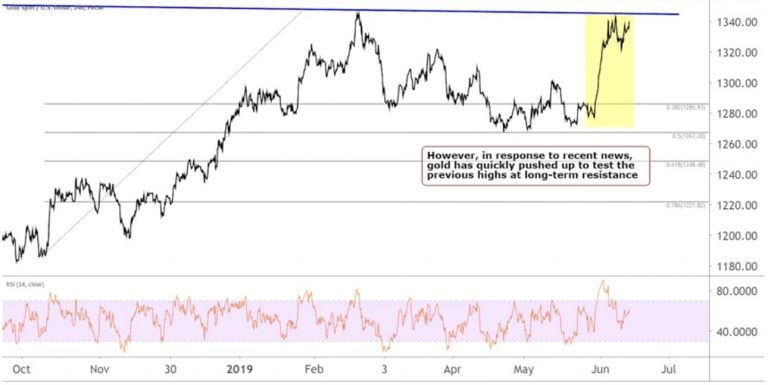 This week we review the price movements of gold, silver, platinum, The US Dollar Index, & more. We look ahead at the possible direction and levels the gold price in 2019 could hit. We'll then look at the silver price in 2019 alongside platinum prices.
The Price Movements Of Gold, Silver, Platinum In 2019
Carlson Capital Tells Investors: Twitter Still Has Tremendous Upside [Exclusive]
Carlson Capital's Double Black Diamond Fund returned 85 basis points net in August, bringing its year-to-date net return to 4.51%. According to a copy of the fund's September update, which ValueWalk has been able to review, its equity relative value and event-driven strategies outperformed during the month, contributing 131 basis points to overall P&L. Double Read More
Q1 hedge fund letters, conference, scoops etc
Transcript
Welcome back to Golden Rule Radio your weekly recap of the precious metals markets and the news that moves those markets. And today we're going to start out with a couple more listener questions from last week. Eric what do you got.
Yeah we appreciate your feedback. We're not always going to respond on the comments section but we will address a few questions each week here. First one coming from each vendor Lynn and he states.
I don't understand why predictions are done based on technicals when it's totally clear that gold and silver react to news and policy.
I would encourage you h to listen to the entire program because we agree with you. Each week we start this program with a focus on technicals if you'll listen to the and or watch till the end we we always wrap up with fundamentals. And so yes fundamentals are going to be the primary big mover in the metals markets the technicals are showing you entry and exit points for trade strategy and certainly key resistance and support levels for you making decisions on when to step in.
And it's not just golden silver that move often news and policy we've got a perfect example of this last Friday when the jobs report was released. They're expecting 175 thousand new jobs got 75000 instead. And the market reaction was positive. The Dow popped up and there was actually an article from CNBC that said the Dow rises 150 points after disappointing jobs data increases chance of a Fed rate cut.
Yes. So now the markets respond positively to bad news. They used to respond positively to good news and negatively to bad news and now there's some sort of hybrid response. And you know we hear often in the show Two and Miles you're faced with this criticism often and that is why would you even focus on the technicals too because everything's manipulated into gold and silver prices.
Sure and that's why I'm sitting over here giving you the side eye across the table because I know I tend to lean heavier on the charts heavier on the technicals but I would argue I have a very different approach to how technicals work because I'm not looking at various pricing indicators based on history you know I want to look at a chart and I want to say where did people get defensive. Where did people get offensive and why. So I guess to some extent that can be brought back to the fundamentals of why were people bullish during this period of time why were they bearish during this other period of time. What did those different prices mean but all the technicals are doing if you're looking at him and using him correctly is this just giving you a snapshot of how people make decisions and why they're making decisions at those certain points.
Second question this week comes from Neal St. Leon. He stated notice how Platinum has barely moved industrial demand is weakening and even these uncertain geopolitical issues are not moving it it seems as though platinum may have seen its day. I have to jump in on this one just say.
Yes we're back where we were earlier in the year but it has moved it's moved quite a bit. We've seen a 16 percent rally and we've seen a 14 percent reduction from the top of that rally back down. So you're looking at 30 percent volatility that to me is a lot of movement. That's huge. That being said at some point yes you can go back into any chart and find a period of time where you've been exactly here and we did that you know looking on a 15 year Silver chart versus a five year Silver chart in a video that we produced. And if you go back five years you can find that we were right here of silver and you can go back 15 years and find the same thing. But at some point along the way you're going to have absorbed a lot of volatility. Neal in closing to you also separated the two issues one's geopolitical One is economic. And you actually have to keep those separate geopolitics does not equal economics. And so you shouldn't expect a lot of platinum movement with geopolitics like you would with gold. Likewise with the lack of economic viability globally you shouldn't expect a lot of price movement in an industrial base metal.
So getting over to the metals and what they have been doing over the last week. Let's talk about some things that have shown us some good movement starting out with gold. So for the last month or so my assumption has been gold continuing to push down possibly going down to that 6 1 8 fab in the 12 forties. Lo and behold a little bit of news Trump v China and some shifting in the assumption of where interest rates are going this year and we have a 65 dollar rise in gold going up from the 12 eighties to the 30s 40s so that's because that's a fundamental that is a fundamental that your technicals can't be perfectly predictive to HS point originally Yeah. Terry and that is a good point. I mean you do get these massive runs by people by markets and even by producers or manufacturers or the money managers within these markets that fall back on their predictive analysis of what they think these. Changes in news or changes in trade are going to do to the markets. So gold pushing up into the 13 forties is bumping us into that multi-year trend line. So initially because we didn't really have a divergent move coming up.