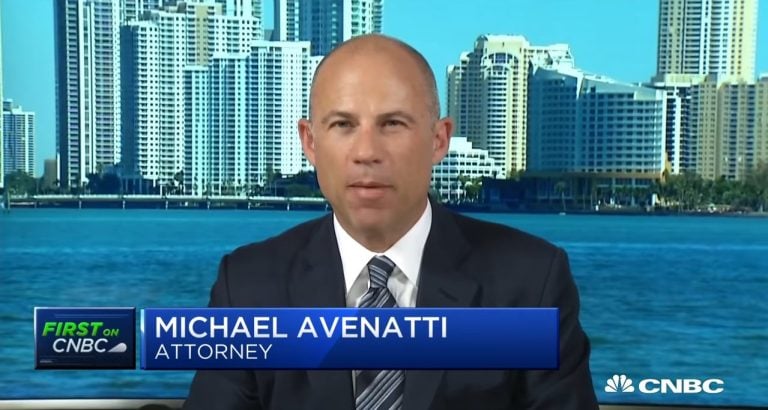 First on CNBC: CNBC transcript: Michael Avenatti speaks with CNBC's "closing bell" today
WHEN: Today, Monday, April 8
WHERE: CNBC's "Closing Bell"
Gates Capital Management Reduces Risk After Rare Down Year [Exclusive]
Gates Capital Management's ECF Value Funds have a fantastic track record. The funds (full-name Excess Cash Flow Value Funds), which invest in an event-driven equity and credit strategy, have produced a 12.6% annualised return over the past 26 years. The funds added 7.7% overall in the second half of 2022, outperforming the 3.4% return for Read More
Following is the unofficial transcript of a FIRST ON CNBC interview with Michael Avenatti on CNBC's "Closing Bell" (MF-, 3PM-5PM ET) today, Monday, April 8. Following is a link to the video on CNBC.com:
Q4 hedge fund letters, conference, scoops etc
Watch CNBC's full interview with Michael Avenatti
Sara Eisen: Controversial Attorney Michael Avenatti facing charges of extortion, continuing his crusade against Nike this  weekend. The lawyer is making 41 pages of documents that he  says is evidence that shows the athletic shoe giant bribed amateur basketball players and or their families to attend Nike affiliated colleges. Violating NCAA regulations in a first on CNBC interview, we're joined by Michael Avenatti thank you for joining us. For those who haven't been  following as closely and didn't go through the 41 pages, what exactly are you alleging?
Michael Avenatti: Well what I am alleging is for the better part of five years, Nike and its highest executives have been bribing amateur players and their  families in order to get them to attend Nike colleges, colleges that are affiliated with Nike apparel and that have contracts  with Nike, this constitutes a  violation of numerous federal  laws and puts non Nike colleges at a severe disadvantage and is  highly criminal.
Eisen: what proof do you actually have?
Avenatti: well we have a number of pieces of proof some of which we have provided and we have more from where that came from we have text messages, bank statements, emails and the like. And unless Nike is claiming I  fabricated all of those  documents then they are absolutely guilty and  I'll also note that for all of Nike's Puffery they have yet to  prove what I'm saying is untrue or that these documents are bogus and the reason is they can't.
Eisen: they can't because they're  cooperating with an actual federal investigation. Why not let that play out from law enforcement. Why are you going public with  all of this.
Avenatti: they're not cooperating with  any federal investigation that's a bunch of B.S. Nike told the public that two weeks ago in connection with their stunt where by they had me arrested and charged that's exactly what it is  it's going to be shown to be an absolute stunt. They sold the government a bill  of goods, they told the  government 10% of the story. What they didn't tell the government is that their executives have been covering up the bribery scandal  for the better part of five  years. They haven't been cooperating with the government for over a year they've been deceiving the government for over a year, if anyone thinks they provided  those 41 pages or similar documents to the government a year ago, and the government sat on it and didn't look into it, I have a  bridge to sell them.
Wilfred frost: but Michael why didn't you just submit your 42 pages to the government who are carrying out an investigation in which Nike now is talking to the government about instead  of making it all public?
Avenatti: well, I want to be clear about something. We made it clear to Nike from the get go, from the very first communications we had with Nike they were going to have to come clean one way or  the other. And that's exactly why Nike pulled the stunt they did. They knew they could not control me and they knew this was going to be  disclosed. What they did was, they pulled this stunt in order to effectively try to  shoot the messenger, to try to discredit me before the  information was disclosed. But I have news for you if I get hit by a bus today, this story will go on, and Nike 's corruption eventually will be exposed and the world  will know what really happened here
Frost: but Michael why did you go to Nike in the first place why not go to the government straight away go about it through the proper processes? Did you ever seek any form of financial gain from this at all?
Avenatti: here's the bottom line I had a client to represent I like thousands of other plaintiff attorneys around the country went to the Nike to settle a claim on behalf of a  client there is nothing wrong  with that whatsoever part of settling that claim was about Nike coming clean  it was important to the client and it was important to me we made that clear to Nike and their lawyers from the very first communications that we had but what's interesting is, that  Nike didn't bother to tell the government that when they pulled the stunt they did two weeks ago.
Eisen: so just to be clear, you're facing federal charges of  extortion. In the complaint it says -- I  mean, this is 12-d, a lawyer wearing a wire, that you said if Nike wants to have one confidential settlement and we're done, they can buy that for 422 1/2 million and we're done, full confidentiality, we ride off into the sunset
Avenatti: full confidentiality relating to the payment that was made. But that ignores all the other context and all the other communications that took place before then, during which we made it clear that we would never – and I want to be really clear about this – we would never agree to anything that would obstruct justice or keep this information out of the hands of governmental investigators.
Eisen: so –
Avenatti: you got to let me finish. We made that crystal clear from the very beginning communications. And that's why Nike ultimately went to the government, because they knew they couldn't control us, period, we were never going to participate in any cover-up whatsoever.
Eisen: so you – just to be clear, you are denying that you threatened to release damaging information about Nike and this company if they didn't meet your demands for $20 million. You're denying all of these charges?
Avenatti: I want to be really clear about something. We demanded a settlement on  behalf of our client, and we demanded that Nike come clean about this, in connection with an internal investigation that Nike was going to have to incur or undergo in any event. We did not trust Boies Schiller, Nike's law  firm, outside law firm to conduct that investigation,  because they had attempted to  cover this up when responding to a September 2017 subpoena from the government in connection with the Adidas case. They had hid documents along with Nike, and information from the government back in September of '17 we wanted our client compensated for what he went through and we wanted to make sure the truth was known. And I find it very, very curious, as should the American public which is very smart by the way – or who is very smart – that Nike has yet to deny bribing players in connection with this five-year scandal.
Wilfred frost: but Michael they are, as Sara said earlier, in the middle of a federal investigation. If you're so confident that they will indeed be found guilty in due course, why are you seeking  that statement from them right now and why did you make all of this so public rather than working with the government to secure the ultimate indictment that you believe will come, which is them being found guilty through the judicial system?
Avenatti: I am going to work with the government, I've provided  information to the government. I'm willing to work with the NCAA, I'm willing to work with any of these colleges that would like information. I'm an open book, I'm going to work with all of them. Because I want the truth known about Nike and their corporate executives about what went on here. And when the truth is  ultimately known, when people see what happened here, especially in connection with what they did two weeks ago to me, people are going to rightfully be outraged by this level of  corruption. And Nike investors are going to be asking themselves, "why hasn't Nike disclosed this bribery scandal in their 10 ks and 10 qs along the way?" because investors had a right to know  as well that these Nike executives were bribing amateur athletes. I mean this was rampant. We're not talking about a few instances. And those documents that I have provided, that only scratches the surface.
Eisen: so Nike for its part did put out a statement saying, "it wouldn't respond to your allegations of individual" – it calls you – "facing federal charges of fraud and extortion and aid in his disgraceful attempts to distract from the athletes on the court at the height of the NCAA tournament." your response?
Avenatti: you know what's disgraceful? Bribing amateur athletes in need, and putting them and their families at risk for federal charges all in the interest of corporate profits. You know what's especially interesting about that statement that Nike issued? They didn't deny a single thing, did they?
Eisen: I mean, I think they would argue they're working with federal authorities. Adidas has already gotten in trouble, as you noted, for a very similar issue. Of course they were going to go  after – the government was going to go after the biggest company in the sector and look into this. And of course, Nike was going to take what you took to them directly to the authorities. You could – did you not realize that?
Avenatti: you know when Nike found religion? When they knew I was going to out them one way or the other. Then all of a sudden they found religion. They've known about this problem for years, their executives have been trying to cover it up along with their law firm Boies Schiller and all of a sudden, they found religion when they knew I was going to out them. How convenient.
Eisen: finally, I just want to ask about Zion Williamson. Because you're also claiming his mother received payments from Nike during her son's recruitment to duke, which is obviously a big Nike school, when he was in high school in South Carolina. Do you have any proof of that?
Avenatti: well, I don't traffic in nonsense, and I don't make claims that can be backed up. And I think people are going to be rather shocked when they learn of the totality of the evidence of Nike corruption and bribery of players like Mr. Williamson.
Eisen: Michael Avenatti, thank you for joining us
Avenatti: thank you.
Eisen: we appreciate hearing your side of the story. We did by the way reach out to duke university and in a statement, the director of athletics Kevin White did say, "we are aware of the allegation and, as we would with any compliance matter, are looking into it. Duke is fully committed to compliance with all NCAA rules and regulations. Every student athlete at duke is reviewed to ensure their eligibility. With regard to men's basketball: all recruits and their families are thoroughly vetted by duke in collaboration with the NCAA through the eligibility center's amateurism certification process."