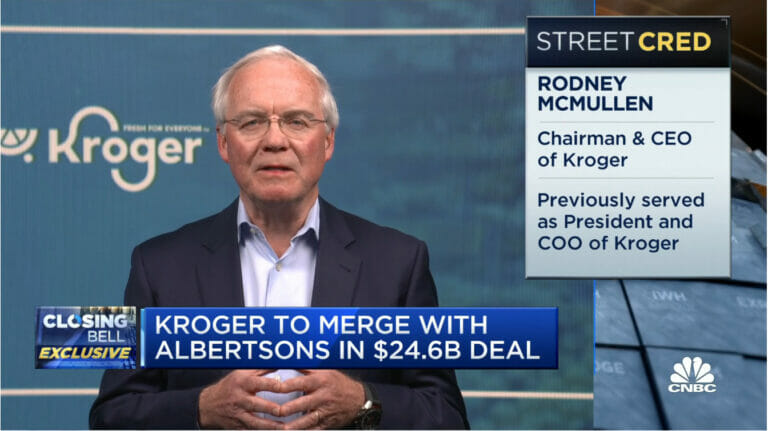 Following is the unofficial transcript of a CNBC exclusive interview with Kroger Co (NYSE:KR) Chairman & CEO Rodney McMullen on CNBC's "Closing Bell" (M-F, 3PM-4PM ET) today, Friday, October 14th. Following is a link to video on CNBC.com:
Kroger To Buy Albertsons In $24 Billion Dollar Deal
SARA EISEN: Huge deal news today. Kroger officially buying rival grocery company Albertsons in a $24.6 billion deal. Both stocks are pulling back on the news. Joining me now exclusively from Cincinnati, Ohio, Kroger CEO Rodney McMullen. Rodney, welcome. Thank you for taking the time.
Fund Structures For More Efficient Taxation And "Doing Well While Doing Good"
Tax time is still months away, but it's never too early to consider how fund structures impact your investments. Additionally, many people start looking for more ways to do good, including with their investments. In a recent interview with ValueWalk, Michael Carrillo of fund services provider Apex Group explained how most of the intellectual maneuvering Read More
Q3 2022 hedge fund letters, conferences and more
RODNEY MCMULLEN: Thank you. Hi Sara, great to see you again.
EISEN: You too. Look, I'm wondering how long this deal has been in the works because Albertsons announced back in February it was pursuing strategic options. How did it come together?
MCMULLEN: Yeah, if you look, it really started getting serious about I would say two months ago and the fact that CEO of Albertsons, we've known each other for years and years and years, and it really was a conversation that the two of us had in terms of there should be something here that makes sense that ends up being good for customers, good for our associates, good for the communities.
And really creating a new competitive company that really, if you think about competing against the big box super centers and the online players, just improving that. So really Vivek and Chan the Chair there, and Stephen Feinberg is really you know, thinking about together how do we create something that really helps the consumer, the customer and the communities.
EISEN: Well, the stock reaction I wanted to ask you about Rodney because your stock is down eight percent, Albertsons stock is pulling back either lack of confidence that this deal gets done or that it adds value for Kroger. What is your reaction to that reaction?
MCMULLEN: Well, if you look, you know, short term, I always remember given Warren Buffett credit one time about short term, it's a voting machine. Long term, it's a weighing machine.
And we felt really strong over time that this is really good and creates value and if you had a chance to listen to any of our earnings call, you know this increases our TSR model, our commitment of eight to eleven percent, increases it for the next four years so it's a great value for shareholders and improves cash flow as well.
EISEN: What about the regulatory piece of this? Lot of concern that this will not pass with the antitrust authorities combining such big both of you have such big presences, huge employee workforces. Why do you have confidence that you can get this through?
MCMULLEN: Well, we've been working with our outside counsel from an FTC standpoint for a while. Obviously, we're going to sit down and be very cooperative with the FTC. And it really gets back to the conversation and the comments I made before where you actually believe this will increase competition.
If you look at the synergies that the combined companies will create, we will invest half a billion dollars or $500 million in lower prices for customers and especially in this inflationary environment, that's a huge help.
We also will spend $1.3 billion on customer experience as well which that also adds to it and it creates more solid jobs for our associates across the country and obviously those are great union jobs and between the two companies, we'll have over 700,000 associates.
So from all the work that we've done and working with our outside counsel, we really think and believe this will increase and improve competition looking forward.
EISEN: But don't you think it's going to be an uphill battle Rodney to try to convince this administration who that's already been skeptical of corporate consolidation at a time where food prices in September rose 13% from last year and an administration that has been very friendly to the unions?
MCMULLEN: Yeah, that's one of the reasons why we shared that we expect closing won't be until early 2024 and we believe that there's a great reason for the two, to allow the two companies to merge and it really does, as I said before, allows the companies to be more competitive against, you know, those online players and the big super centers.
So, you know, for us, we look forward to sitting down and having the conversation and feel that it's going to be very, very good for everybody.
EISEN: Just want to point out to everyone that session lows for the S&P down 2.3%, the Dow is down 400. Another turbulent day here and a big turn in terms of sentiment throughout the day. Rodney, you mentioned that as part of this, you're going to be investing in price or lowering prices at Albertsons but I think the math works out to about 1%. Is that enough?
MCMULLEN: Yeah, we think that's a great first start. As you know, if you look at Kroger, we've been investing in pricing for the last 15 years and we've done it, looked at it market by market in terms of what's where to make the price investments and how and we think the $500 million is an awesome first start.
And if you look over time, our strategy will always be to continue to through process change get costs out of the business, and then turn around and give some of that to the customer and as you know, certainly in this inflationary environment, it's even more important to elect, to try to help support the customers' budget even more so.
The other thing that's really important is if you look at the combined company, our brands is a $43 billion area and you know our brands also provides a great opportunity where you don't have to give any compromise in terms of quality, but you're able to stretch the budget as well and when you look at the two companies, we have an incredible our brands portfolio.
EISEN: The other, the other concern that I've heard today from traders and analysts has to do with the plan to divest some stores in order to appease the regulatory authorities and just who's going to be the buyer for some of these stores and at what price you're gonna you're so you're spinning that off into a separate company. What can you tell those that are questioning what type of deal you're going to get on the other side?
MCMULLEN: Well, we feel very comfortable that we'll be able to find buyers that are strong, great operators for the stores. And obviously we haven't, we didn't have any conversations with anyone before the announcement.
But I know when I'm talking to our investment bankers, they've already had people reaching out. And if you look at the structure, the deal in terms of being able to create SpinCo, that's one option as well to make sure that you have a strong viable competitor that's able to compete and do it successfully in the future.
EISEN: I think there's a clause in the deal that if the government does require more than 650 divestitures then then you then Kroger can walk away from the deal. Why did you choose that number?
MCMULLEN: It really is, you know, if you think about the everything within the agreement is a negotiation in terms of trying to balance the risk and the shareholder return and it was really the the number that made sense overall. Now, we don't think and would be surprised to get anything close to that, but you always have to have some type of out in the agreement.
EISEN: So what, so you've been making the case about price, what would it mean for the consumer? So Walmart still has 22% or so market share as of last year in grocery, your combination would be I think around 13%.
But then the next pure play grocer Ahold Delhaize would only be I don't know 5% or so. Ballpark numbers but what would, what would it mean for the consumer? Why is that not anti-competitive?
MCMULLEN: Yeah, I think you have to look at it two ways. One is the way you did but then market by market. And you know, if you think about in certain markets, you have an awesome local competitor in HEB, other places Publix and every market has its own local competitors.
Then you have Aldi and Lidl that's more broad based across a broader part of the country and you have Costco as well. So, you know, it's it's really important and I know you have to look at it market by market and there's a, as you know, you followed our industry a long time there's tons of competition and over time, the customers are always going to get a better and better deal.
EISEN: What about the investors? You know, interesting track record when it comes to historical comparisons on on deals. There's Albertsons Safeway, that faced a number of issues, Albertsons tried to go public a number of times.
The Amazon Whole Foods deal wasn't all that it was cracked up to be. They only have 3% market share. Everyone was scared they were going to take over the whole the whole the whole sector. So how can you ensure long term that this this one is right?
MCMULLEN: Yeah, if you look for us, and you know year, several years ago, we merged with Fred Meyer and Fred Meyer has been an awesome merger and if you look at some of the things that Fred Meyer had with the marketplace store and that, we've been able to scale it across all Kroger.
If you look at Harris Teeter would be another example and on their fresh areas and on their online business, we were able to scale that across Kroger. So we have a great track record of merging with companies and I call them reverse synergies in terms of things that they do awesome and bring it into the whole company and what we find is when we merge with companies.
Everybody can learn from each other and how do you get the best of both and we have a strong track record of being able to do that with several previous mergers and expect to do the same with Albertsons because they have great talent, great leadership, and they do some things amazingly well and we'll be able to share those ideas and take it even to the next level for the customers and our associates.
EISEN: Well, we know it's not set to close till 2024 so hopefully we'll have a lot of time between now and then to talk about how the integration is going but for now, Rodney, thanks for joining me on the big deal announcement.
MCMULLEN: Thank you, appreciate it.