The world needs infrastructure, and the world needs it soon.
It's not just about replacing aging pieces of infrastructure like bridges and roads – it's also about developing modern infrastructure that enables new technology, faster communications, and our ability to use, move, and transmit energy from renewables and natural gas.
Check out our H2 hedge fund letters here.
Today's infographic comes to us from Miller Howard Investments and it details five specific ways that investors could play the coming infrastructure boom.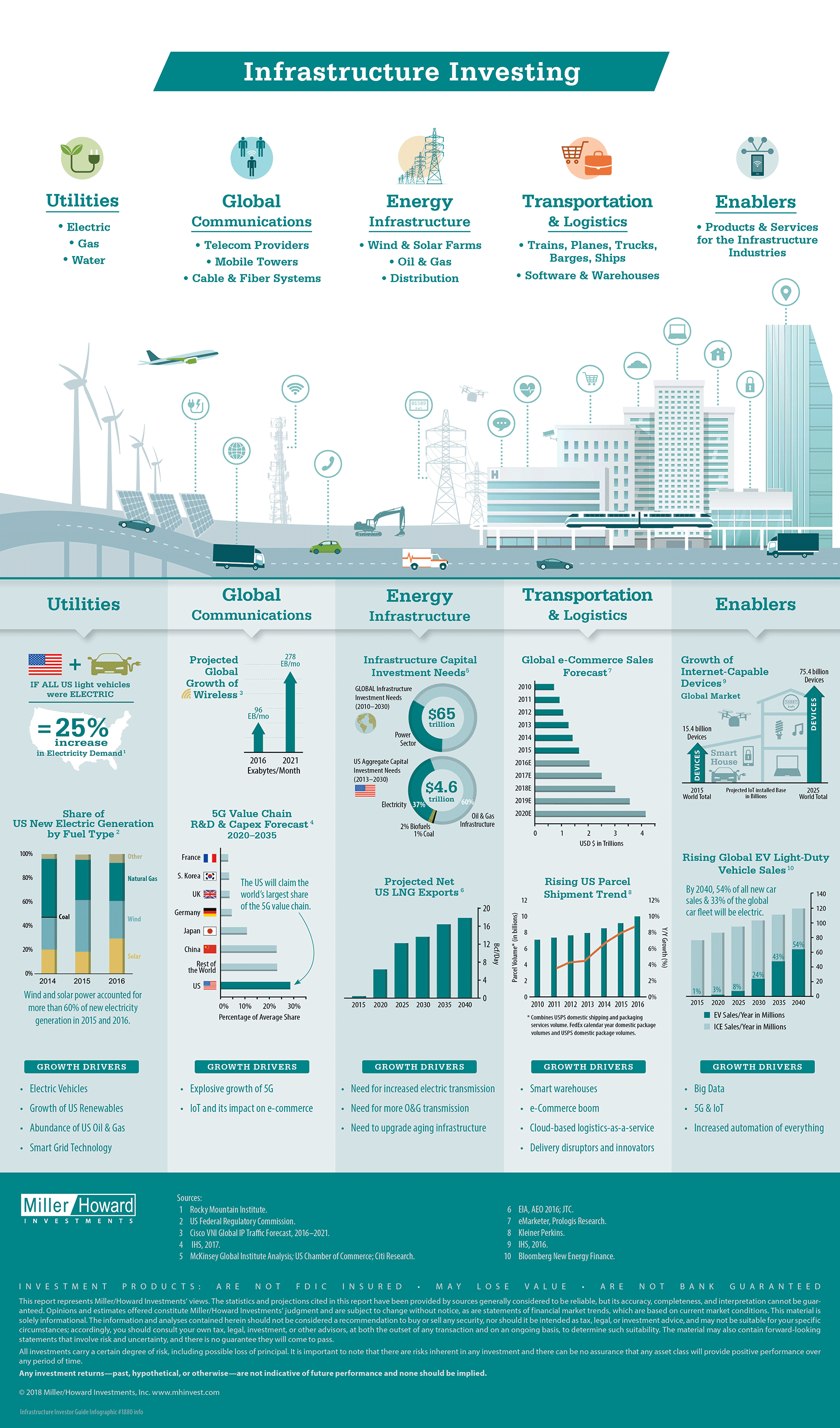 Five Ways to Play The Infrastructure Boom
Here are some of the happening areas within infrastructure, and why:
Utilities
The utilities sector will by driven by growth in EVs, renewable energy, abundance of U.S. oil and gas, and smart grid technology.
If all U.S. vehicles were EVs, it would mean an immediate 25% boost to electricity demand
In 2016, more money was invested in solar and wind than all other electricity sources combined
Global Communications
Comms will be buoyed by the rapid growth of 5G, as well as the IoT and its impact on ecommerce.
Wireless data use: 96 exabytes per month (EB/mo) to 278 EB/mo between 2016 and 2021
The U.S. will capture the largest share of the 5G value chain
Energy Infrastructure
Aging infrastructure needs to be updated, while more capacity for electric and O&G transmission is needed.
Between 2013-2030, it's estimated $4.64 trillion will need to be invested in U.S. energy infrastructure
By 2035, the U.S. will have net exports of 35 billion cubic feet (Bcf) per day of natural gas
Transportation and Logistics
More goods need to get to more places. Transportation and logistics will benefit tremendously from the growth of ecommerce, smart warehouses, cloud-based logistics-as-a-service, and delivery innovation.
By 2020, global ecommerce sales is expected to eclipse the $4 trillion mark
Parcel shipment volume is accelerating to grow at a higher rate each year
Enablers
Big data, 5G and IoT, and increased automation are enabling bigger trends, such as EVs and smart homes.
By 2040, it's estimated that 54% of all new car sales will be electric
Meanwhile, the internet of things is exploding to 75.4 billion things by 2025
Article by Jeff Desjardins, Visual Capitalist