Whitney Tilson's email to investors discussing some investors find stability in SPACs; Herb Greenberg on CNBC on Goodrx Holdings Inc (NASDAQ:GDRX); how Mark Zuckerberg's stranglehold on Facebook, Inc. (NASDAQ:FB) could put the company at risk; more on Munger investing in apartment buildings.
Q3 2021 hedge fund letters, conferences and more
Gates Cap Management Reduces Risk After Rare Down Year
Gates Capital Management's ECF Value Funds have a fantastic track record. The funds (full-name Excess Cash Flow Value Funds), which invest in an event-driven equity and credit strategy Read More
Some Investors Find Stability In SPACs
1) Following up on yesterday's e-mail, in which I mentioned the latest issue of my colleague Enrique Abeyta's Empire SPAC Investor (click here to find out how to gain risk-free access), this Wall Street Journal article highlights how out-of-favor the sector is, which to me is a very bullish sign: Some Investors Find Stability in SPACs. Excerpt:
As of Friday, the common shares of 452 of 469 SPACs [special purpose acquisition companies] looking for a target traded below their trust value, according to SPAC Informer, an analytics site started by Mr. [David] Sherman. Among all SPACs looking for a target, the combined trust value of $135 billion, the weighted average yield to liquidation was 1.71% and the weighted average maturity was 1.3 years. Just over a hundred SPACs offered a yield of at least 2.25%.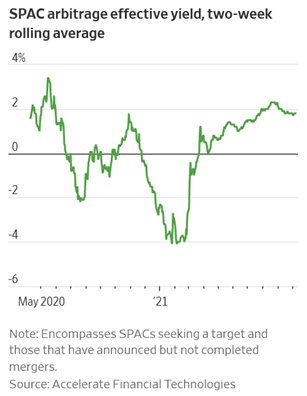 Here's another bullish sign: The amount of money being raised by new SPACs is down by 85% in the past six months relative to the peak in February and March: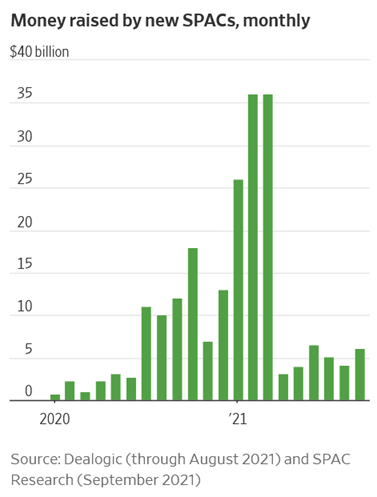 Herb Greenberg On CNBC On GoodRx
2) My newest colleague, Herb Greenberg, was on CNBC's Fast Money on Tuesday to share why we're bullish on GoodRx (GDRX), which Enrique recommended in his Empire Elite Growth newsletter on May 26. The stock is up 15% since then... and Enrique thinks big upside is still ahead.
You can watch Herb here, and Empire Elite Growth subscribers can click here to read Enrique's write-up on GoodRx. (If you aren't a subscriber, you can find out how to gain access here.)
How Mark Zuckerberg's Stranglehold On Facebook Could Put The Company At Risk
3) I was quoted in this Business Insider article about Facebook (FB) yesterday: 'The most powerful person who's ever walked the face of the earth': How Mark Zuckerberg's stranglehold on Facebook could put the company at risk. Excerpt:
Experts told Insider that there is cause for concern around one person having control over a controversial family of platforms that affect hundreds of millions of people.

"I don't think it's a stretch to argue that Mark Zuckerberg is the most powerful person who's ever walked the face of the earth, and I think that kind of power being held by one person is generally a bad idea," Whitney Tilson, a former hedge fund manager and CEO of Empire Financial Research, told Insider...
More On Munger Investing In Apartment Buildings
4) Following up on my recent e-mail about investing legend Charlie Munger buying apartment buildings, a friend wrote:
We have been investing lately in multifamily housing with a very smart young man I have known for 20 years. Why?

Tax-deferred income (25% on income when you do pay – 22% tax rate on total return)
Great inflation hedge (rents reset every 12 months; long-term hard asset financed by long-term fixed-rate debt – best inflation hedge in the world)
High current income (difficult to come by these days)

My friend buys in underinvested secondary markets from mom-and-pop operators and generates 55% of his returns from simply managing the properties better.
Best regards,
Whitney
P.S. I welcome your feedback at [email protected].