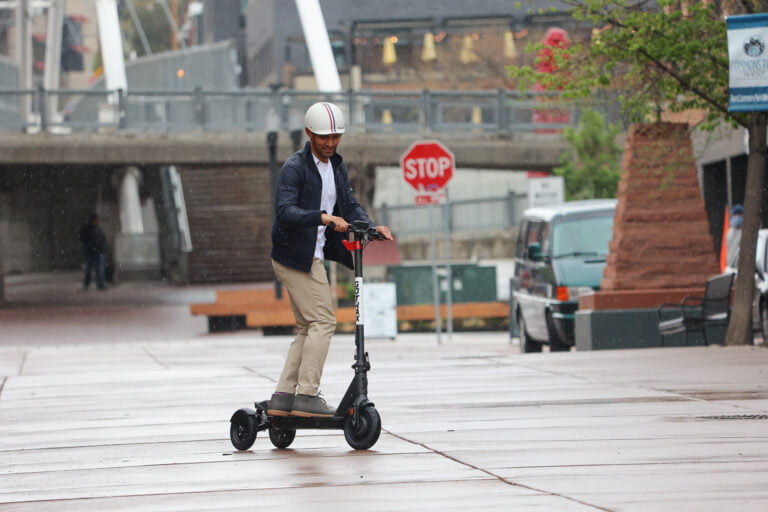 If you are looking to buy a scooter that could help you to get around the town or campus, is environment friendly and super reliable as well, then you just landed on the right page. In this article, we will be reviewing the G PRO. The G PRO is a 3-wheel electric scooter (trike) from GoTrax, which is a known name in the world of electric scooters, hoverboards and e-bikes.
Q3 2021 hedge fund letters, conferences and more
Gates Capital Management Reduces Risk After Rare Down Year [Exclusive]
Gates Capital Management's ECF Value Funds have a fantastic track record. The funds (full-name Excess Cash Flow Value Funds), which invest in an event-driven equity and credit strategy, have produced a 12.6% annualised return over the past 26 years. The funds added 7.7% overall in the second half of 2022, outperforming the 3.4% return for Read More

Why You Need An Electric Scooter?
Before we talk about the G PRO, it is important to understand why you may need an electric scooter, especially one with three wheels.
Everyday commute could be exhausting, especially if you live in a crowded city. One way to reduce this trouble is avoiding busy lanes and traffic jams. This is where a scooter could be handy as you can easily take it into small lanes. It eventually helps you to save time, as well as energy.
Even if you have a car, it is not always comfortable or desirable to use it for a short trip to a local market, or for any other mundane work. This is another reason why you should have a scooter.
Another most evident reason is the concern for the environment. Usually, electric cars are the top choice of those who care for the environment, but an electric car doesn't come cheap. In comparison, an electric scooter is much cheaper. Moreover, you can always own both – an electric car and an electric scooter, as the latter doesn't require too much parking space.
Talking about the need for a 3-wheeled scooter, three wheels may sound like a kid's ride at first. But I believe that could precisely be the reason why GoTrax is selling a 3-wheeled scooter, and that is an adult scooter that frees you from many of your driving worries, including balancing.
In comparison to a 2-wheel scooter, a 3-wheel scooter is much easier to balance, even for those with no balancing issues. Moreover, an extra wheel makes the whole riding experience a lot more comfortable and smooth, especially for long distances. This is because a 3-wheeled design allows the rider to distribute their weight a bit outward from the center.
A 3-wheeled scooter has some drawbacks as well, such as being more heavier, less compact and more expensive. But, those who prefer comfort (like me) won't mind these drawbacks. I have used a 2-wheeled scooter earlier, so I can definitely say that riding a 3-wheeled scooter (G PRO 3) was much easier and comfortable.
Now that you know why you may need a 3-wheel electric scooter, let's talk about the G PRO. First, let's take a look at its published specs.
GoTrax G PRO - Specifications
Range of up to 24 miles
Weighing 52 pounds and measuring 47.1″ x 18.4″ x 48.7″
Top speed of 16 mph
36V 10.5aH LG battery
300 Watt motor
IP X6 waterproof rating
Single 10″ Front and two 8.5″ Rear Air-filled tires
Overall, these specs look solid, but whether or not these specs culminate into an actual solid performance is something that we will be focusing on in our review.
A Comfortable Ride
I said above that the G Pro offers a comfortable and smooth ride, but how? There are three real reasons for it:
First is the 10-inch pneumatic wheel on the front. Even though there isn't any kind of suspension up front, the large size of the wheels is enough to absorb the road vibrations (rocks and bumps). The second reason is the two suspension system on back, and the third reason is the extra-wide foot area.
GoTrax is known for quality decks, and the G Pro is no different. Along with offering a solid grip (due to the use of a rubberized material), the deck of the scooter widens towards the rear. This ensures more foot room, allowing you to even stand on the pedal with feet side by side.
And, all this translates into a comfortable ride.
Range And Speed
GoTrax claims a range of 24 miles for the G PRO in a single charge. Many may feel that this number isn't enough. But, considering the G PRO is intended for city travel, 24 miles is a lot of distance.
On average, I would say I got a similar number during the testing. There were occasions when I got a number less than that and sometimes I exceeded that number. I believe this was because of the speed I drove, as well as the condition of the road.
GoTrax G PRO has a top speed of 16 mph. Yes, the speed is as claimed but many may want a higher speed. The G PRO 3 hits 15-16 mph in 'Mode 2.' The 'Mode 1' is the default mode, giving a speed of around 10 miles per hour.
What I like about the speed thing is that GoTrax is unlike many other sellers, who advertise a higher speed but struggle to hit it.
Portability
In terms of portability, the G PRO is certainly not among the top. A scooter with three wheels will certainly be heavier, both in terms of weight and size, and the G PRO is no different. GoTrax G PRO weighs 52 pounds. There are many electric scooters in the market that weigh 30 pounds or less. So, you may struggle if you had to take this scooter up and down a few floors or some stairs.
Going into finer details, however, gives us some understanding of why the G PRO weighs 52 pounds. A sizable portion of the G PROs weight can be attributed to the 36V 10.5aH LG battery (among the bests in the market), which gives it a range of 24 miles. Most other electric scooters would fail to give this range because of their lower battery capacity.
Another reason for more weight is the build quality. Like other GoTrax scooters, the G PRO also features premium construction materials, giving an impression of great build quality.
GoTrax G PRO may not be the lightest electric scooter around, but when folded, it can easily fit in a car or even under the desk.
Safety
Safety and security have never been a concern with GoTrax scooters, and the same is the case with the G PRO. In fact, G PROs built-in lock-on mechanism is one of its main selling points. With the G PRO 3, one can set a digital code on the tiller.
Also, the scooter features a thick metal loop in the front for attaching a lock. Though the presence of these safety features does give the rider some peace of mind and are good for short rides, it is recommended not to leave the scooter outside for hours.
What Makes It Different/Better From Others?
One thing that I especially like about the G PRO is that to get the scooter to move, you actually need to manually propel yourself forward a little and then hit the throttle. To many, this may seem a bit odd that you need to manually propel yourself forward a bit to get the scooter to move. But, it is actually an important safety feature. I remember accidentally bumping my earlier electric bike (with live throttle) many times.
Another standout feature of the G Pro is the presence of disc brakes on all three wheels. I believe this is also a crucial safety feature, especially with a scooter as heavy as the G Pro 3.
One more feature that makes the G Pro different from many others is the presence of brake lights and headlights. Many electric scooters don't have these lights, making it unsafe to drive at night. With the G Pro, however, driving at night won't be a concern. But, it would have been even better if these lights were a little bigger.
The automatic cruise control mode of the G Pro is it's another distinguishing feature. Such a feature proves super handy for a longer trip, and helps to make the overall experience even better.
Then there is a walk-along mode that also helps to enrich the overall driving experience. In the walk-along mode, a rider just needs to hold down the minus button. This will slowly accelerate the scooter beside the rider, thus assisting the rider to easily push it on sidewalks.
One last feature that needs a special mention is its IPX-6 waterproof rating. This rating implies that the G Pro can withstand high-pressure water from all sides. So, this means it can withstand splashes and rainstorms. This is an important feature considering the scooter's high price tag.
Final Words
GoTrax's G PRO is a great electric scooter. It looks solid, has a sturdy construction and, more importantly, offers comfort that many others in the market fail to offer. Yes, a few of its features could be offsetting to some, such as its weight and price tag. But, if you want a quality product that makes your ride better and comfortable, then the weight and price things are understandable (you can easily get it at a discount this holiday season).
In fact, this electric scooter has all the ingredients to become someone's primary mode of transportation. I would definitely recommend this scooter to all types of riders, including those who struggle with two-wheeled scooters, as well as those who are okay with a two-wheeled scooter but want more comfort along with extra stability.
You can visit GoTrax's website to know more about the G Pro and to buy it. You can buy the G Pro from Amazon as well. GoTrax offers a 30-day return and a 90-day manufacturer warranty on the G Pro.
Disclaimer: We received free product in return for an honest review.