According to data collected from over 100 Benzinga cryptocurrency traders and investors, Ethereum is the clear favorite for crypto investors in 2021. An astounding 80.8% of our participants believe that Ethereum will outperform Bitcoin through the end of 2021, as it has already been doing thus far into the year.
Q1 2021 hedge fund letters, conferences and more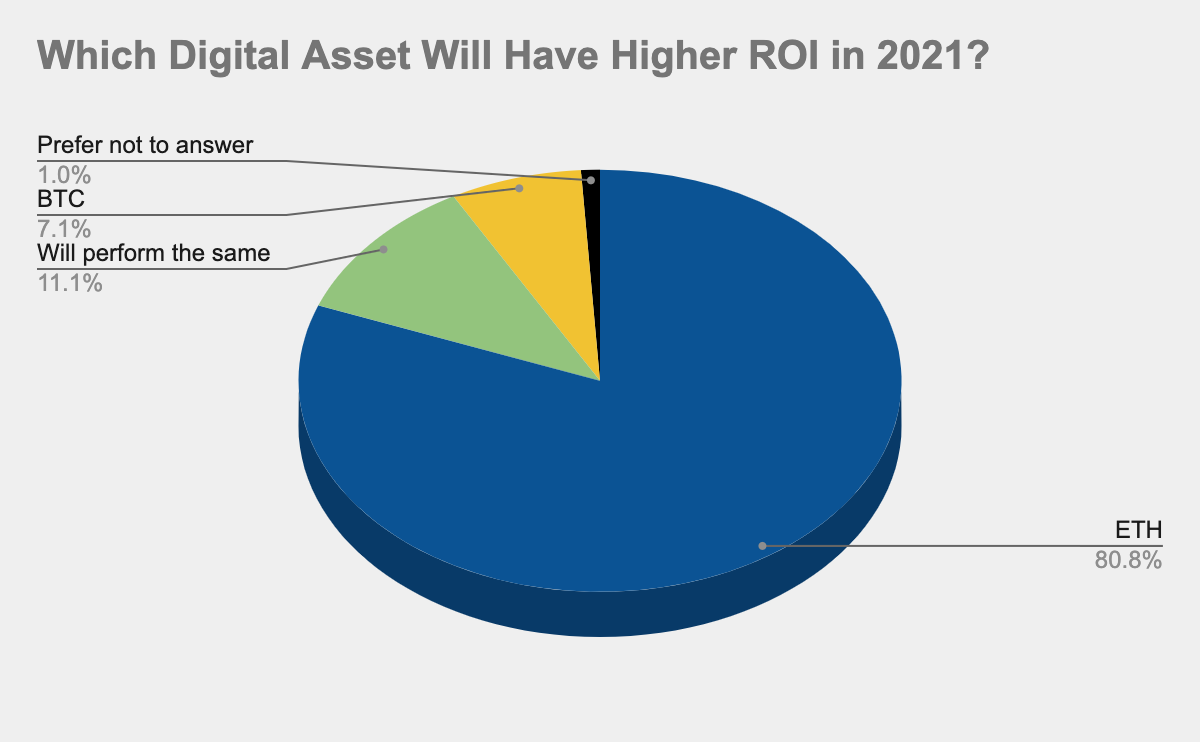 Many experts believe that Bitcoin's market cycles revolve around the "halvening", which cuts the Bitcoin block reward in half for Bitcoin miners approximately every 4 years. This decreased rate of new currency entering the market leads to a somewhat predictable supply crisis.
Bitcoin was released in 2009 and Ethereum followed 4 years later in 2013 – 1 market cycle later. It is estimated that the attainable distance from the fair value diminishes each market cycle, and therefore so does the possible ROI. Based on this alone, it follows that Bitcoin's ROI is capped much lower than Ethereum's potential ROI this year.
Where Will Bitcoin End Up?
According to survey results, investors are still very bullish on Bitcoin with a supermajority predicting Bitcoin to end the year above $55k. Only 12.8% of respondents believe that Bitcoin will close the year below the $55k mark.
This may not be bullish enough however, as many experts have price targets well beyond the options provided, even into the $300,000s. Depending on the timing of the market cycle top, technical analysis has not ruled out these levels by any means.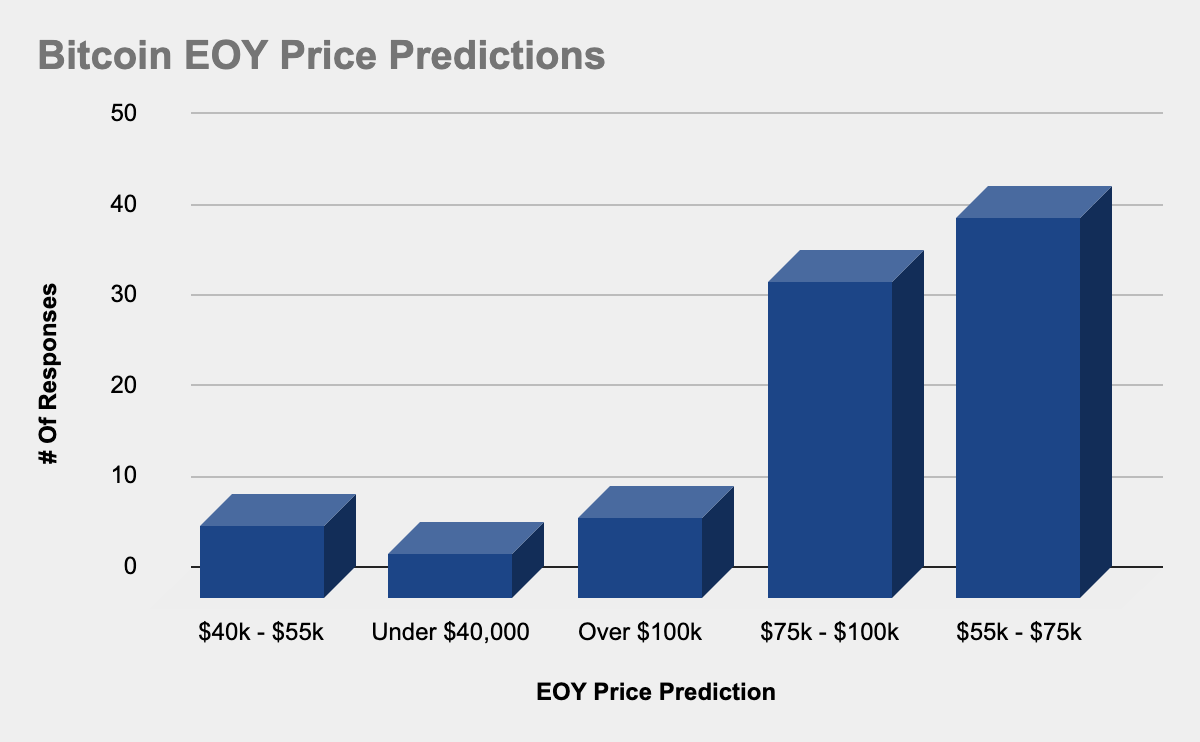 Where Will Ethereum End Up?
Respondents continued to show love to Ethereum in their end of year price targets. Only 20.5% of crypto investors believe that Ethereum will close the year below $4k, while 11.8% said that Ethereum will end the year over $10k. The majority believe that ETH will end the year between $6-10k.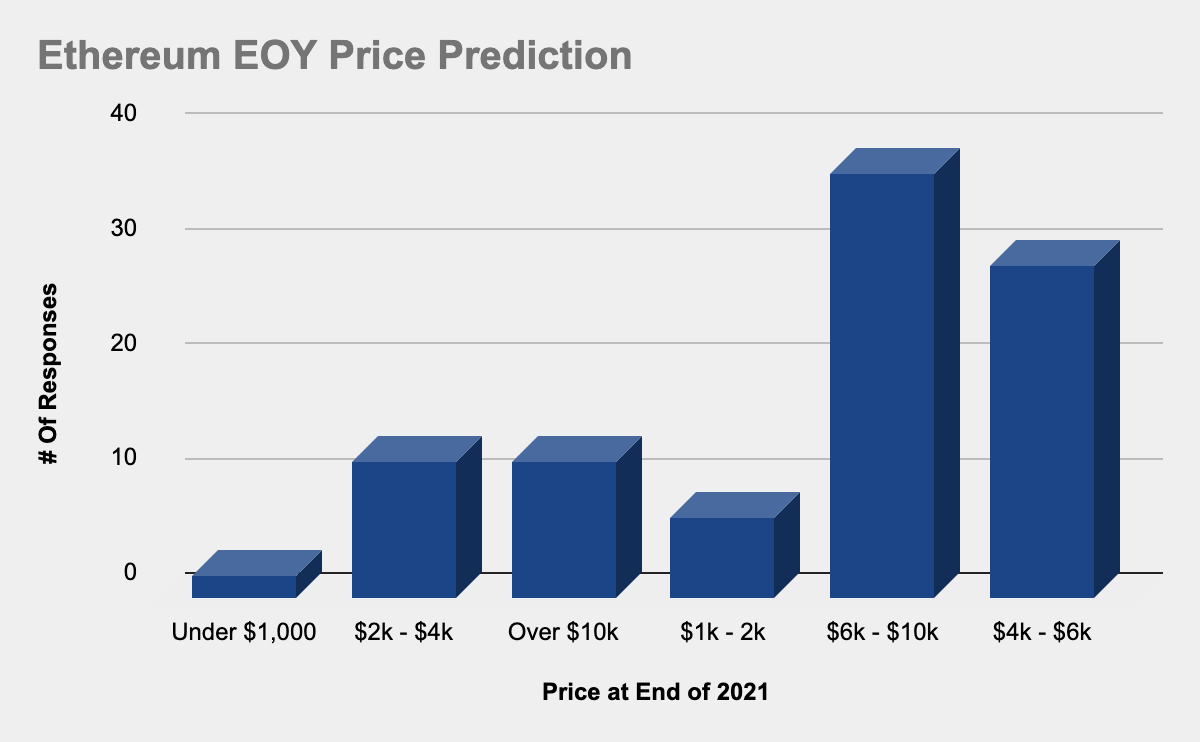 These results are also not ruled out by technical analysis. It is worthwhile to note that Ethereum has historically bled against BTC in December and then reached its market cycle in the beginning of the following year, well after Bitcoin had peaked.
Bitcoin vs. Ethereum
If you are already in either of these two coins our respondents rarely recommend a sale, however, Bitcoin was once again the less desirable investment. Over a quarter of investors were still looking to buy Bitcoin at around $55k when this survey was taken. Perhaps Elon has given a second chance to anyone previously hesitant to pull the trigger. Bonus: What is the most interesting project built on top of the Ethereum network?
We added some open-ended questions for investors and here are some of the more interesting responses.
"Aavegotchi, I think interactive NFT's will develop from projects like this to blend games and marketplaces. This could decentralize micro transactions like the ones EA and mobile games use and prove Ethereum's value in uses large markets beyond DeFi and current NFT's."
"The incoming ETH 2, staking is open which will cause many to buy and unable to sell if they stake to promote the new blockchain, (including myself). I believe this will drive the price higher until ETH 2 is released, then a huge sell-off creating a perfect opportunity to "buy the dip"."
"That some companies are taking BTC as a form of payment."
"BTCPay Server. Website and Twitter."
Favorite Cryptocurrency Roundup
We asked respondents what their favorite cryptocurrency is and while we got a variety of responses, there was one that stood out: Ethereum.
People also shared their love for:
Methodology
Over 100 participants were asked to comment on price predictions of both Ethereum and Bitcoin based on an over/under scale for current prices. Survey respondents were also asked to comment on whether each cryptocurrency in question is overvalued, undervalued or priced appropriately. Participants may own these cryptocurrencies.
Try Gemini
Gemini builds crypto products to help you buy, sell, and store your bitcoin and cryptocurrency. You can buy bitcoin and crypto instantly and access all the tools you need to understand the crypto market and start investing, all through one clear, attractive interface. Gemini Crypto Platform offers excellent account management options. You can manage your account at a glance, view your account balance 24-hour changes and percent changes. Get started with Gemini now.
Article by Logan Ross, President, Wolverine Blockchain - Benzinga